---
Woodstock Chimes AGMS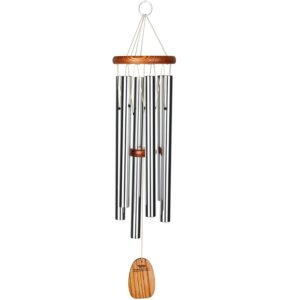 Easy to Customize
6 silver aluminum tubes
Overall length of chime is 24″
Corinthian Bells T106CV
Made in the USA
Hand-tuned to the scale of C
Overall length of chime is 27″
Woodstock Chimes PCC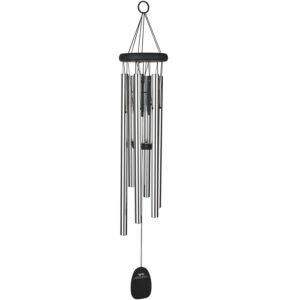 Easy to Customize
6 Silver aluminum tubes
Overall length of chime is 32″
Carson 60259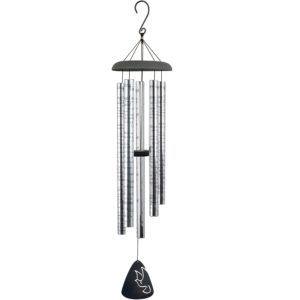 Adjustable striker
Anodized aluminum tubes
Sleek clean lines
Encore by Woodstock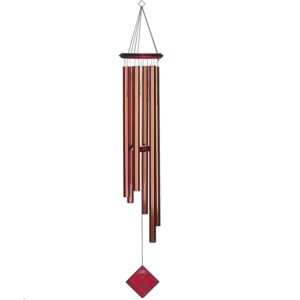 Easy to Customize
6 bronze aluminum tubes
Overall length of chime is 54″
---
Choose the Best Metal Wind Chimes
Customer's Choice: the Best Rated Metal Wind Chimes
80 users answered this survey. Please help us improve this review!

38.75% of users selected Woodstock Chimes AGM, 36.25% selected Corinthian Bells T106CV, 7.5% selected Woodstock Chimes PCC, 5% selected Carson 60259 and 12.5% selected Encore by Woodstock. Every month we analyze your answers and change our rating.
---
Wind chimes have become not only a popular decoration of your place, that creates a peaceful, relaxing atmosphere around but also a widely-chosen idea for a gift on any occasion. Among the variety of wind chimes available, it is important to make the right choice to get a long-lasting source of pleasure.
The most durable wind chimes are considered to be the ones made of metal. They feature high tuning accuracy, making it possible to tune the wind chime to specific tones and notes, resembling famous melodies. Besides, such wind chimes are waterproof as well as rust-resistant. So they are highly likely to last long without fading of its beauty.
We have included the best options which may meet your needs in this Top 5 Best Metal Wind Chimes. Check for some basic details of the wind chimes in the comparison table below.
Woodstock AGMS – the Best Wind Chime Conveying Hope!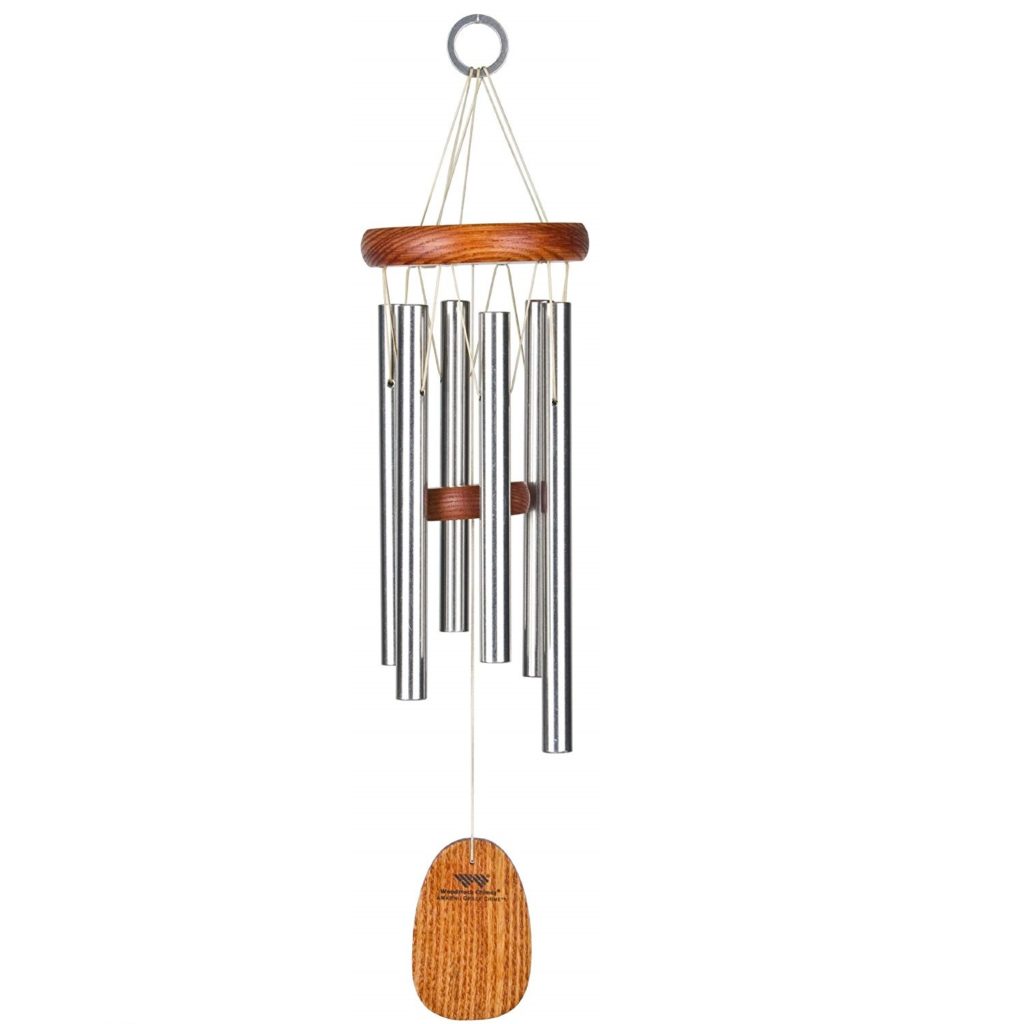 AGMS is a musically tuned mid-sized wind chime, developed by Woodstock and manufactured in China. Its sounding resembles the melody of the "Amazing Grace" hymn, conveying hope and redemption.
AGMS consists of 6 high-polish silver aluminum tubes, unlikely to rust. The cherry-finished top is made of ash wood and demonstrates a weather-resistant ability. The length from the top of the hanging ring to the bottom of the windcatcher is 24 inches. The windcatcher is removable and, thus, can be personalized.
Pros
Pros
Available in different sizes;
Sounds quite loud;
Has a sturdy cord;
The removable windcatcher enables customization of the wind chime by engraving it;
May startle birds not by its sound but rather by the light reflecting off the silver tubes.
Cons
Cons
A high risk of receiving a cheap knockoff;
May disappoint you by producing random notes from "Amazing Grace" rather than the whole melody (though it's not supposed to play the whole melody since it is a wind chime).
If you feel like your soul needs redemption and the melody, produced by a unique wind chime, may help you with it, you should buy Woodstock AGMS wind chime which you can get personalized in any trophy shop.
---
Corinthian Bells Wind Chime – the Best Option for the Price!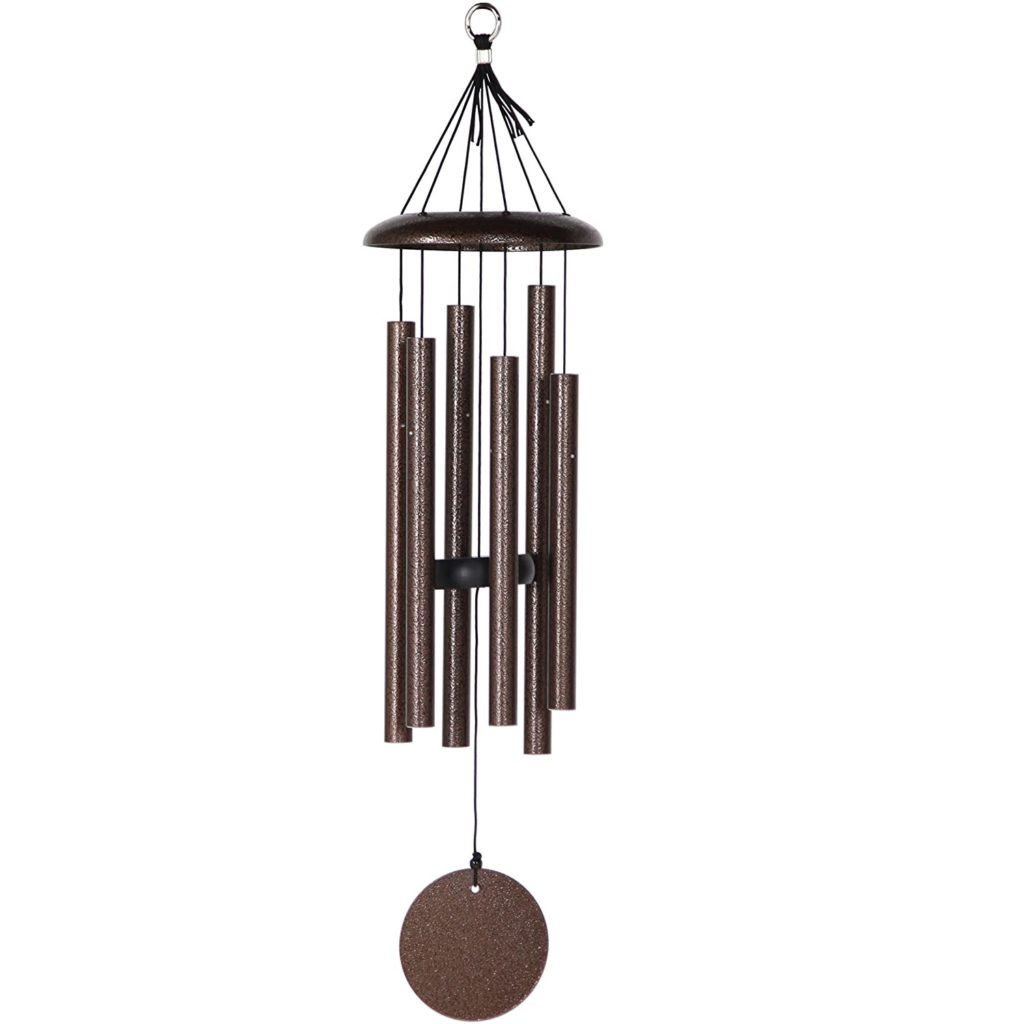 Made in the USA, the Corinthian Bells represent a wind chime of high quality and copper-vine color. The overall length, from the hanging circle to the bottom of the windcatcher, is 27 inches. The wind chime consists of 6 aluminum tubes, 0.75″ in diameter.
The longest one is 12.5 inches. The windsail is about 4″ in diameter and it is made of solid metal. You can use an S hook to hang the wind chime.
The Corinthian Bells wind chime is made from a powder-coated aluminum alloy of good density allowing it to be tuned well. This wind chime is hand-tuned to the C scale and produces pleasant sounds.
Pros
Pros
A high-quality wind chime;
Features a beautiful soft sound;
Well-worth its price;
A 5-year limited warranty is issued against defects;
Comes nicely packaged with a nice brochure inside;
Is centrally pinned allowing its tubes to continue resonating regardless of the direction they may move;
Can be engraved;
The strikers made from Ultra-High Molecular Weight plastic contribute to the rich sound.
Cons
Cons
The manufacturer cannot provide personalized engraving;
The ring at the top is a closed circle, with no S hook included.
If you are in search of an attractive melodic windcatcher to set the atmosphere of calmness, the Corinthian Bells wind chime may satisfy your needs.
---
Woodstock Pachelbel Canon Wind Chime – the Best Idea For a Universal Gift!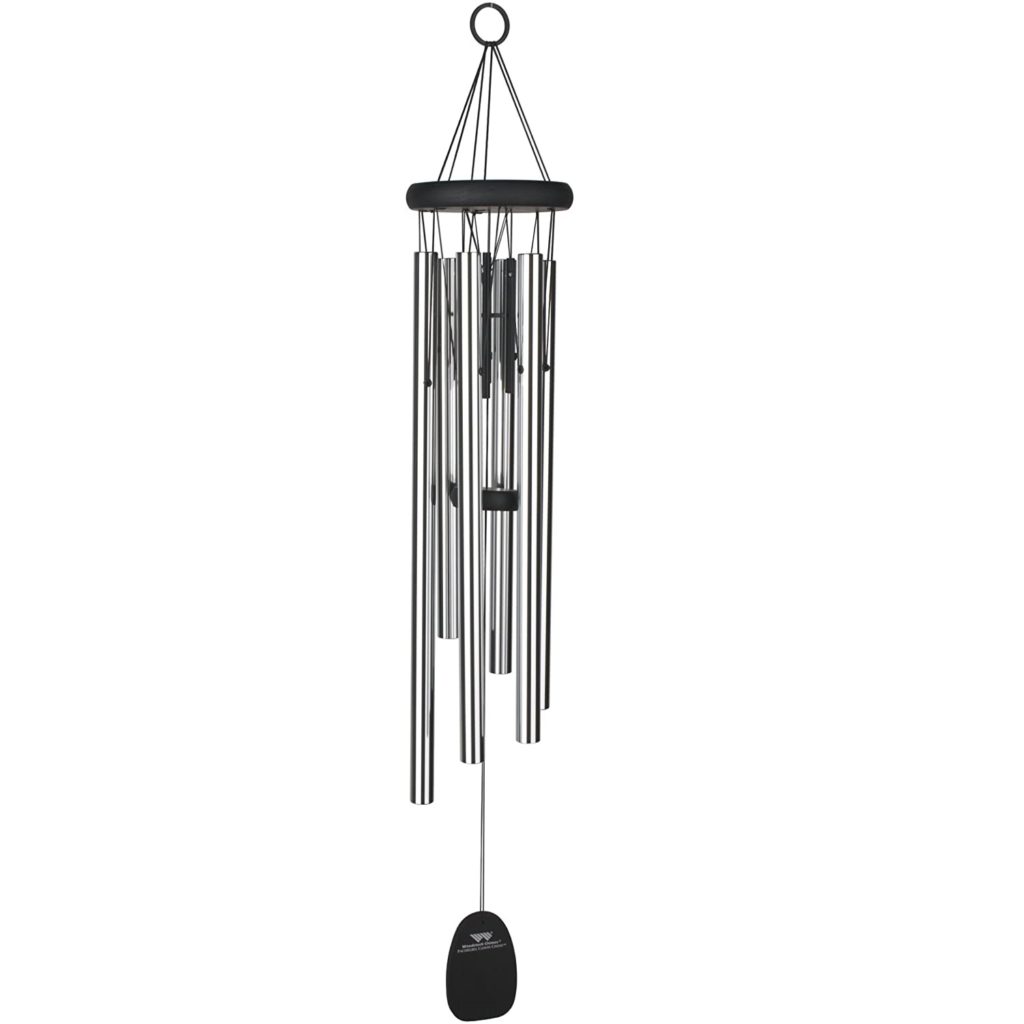 Woodstock Pachelbel Canon Chime is 32 inches long from the top of the hanging ring to the bottom of the wind catcher. The construction is rather solid. It has an ash-wood hanger with a weather-resistant black finish.
The Woodstock Pachelbel Canon wind chime consists of 6 silver aluminum tubes, .75″ in diameter, which produce the notes D F# G A B D, and 4 black aluminum rods, .25″ in diameter, which produce the notes D E F# A.
The Woodstock PCC's sounding resembles the melody of Johann Pachelbel's "Canon in D", a graceful melody so popular during wedding processions.
Pros
Pros
Approved high quality;
The combination of larger and smaller chimes ensures multi-layered tones;
Weather protection ensures long lasting;
Can be checked for the sounding with a video available online;
Comes in a variety of colors;
Features good resonance;
Lifelong tuning guarantee;
A sturdy, durable corded string;
The rods are unlikely to rust;
Regular oiling of wooden parts may retard natural aging;
The removable windcatcher enables customization.
Cons
Cons
No hanging hook included as a set;
The manufacturer does not provide engraving;
Does not produce the song itself, but rather random sounds resembling it.
You may deeply impress your close people by presenting the Woodstock Pachelbel Canon wind chime to them since this is a perfect idea for a gift on any occasion! People of all ages may be pleased, inspired, and entertained by these sounds of joy, hope, love and promise.
---
Carson Home Accents Sonnets Wind Chime – the Best for Memorial Celebrations!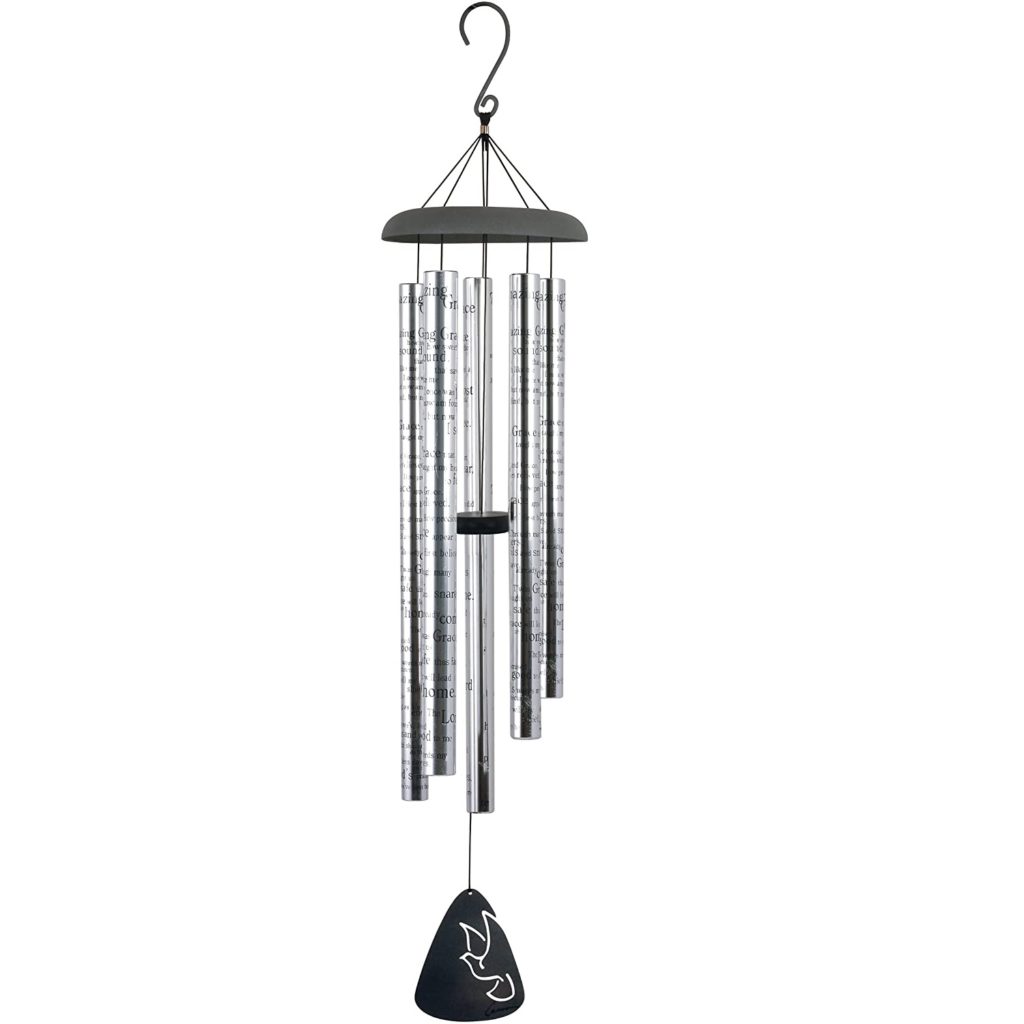 Carson Home Accents Sonnets is the wind chime, pre-tuned to the melody of "God Has You". The construction is totally aluminum and it includes an industrial cord.
The overall length of the wind chime is 44 inches. It includes 5 heavy-walled, center-pinned aluminum tubes, 1.25″ in diameter. They are highly protected with a durable powder coating in addition to an anodized finish.
The striker may be adjusted, however, it comes preset, intended for a recommended location where the sounding will be of the highest quality.
Pros
Pros
Uniquely designed;
Features powder-coated tubes;
Has an adjustable striker;
Produces deep rich tones;
Comes originally well-packaged;
Reliable company, manufacturing high-quality wind chimes for over 40 years.
Cons
Cons
Quite expensive;
You may face damages caused by receiving the product without a shipping box.
The deep sounds of the Carson Home Accents Sonnets make this wind chime a perfect choice for memorial celebrations remembering the ones who passed.
---
Woodstock Encore Wind Chime of Neptune – the Largest One!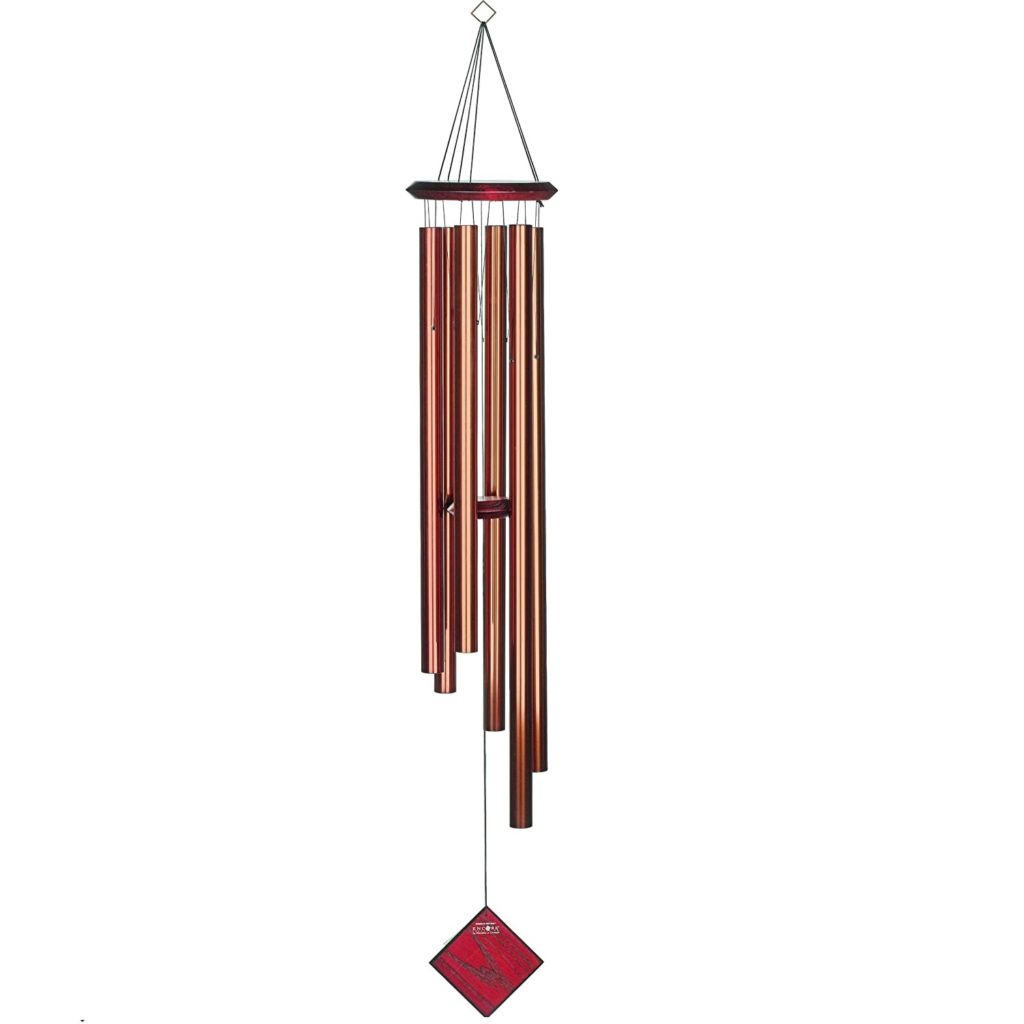 Named after the stormy blue planet, this Encore Wind Chime of Neptune is developed by Woodstock and manufactured in China. Its length impresses, it is 54 inches long from the top of the hanging ring to the bottom of the wind catcher, and 44 inches from the wooden top with a bubinga finish to the bottom of the wind catcher.
This wind chime is hand-tuned to a common, 5-note scale.
The Encore Wind Chime of Neptune includes 6 hollow bronze aluminum tubes, 1.25″ in diameter. The longest one is 32 inches. They are unlikely to rust.
Pros
Pros
Available in different colors;
Includes a removable windcatcher;
Comes in authentic Woodstock packages;
Very sturdy strings;
Produces light sounds;
Can be easily customized;
Features a weather-resistant wooden top;
The sound can be pre-heard in a video attached;
Double boxed when shipped;
Life-long tuning guarantee.
Cons
Cons
Extremely large, needs enough space to look perfect;
May come improperly packaged;
The company offers no engraving services.
If you are looking for a massive decoration for your garden which will set a pleasant, melodic atmosphere, the Encore Wind Chime of Neptune may totally satisfy your needs.
---
Buyer's Guide
What determines the sound of a metal wind chime?
In fact, different wind chimes, even made from the same material, can produce different sounds. The sounding varies depending on several factors, these are:
The number of tubes. It determines how many notes a wind chime can make. The more tubes it has, the more variable sounds it produces. 

The overall length. The tone and depth of the sound depend on how long a wind chime is. If you prefer low, full tones, choose among longer ones, if you like high pitched tones more, then look for it among shorter ones.

The size/weight of the windcatcher. The lighter it is, the less wind it requires to chime, and the more sound the wind chime produces.
Consider these factors when choosing a wind chime so that to pick the best option for you. Otherwise, you might be disappointed or even annoyed with your choice.
How to make your wind chime serve longer?
If you are eager that your wind chime could rejoice you by producing sweet sounds at your place longer, try to follow the recommendations below:
Do not place it in areas exposed to longtime direct sunlight;

Use a wet cloth to wipe off your chime with now and again;

Bring your chime inside when outside the weather conditions are harsh.

Keep it in an unheated area better.
Hopefully, these recommendations will work out for your wind chime, and, subsequently, you will be able to enjoy the atmosphere it sets for a very long time!
The use of metal wind chimes can create sounds ranging from a melodic song to a dull thump, depending on the type of materials used as well as the type of ball in the center striking the tubes when the wind blows. The length of the pipe or tube, along with the thickness of the metal will set the tone of the sound is made when the wind blows.
Metal wind chimes can be made in various sizes to create sounds similar to the tinkling of glass to the glare of horns, and the type of ball used can produce loud or muted tones. A metal ball in the center striking against metal wind chimes will be considerably louder than a rubber ball, which will make a muted sound and a wooden ball can produce a sound somewhere in the middle. How they are hung can also affect the clarity of the sound being made.
Most metal wind chimes will have a small hole drilled through the top, attached by a thin wire or string to a common point located about in the center of the contraption. This will enable the metal pieces to be maintained at an equal distance to the center ball, insuring it strikes each one with the same amount of force and movement. This will give all the parts of metal wind chimes the same opportunity to makes their individual noises, regardless of the strength or direction of the wind.
Moving Pipes Or Ball Still Results In Noise
Many metal wind chimes work on the principle of the center ball remaining essentially still while the wind moves the pipes to contact with the ball. Others may have the center ball attached to a thin piece of metal that is caused to move by the wind, with the ball striking the pipes. There is not going to be any difference in the sound made by metal wind chimes, regardless of whether the pipe hits the ball or the ball hits the pipes.
Most metal wind chimes are designed to make the best music possible with materials used, and the ball should strike each piece of metal at its approximate center. Math equations help the designer create the best possible sounds from wind chimes considering all the variables used to make them.
The size and weight of the metal parts, their length and the size and type of ball that will strike the parts are all considered when metal wind chimes are made. Think of them like a mobile, a balanced piece of work, with all parts an equal distance from its center. When the wind blows, they are made to strike another, more stable object to create a unique sound.
Comparison of Numerical Indicators for Metal Wind Chimes
This table compares various numerical indicators for metal wind chimes. Wind chimes are decorative pieces of musical instruments that produce sounds when they are blown by the wind. Metal wind chimes are made of different metals, such as aluminum, brass, copper, and steel, and come in various sizes, shapes, and designs.
| Indicator | Range | Average |
| --- | --- | --- |
| Length (inches) | 6 – 60 | 24.5 |
| Diameter (inches) | 2 – 10 | 5.2 |
| Weight (lbs) | 0.25 – 20 | 2.1 |
| Number of Tubes | 3 – 18 | 6.2 |
| Tone/Note | Varies | N/A |
This table compares the common numerical indicators for metal wind chimes, including their length, diameter, weight, number of tubes, and tone/note. Wind chimes come in a wide range of sizes, shapes, and designs, so the length and diameter can vary significantly. The weight of metal wind chimes can also vary widely, depending on the size and number of tubes. The number of tubes can range from 3 to 18 or more, and the tone or note produced by the wind chime can vary depending on the design and placement of the tubes. This table provides a useful reference for anyone interested in purchasing a metal wind chime and comparing different models.
Metal Wind Chimes FAQ
What metal makes the best wind chimes?
Most wind chimes (or tintinnabula) look like a bell hanging on a red pendant with a few short rods and a long "tongue" – the longest rod. These chimes are made whether of metal or wood to provide soothing, nice sounds when the air flows through them. Typically, metal wind chimes are considered as the best choice if you prefer soothing sounds that resemble brass music. Also, metal rods in wind chimes are more durable. 
Most wooden chimes are made of bamboo. But the metal wind bells can be made of steel, gold, silver, copper, brass and aluminum. Instead of metal, you may pick the chimes made of porcelain or ceramics. Also, most large chimes are made of copper, aluminum and steel. Though, the price of such decoration is a bit higher. 
Where should wind chimes be placed?
There are not so many options if you believe that a wind chime has the power to cleanse your house from negative emotions. According to some Feng Shui experts, wind bells have to be hung over the entrance door. 
However, some say that you should hang the chime according to the major material of its rods. For instance, if it has metal rods then you should hang such chime in the eastern or southeastern part of the house. 
Wooden chimes have to be hung in the southwestern or northeastern parts. According to the Feng Shui recommendations, ceramic bells should be hung only in the northern part of the house.  
If you want to go even further and follow the beliefs of the Ancient Asians who invented wind chimes, then hang these talismans in such a way: 
Eastern part of the house (outside or inside) – wooden wind bell with 3 rods;

Southeastern part – a wooden chime with 4 rods;

Northeastern part – a ceramic wind bell with 8 rods;

Southwestern part – a ceramic chime with 2 rods;

Western part – a metal chime with 7 rods;

Northwestern part – a metal chime with 6 rods;
By placing a chime in a dark corridor or poorly lit corner, you may dissipate the negative energy and give the "green light" for the movement of positive flows of Chi/Qi energy. 
Also, in the room where there are too many windows and sunlight the Qi energy moves too quickly, without enough time to fill the house. If you hang a chime indoors, it will absorb the negative and toxic energy of sharp corners.
If you hang the talisman above the window, allegedly it can attract the positive Qi energy to your house or office. In such a way, you may also protect your house from aggression and conflicts between relatives or co-workers. Also, many Feng Shui experts believe that brass and copper wind chimes are the best talismans for attracting positive Qi energy. 
But DO NOT hang wind chimes: 
Low above the door where it may hit your head;

On the door;

In the trees, if the chime is made of heavy metal, because it may damage the tree;

Where people sleep or sit, especially directly above these places – beds or working desks. Instead, you may pick dream catchers for bedrooms;
What are the best sounding metal wind chimes?
There are so many top-notch wind chimes made of metal. Craftsmen and brands manufacture really beautiful metal wind chimes that produce nice melodies. It is hard to pick the best ornament. But you may check these popular metal wind chimes: 
Brooklyn Basix Freedom Chime is made of copper and steel. It comes in 2 sizes and offers 7 different colors to fit any interior inside or outside the house;

WoodWind Amazing Grace Chime produces soothing and relaxing sounds reminding a nice melody of small church bells. If you seek durability and spiritual melodies, then check this affordable but top-notch chime made of aluminum with a few wood accents;
What are the benefits of metal wind chimes?
There are a few reasons to buy metal wind chimes:
Nice, soothing or relaxing sounds;

Durability;

Can be a great decoration inside or outside the house/office/business;

Different colors and designs are available;

You can adjust the noise level by adding or removing the rods of metal chimes;

Attracting positive Qi energy to your house/office/business;

Spiritual "healing";

Better sound quality compared to other chimes;

Soothing ambiance for babies and adults who have troubles with falling asleep;
Can I gift metal chimes?
No matter if you buy wooden or metal wind chimes – they will make a perfect gift. Allegedly, if the person gave you a wind chime it means that every time this decoration produces sounds it means this person is thinking about you. That is why it could be a touching and even romantic gesture to gift metal or wooden wind chimes. Just choose the wind bell that is perfectly tuned. 
How many rods should a wind chime have?
The classic Feng Shui design presumes that a wind chime should offer no less than 5 rods. However, you may find many wind chimes with 6 or 8 rods made of bamboo/metal. Such a number of rods allegedly can attract beneficial energy. 
To suppress bad energy 5 rods is the required minimum, according to the Feng Shui philosophy. Otherwise, the number of rods doesn't matter. But keep in mind that large chimes with many rods sound louder. Make sure to ask your neighbors before buying the chime with loud metal rods. 
What is the history of metal wind chimes?
The history of wind chimes can be traced back to ancient civilizations such as Rome, China, and India. It is believed that wind chimes were used in these cultures for religious and spiritual purposes, as they were thought to ward off evil spirits and bring good luck. In the Western world, wind chimes became popular as garden ornaments in the 1800s.
What are the different types of metal wind chimes?
There are several different types of metal wind chimes, including tubular, bell, and gong wind chimes. Tubular wind chimes consist of long, hollow tubes of various lengths that produce a range of musical notes when struck. Bell wind chimes have several small bells that produce a delicate tinkling sound, while gong wind chimes consist of a large, flat disc that produces a deep, resonant tone.
How do you choose the right size wind chime?
The size of a wind chime depends on personal preference and the location where it will be hung. For smaller outdoor spaces, such as balconies or patios, a smaller wind chime with fewer tubes or bells may be more appropriate. Larger outdoor areas, such as gardens or yards, can accommodate larger wind chimes with more tubes or bells. Additionally, consider the wind conditions in the area when selecting a wind chime size.
How do you care for metal wind chimes?
To maintain the appearance and sound quality of metal wind chimes, it is important to clean them regularly. Use a soft cloth or brush to remove dirt and debris, and polish the metal with a non-abrasive cleaner or wax to prevent tarnishing. Additionally, remove wind chimes during extreme weather conditions, such as heavy rain or wind, to prevent damage.
Can metal wind chimes be personalized?
Yes, many manufacturers offer personalized metal wind chimes that can be engraved with names, dates, or messages. Personalized wind chimes make great gifts for weddings, birthdays, or other special occasions.
What are some popular designs for metal wind chimes?
Metal wind chimes come in a variety of designs, from traditional to modern. Popular designs include those with intricate patterns, Celtic or Asian-inspired motifs, and natural themes, such as leaves, butterflies, or birds. Some metal wind chimes also incorporate other materials, such as glass or wood, for a unique look.
What is the best way to hang metal wind chimes?
To hang metal wind chimes, use a sturdy hook or hanger that can support the weight of the chimes. Choose a location that is exposed to the wind, such as a tree branch, porch, or balcony, to allow the chimes to move freely. Ensure that the wind chimes are hung at a height where they will not be bumped by people or objects.
What are the benefits of listening to metal wind chimes?
Listening to metal wind chimes can have several benefits, such as reducing stress and anxiety, promoting relaxation, and improving concentration. The soothing sounds of wind chimes can also create a peaceful atmosphere and mask unpleasant noises, such as traffic or construction sounds.
Can metal wind chimes be used indoors?
Yes, metal wind chimes can be used indoors to add a decorative touch and create a calming atmosphere. However, it is important to consider the size and sound of the wind chimes, as larger chimes or those with a deep tone may be too loud for indoor use.
What are some Feng Shui tips for metal wind chimes?
In Feng Shui, metal wind chimes are believed to bring positive energy and balance to a space. To enhance the effects of wind chimes, hang them in the north, northwest, or west area of your home or office. Choose wind chimes with a pleasant sound and avoid those with sharp or harsh tones. Additionally, avoid hanging wind chimes too close to doors or windows, as this can create excessive noise and disrupt the energy flow.
How can I make my own metal wind chimes?
To make your own metal wind chimes, you will need hollow metal tubes, bells, or other metal objects, as well as string, wire, or fishing line to attach them to a frame or support. Cut the metal objects to different lengths to create a variety of sounds, and experiment with different arrangements until you find a pleasing combination. Finally, attach the chimes to a hanger or hook and hang them in a location where they will catch the wind.
What are some safety considerations for metal wind chimes?
When hanging metal wind chimes, ensure that they are securely attached to prevent them from falling or becoming a hazard. Additionally, be aware of the location of the wind chimes and avoid hanging them where they may be bumped or knocked over by people or objects. Finally, ensure that the wind chimes do not create excessive noise that may disturb neighbors or violate local noise ordinances.
Video Tutorial: Relaxing Metal Wind Chimes sounds
Final Thoughts
Wind chimes are capable of bringing joy and satisfaction to people of different ages and tastes. So that you could enjoy playing with the wind of your wind chime as long as possible, it is crucial to make the right choice. 
We have provided you with the reasons why metal wind chimes are considered to be of the highest quality, offered you the most popular options, and explained what determines their sounding and how to make them last longer. Now it's your turn to act! Think carefully and make the right choice. Good luck!
---