---
Woodstock Chimes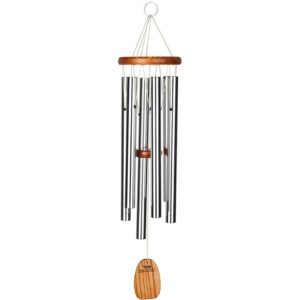 24-inches in overall length
Ash wood top/cherry finish
High quality
Woodstock Chimes PCCB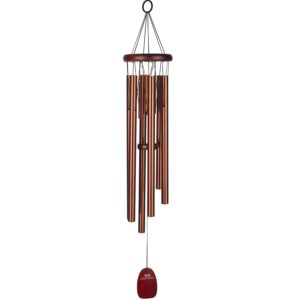 32-inches in overall length
Ash wood top
High quality
Woodstock Chimes CTS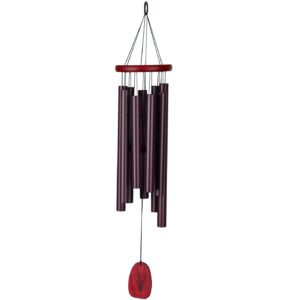 27-inches in overall length
Beautifully finished
Notes of a Verdi aria
Encore by Woodstock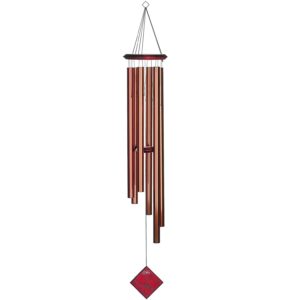 54-inches in overall length
Wood top with a bubinga finish
Easy to Customize
Woodstock Chimes GBS
56-inches overall length
Easy to Customize
High quality
---
Choose the Best Woodstock Chimes
Customer's Choice: the Best Rated Woodstock Chimes
86 users answered this survey. Please help us improve this review!

53.49% of users selected Woodstock Chimes, 12.79% selected Woodstock Chimes PCCB, 2.33% selected Woodstock Chimes CTS, 23.26% selected Encore by Woodstock and 8.14% selected Woodstock Chimes GBS. Every month we analyze your answers and change our rating.
---
Back in 1979, the world-famous designer or musical instrument and Grammy Award winner Garry Kvistad created the first Woodstock Chime of a broken aluminum lawn chair. The famous Scale of Olympos inspired the musician. This 7th-century pentatonic scale you may play only with brass instruments like chimes. That is why all Woodstock chimes are capable of producing the sounds at this scale.
These handcrafted chimes are still produced by Garry and his spouse Diane as part of their family brand in New York.
Benefits of Woodstock chimes:
Musically tuned to the most popular melodies like Amazing grace or Johann Pachelbel's Canon D. Each chime produces different tunings and melodies. That is why these talismans are also picked for various ceremonies and entertaining events, for instance, weddings;
The overall length varies from small to large sizes;
Handcrafted instruments made of the best materials – weather-resistance ash wood with beautiful finishes;
Includes both hollow tubes and solid rods made of rustproof aluminum and aluminum;
Almost all Woodstock chimes have a removable windcatcher;
All these chimes can be good for engraving and silk-screening;
This guide includes the review of top five most popular Woodstock chimes recognized by both Feng Shui experts and interior designers. Also, you may check the buying guide so you could purchase authentic Woodstock chimes.
Woodstock Amazing Grace – the best for sound level!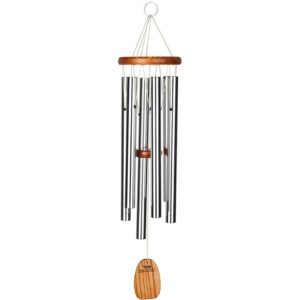 If you want to hear the popular hit "Amazing Grace" then you may want to invest in this Woodstock wind chime. This chime has a cherry wood and grainy finish and can produce this popular melody thanks to 6 aluminum tubes.
In addition to this great design, the chime offers decent weather-resistant qualities.
Pros
Pros
Medium size
High-quality materials
Precisely tuned
Beautiful cherry finish
Great weather-resistant qualities
Loud sounds
Good for indoor and outdoor uses
Cons
Cons
Doesn't play other songs
Only one-year warranty
Some parts are made in China
Can be disturbing for neighbors
Not safe wrapping
The strings can detach in a few months of active use
This Feng Shui talisman/musical instrument can be a good choice for religious and wedding ceremonies. Many people appreciate the low tuning "Amazing Grace". It may be a great gift.
Woodstock Pachelbel Canon – the best for the tubes!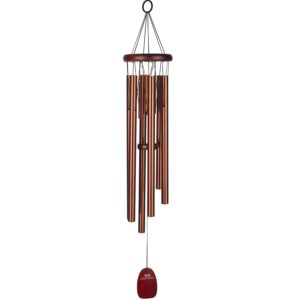 As one of the longest Woodstock chimes, this model has an overall length of 32 inches. It has 10 rods and tubes for producing the tones of the bestselling hit by Johann Pachelbel – Canon in D.
6 tubes are made of silver aluminum, while 4 rods are made of black aluminum. They are also different in diameter – 0.75 inches for tubes and 0.25 inches for rods. As for the wooden parts, this chime has a hanger made of ash wood, with a removable windcatcher covered in a black weather-resistant finish.
Pros
Pros
10 metal rods and tubes for harmonious sounds
Elegant weatherproof finish
Produces graceful melody
Can become a perfect housewarming gift
Can produce high-pitched and low sounds
Suitable for outdoor use because of the weather-resistant finish
UV-protected
Lightweight
Cons
Cons
Doesn't play other tunes
Only one-year warranty
Packaging paper is bad
Affected only by the strong winds
You may hang this Woodstock chime in your garden because it is shiny and loud. It can reflect the sunlight, scare away the birds and serve you for many years during all the seasons.
Woodstock Tuscany Chime – the best for the design!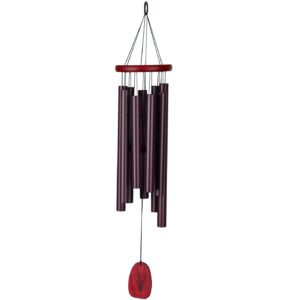 If you like to listen to Verdi arias, you may want to hang the Woodstock Tuscany chime somewhere in your house. This beautifully crafted chime can produce the clean and distinct notes of the popular Verdi's aria – La Forza del Destino.
But not even the beautiful sounds but the unique design makes this chime special.
Pros
Pros
Midsize
Beautiful design with cherry and burgundy finishes
Removable windcatcher
The image of grapes is burned into the wood
A great decoration for a vineyard
Handcrafted
Precision-tuned
Weatherproof
Cons
Cons
Only one-year warranty
Affected only by the strong winds
Doesn't have a hook
Not good for meditation
The body is made of ash wood with a burgundy wash finish. The sturdy strings attach 9 burgundy colored tubes of aluminum. Even the removable windcatcher reminds the wood-burden grapes.
Woodstock Chimes of Neptune – the best for musical performance!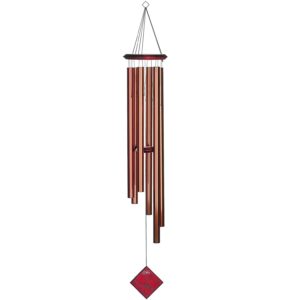 This list couldn't be full without the Woodstock Encore Bronze chimes. These
wind chimes
are recognized all over the world thanks to the vast tuning range. It can play different tunes and melodies as loud as you need.
This particular Neptune chime symbolizes the chaotic and powerful sea energy.
Handcrafted for outstanding musical performance, this chime can produce pentatonic (classic five-note scales) tunes. Every time wind blows through the chime, it produces new random sounds that are always pleasing to hear.
Pros
Pros
Variety of sounds and melodies
Sturdy design
Spiritual meaning
Long chime
Handcrafted
Rich bronze-colored 1.25-inch tubes
Bubinga finish wood top
54-inch braided nylon cord
Cons
Cons
Bulky
Affected only by the strong winds
Can attract birds because it's too shiny
Not very durable
The impressively large wind chime harmonizes with other Woodstock instruments from the Encore collection. Check this wind chime if you seek both spiritual and visual delight at your home.
Woodstock Gregorian Chimes – the best for the length!
If you look for the wind chime of a classic design, with medieval Gregorian chants, consider picking this instrument/talisman. The sounds it makes are enchanting, spiritual, deep and very rich.
Such a variety of sounds is produced by 8 silver-colored hollow tubes made of aluminum. Also, this is the longest chime in the Woodstock lineup.
Pros
Pros
Deep, classic Gregorian sounds
Can make a great spiritual or religious gift
Cherry wood top, clapper
Removable wind catcher
8 hollow tubes made of aluminum with silver finish
The longest Woodstock chime
Braided nylon cord
Cons
Cons
Only one-year warranty
Very loud
Heavy
This Gregorian baritone chime is fully compatible with other Woodstock Gregorian chimes – high-pitched tones, alto, soprano, tenor. This chime can easily become your inspiration and mood-lifter for a whole day. Also, this chime can make you feel calm and uplifting providing a real getaway from our hectic world.
The Buyer's Guide
Woodstock wind chimes are a great addition to any garden. A lot of people exert great effort to make their gardens look really beautiful. They carefully select the plants that they will include in their gardens. They choose the best materials for their pathways. They consult experts in building water features like cascades, fountains or fish ponds. All these, when properly put together, will result in a garden that is worthy of being featured in home improvement and landscaping magazines. But the look of a garden can be further completed by putting accessories like garden wind chimes.
Wind chimes can add to the overall appeal of your well-designed garden. Not only do they look good, but they also give melodic tunes that can give a soothing and relaxing feel.
There are many different types of wind chimes that you can choose from. There are bamboo wind chimes that blend well with almost every garden setup or design. They look natural, and they also produce natural sounds.
There are also glass wind chimes available in the market. These chimes are preferred by many because of the many different designs that can be made out of glass. They're also quite a lot of options in terms of glass color. Glass chimes can be made using clear, frosted or stained glass pieces. Glass chimes can give a garden a multitude of colors that will never fail to get people's attention.
If you would like to give emphasis on the sound produced, the best choice for you is Woodstock wind chimes. These garden wind chimes are made to produce beautiful music even in the softest breeze. They are said to be precision-tuned musical instruments. These wind chimes were, in fact, designed by a professional musician. The tubes you find in Woodstock wind chimes go through careful digital analysis to ensure that when they are hit they will create a beautiful harmony. Each tube is systematically cut and shaped using advanced technology.
Woodstock wind chimes are weather protected. They do not easily get affected by the elements. But through time, the weather protection may also wear off. To protect your chime, apply a thin layer of lemon oil on the wooden parts. Doing this regularly will slow down its depreciation.
The tubes of these wind chimes are also made such that they will not rust even after exposure to changing elements. But after quite some time, pitting, which is a natural thing that happens to aluminum, may also happen. To address this, clean the tubes using mild soap and water.
Woodstock wind chimes are great for use in your patio or garden shed where you entertain your guests. They will surely envy you for the fine piece of chime you have. They are also good for your bedroom window because the sound give can help put you to sleep.
Types of Woodstock chimes
Gongs and bells by Woodstock. If you prefer really loud sounds and awesome design, consider using the Acorn Wind Bell, Temple Bells, Bellissimo Spiral and the massive Emperor Gong;
The classic collection of Woodstock wind chimes. If you seek beautiful and graceful talisman with a spiritual purpose for your wedding, religious or anniversary events, you may choose among the Piccolo (the smallest size), Athena Windsingers, the Chimes of Olympus, Bali, Kyoto, Amazing Grace (available in 3 sizes), Gregorian and Mozart chimes;
The Woodstock Encore Collection offers the most popular wind chime lineup named after the planets of the Solar System – Mercury, Mars, Polaris, Pluto, Earth and Neptune. All these instruments/talismans are available for sale in 4 finishes – silver, black, bronze and black;
Precious Stones and Chakra chimes are the most expensive Woodstock talismans with stone accents and gemstones (including Amethyst, Rose Quartz. Amber, etc.);
Material
Since the first Woodstock wind chime was made of aluminum, almost all classic and modern Woodstock chimes are also made of different metals. Besides metals, Woodstock chimes have the rods and tubes of different shapes and materials including stained glass, seashells and bamboo.
When grouped these chimes can produce well-tuned notes and harmonious sounds. But still aluminum is the most preferred metal for Woodstock chimes because it provides a superb vibration. The second best metal after aluminum is steel with a soft sound effect. Besides, aluminum wind chimes are pricey compared to the steel talismans.
As for the wooden base and finishes, they also vary – some Woodstock chimes have ash wood or cherry finishes. Others have brass and silver coating for additional weather-resistant properties.
Cord
The chime's cord should not be very heavy, otherwise, it won't be affected by strong winds;
Also, keep in mind that cords of wind chimes can be vulnerable to weather conditions more than the instrument's body and top. That is why consider picking the cord made of nylon or other rain-resistance materials.
Other things to consider when choosing Woodstock Chimes:
The more tubes the chime has, the larger the number of various tones the talisman can produce;
Long tubes can produce deeper and low-pitched sounds. Short tubes mostly produce high-pitched tones;
Solid rods provide a lower level of noise at distance. Hollow tubes of Woodstock chimes can cover the longer distance – their sounds can be heard even on the second floor if the chime is hung over the front door. Just make sure that your neighbors do not mind loud noises;
Too lightweight chimes can be easily affected even by the gentlest breezes and won't stop ringing or chiming even for a few seconds. Choose what you prefer on the terms of weight;
If you want a wind chime to reflect sunlight, invest in the item made of crystals or stained glass;
Woodstock Chimes – Comparison of Key Indicators
This table compares various key indicators for Woodstock Chimes, a well-known brand that specializes in high-quality wind chimes. The data includes information on the chimes' overall size and weight, the number of tubes, their material and length, as well as the sound range and volume.
This table provides a comprehensive overview of the key features and specifications of various Woodstock Chimes products. It helps potential customers make informed decisions about which product is best suited for their needs by comparing the key indicators side by side.
| Model | Size (inches) | Weight (lbs) | Number of Tubes | Tube Material | Tube Length (inches) | Sound Range | Volume (dB) |
| --- | --- | --- | --- | --- | --- | --- | --- |
| Chimes of Pluto | 27 | 0.9 | 6 | Aluminum | 14-17 | G5-C7 | 22-25 |
| Chimes of Earth | 37 | 3.2 | 6 | Bamboo | 18-24 | G3-G5 | 25-30 |
| Chimes of Tuscany | 34 | 3.3 | 8 | Aluminum | 10-14 | D4-A5 | 25-30 |
| Chimes of Java | 50 | 6.8 | 7 | Bamboo | 25-31 | G3-G5 | 25-30 |
| Chimes of Bali | 37 | 2.1 | 6 | Bamboo | 19-24 | G4-G6 | 25-30 |
Woodstock chimes FAQ
Where are Woodstock chimes made?
The idea belongs to Garry Kvistad who created an instrument very close to the xylophone in the early '70s. And the first place of production was a factory in West Hurley, New York. The instrument had been produced there for a long fourteen years. And in 1999, the production floor was moved to a neighboring town of Shokan. Nowadays, the company is headquartered in the NY Catskill Mountains. You will not miss the place once you are in this neighborhood – an impressive 18-feet wind chimes sculptural stand is located not far from the production unit.
What do Woodstock chimes symbolize?
Wind chimes were invented thousands of years ago and have been associated with different things during their history. They exist in a variety of designs and can be made from metal, wood, or ceramic. This musical talisman is also known as the Chinese bells that were believed to have some special properties. According to legends passed down from ancient times, this instrument is a conductor of Qi energy. It brings success, attracts good luck, drives away evil spirits, and balances out energy.
Placing wind chimes in your accommodation, you will achieve the harmony of yin-yang, the feminine and masculine energies. The amulet is activated by the airflow, and it starts producing melodic sounds. According to Feng Shui, most often wind chimes are used to neutralize negative energy, but depending on where you place the talisman, it can perform other functions. Moreover, the details of the design are also very important. The wind chime with metal pipes is considered to have the strongest protective properties, and there should be six or seven pipes.
It is important to know all the nuances in order to get the maximum effect from the amulet.
Can you leave Woodstock wind chimes out in the winter?
If you want to extend the life of your talisman, you need to take care of it. Woodstock wind chime might work in any weather, but strong winds and harsh temperatures will gradually destroy it.
You should avoid exposing wind chimes to direct sunlight for a long time. And it is also recommended to keep the instrument inside during extreme weather. It is enough to store in the unheated area, a cellar, or a garage. And protect your wind chimes from dirt build-ups – wipe it regularly with a damp cloth. You can also apply a thin layer of wax from time to time to prevent the talisman from quick aging.
Do Woodstock chimes annoy neighbors?
No matter how soothing and inspiring the wind chime music can be for you, this instrument is on the list of the most annoying things people find about their neighbors. There is no need to pretend that everyone is truly fond of wind chimes.
So if you want to place your Woodstock chimes in the garden, in the immediate vicinity of neighbors, you need to take into account some parameters of the instrument.
Try to select the smaller size wind chimes, as the volume of the talisman is responsible for the strength of sounds it produces. Smaller models will be much quieter.
Pay attention to the material of the pipes. Thin pipes produce high-pitched sounds that may be more annoying. The instrument with thicker pipes will give a more ear-pleasing sound.
If you approach the Woodstock chime selection responsively, you will not have any issues with your neighbors.
Do Woodstock chimes scare birds?
Yes, birds are usually get scared by the random movements of the pipes and the sounds. Some people even hang this instrument intentionally near the front door to keep the birds away from the deck. But if you are going to place the wind chimes in your garden and worry that the birds will avoid it, you may be at ease. Smaller instruments do not produce too loud sounds to scare the birds away and even attract them. So it can be a great idea to bring more birds to your yard. And even if you use a bigger instrument, the birds will overcome their fear and get used to a new sound pretty fast.
You can experiment with different places and models to find the ideal place for your wind chime in the garden.
Where should Woodstock chimes be placed outside?
It is vital to remember that only correctly placed wind chimes will work according to your expectations. You should find the places where the energy is concentrated. Most often, wind chimes are hung in long corridors, doors, and window openings. But you can also place this amulet outside, and it will also work well.
Many people hang Woodstock chimes in their gardens for decorative purposes. Others genuinely believe that this amulet can protect against negative energy and bring positive emotions into the household.
To scare away evil spirits, Feng Shui recommends placing wind chimes in the areas near the entrance to the house or near the windows. You can also hang this amulet outside windows to stop the negative influence from penetration into your accommodation.
Wind chimes will work well if attached to the corner of the building or an acute-angled building.
Some experts suggest hanging such a talisman on the branches of the trees or on the terrace.
In some cases, it is advisable to use the help of wind chimes when a door or window is awkwardly placed in your house. If the window and the entrance are in front of each other, then such a talisman can balance out the energy in the pathway between them.  
You can hang wind chimes outside the window if you do not like the opening view or there is a source of negative energy like a hospital.
This talisman is equally powerful both indoors and outdoors. But always choose the wind chimes with the sound you really like. Otherwise, it will be just a useless toy. 
What materials are used to make Woodstock Chimes?
Woodstock Chimes are made from a variety of high-quality materials, including aluminum, bamboo, capiz shells, and recycled glass. The chimes are designed to produce beautiful, harmonious tones that can be enjoyed both indoors and outdoors.
What makes Woodstock Chimes different from other wind chimes?
One thing that sets Woodstock Chimes apart from other wind chimes is their commitment to quality and craftsmanship. Each chime is carefully hand-tuned to ensure that it produces the most beautiful and resonant tones possible. Additionally, the company uses only the highest-quality materials, such as aluminum and bamboo, to create their chimes.
What are some popular Woodstock Chimes products?
Woodstock Chimes offers a wide range of products to suit every taste and budget. Some of their most popular products include the Woodstock Amazing Grace Chime, the Woodstock Bells of Paradise Chime, and the Woodstock Emperor Gong.
Can Woodstock Chimes be personalized?
Yes, Woodstock Chimes can be personalized with a custom engraving. This is a great way to make your chime a one-of-a-kind gift for a loved one or to commemorate a special occasion.
How do you care for Woodstock Chimes?
To keep your Woodstock Chimes looking and sounding their best, it is important to care for them properly. This includes regularly wiping down the chimes with a damp cloth to remove any dirt or debris, as well as oiling any wooden parts to prevent cracking or splitting. Additionally, you should bring your chimes indoors during extreme weather conditions to prevent damage.
Where can you purchase Woodstock Chimes?
Woodstock Chimes can be purchased online through the company's website or through a variety of retailers, including Amazon, Bed Bath & Beyond, and Home Depot. They are also available in select gift shops and garden centers around the world.
What is the range of prices for Woodstock Chimes?
The price range for Woodstock Chimes can vary depending on the size, material, and design of the chime. Generally, prices range from around $10 for small, basic chimes to over $200 for large, complex chimes.
How do you hang Woodstock Chimes?
Woodstock Chimes come with a string or cord for hanging. To hang your chime, you will need to find a sturdy hook or hanger that can support the weight of the chime. Make sure that the chime is hanging freely and not touching any walls or other objects, as this can affect the quality of the sound.
Are Woodstock Chimes eco-friendly?
Woodstock Chimes is committed to sustainability and eco-friendliness. Many of their chimes are made from recycled materials, such as glass and aluminum, and they use environmentally-friendly packaging materials. Additionally, the company is a member of 1% for the Planet, meaning that they donate 1% of their annual sales to environmental organizations.
What is the warranty for Woodstock Chimes?
Woodstock Chimes offers a one-year warranty on their products. If your chime is defective or becomes damaged within one year of purchase, the company will repair or replace it free of charge.
Are Woodstock Chimes suitable for indoor use?
Yes, Woodstock Chimes can be used indoors as well as outdoors. In fact, many of their chimes are designed specifically for indoor use, such as their Zenergy Chime and Chimalong.
Do Woodstock Chimes make good gifts?
Yes, Woodstock Chimes make great gifts for a variety of occasions, including weddings, birthdays, and holidays. They are a unique and thoughtful gift that can be enjoyed for years to come, and they come in a wide range of styles and price points to suit every taste and budget.
Video Tutorial: Why Woodstock Chimes?
Final thoughts
If you search for exceptional quality and variety of tones, then pick handcrafted and precisely tuned Woodstock chimes. They can serve as great gifts for family and friends, as spiritual ceremony accessories and nice garden decorations.
---