---
Zaphir Green Sufi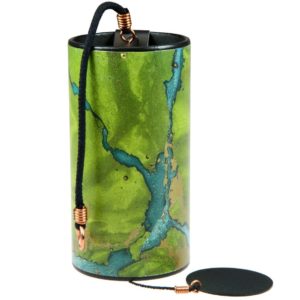 Sufi
For meditation and relaxation
Great Gift
Zaphir Crystalide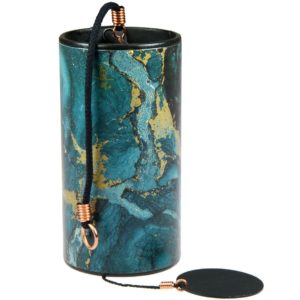 Crystalide
Handcrafted
Length: 12.5 cm
Zaphir Twilight Red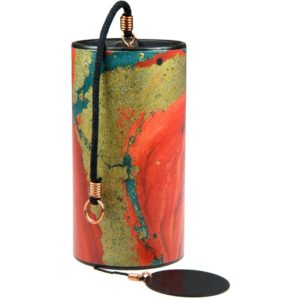 Twilight
Handcrafted
Length: 12.5 cm
Zaphir Burgundy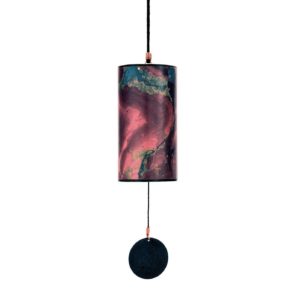 Blue Moon
For meditation and relaxation
Total Chime Length: 14.5″
Zaphir Twilight Blue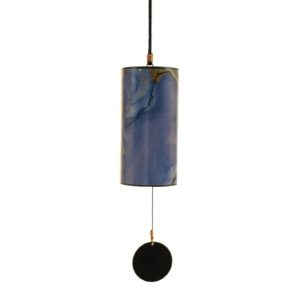 Twilight
For meditation and relaxation
Total Chime Length: 14.5″
---
Choose the Best Zaphir Chimes
Customer's Choice: the Best Rated Zaphir Chimes
198 users answered this survey. Please help us improve this review!

66.67% of users selected Zaphir Green Sufi, 12.12% selected Zaphir Crystalide, 6.06% selected Zaphir Twilight Red, 7.07% selected Zaphir Burgundy and 8.08% selected Zaphir Twilight Blue. Every month we analyze your answers and change our rating.
---
During 30 years and counting Feng Shui enthusiasts pick Zaphir-Shanti wind chimes for their eco-friendly materials, nice design and enchanting melodies. Even when in 2010 Shanti chimes became Zaphir chimes the quality remained at its best. As reported by MusicProfy website, these decoration/talismans/musical instruments are often picked for home/office/business use, educational purposes, healing sessions for adults/kids, meditation and yoga.
Benefits of genuine Zaphir wind chimes:
Zaphir brands follow the heritage of the popular Shanti's wind chimes (the production stopped in the 2010s);
Handcrafted by French artisans in the Pyrenees Mountains. That is why each chime is a bit different in color and patterns;
Mostly made of eco-friendly materials;
These are not just beautiful wind chimes but also full-fledged musical instruments hand-tuned by musicians;
To achieve natural and vibrant colors the artisans use oil paints on water. Atelier Zaphir invented this method of painting;
The following review doesn't compare Zaphir wind chimes because all these chimes have the same price, design, measurements and weight. You can only distinguish them by color and tuning. Each model was designed for a specific season of the year to create the best Feng Shui conditions in your house or office, create the mood with matching sounds and colors.
Zaphir Green Sufi Chimes – the best for the intermediary season!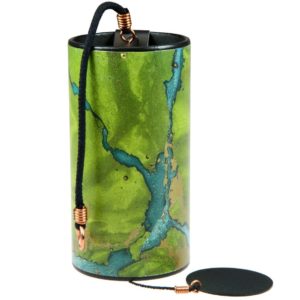 All Zaphir chimes are inspired by the season of the year. However, this particular chime symbolizes the change of the seasons – for example, when spring is gone and summer is not yet here.
In Asia, such intermediary seasonal chimes are hung inside pagodas and temples where the weather conditions are irrelevant. Like all Zaphir chimes, this talisman is a handcrafted decoration/musical instrument.
Pros
Pros
High-quality materials
Handcrafted tuning and design
8 resonance tubes are made of brass
Golden ratio dimensions
Very lightweight – only 6 ounces
Cons
Cons
Not very loud
Not good for outdoor uses
This Zaphir chime can be the best Feng Shui wind chimes for indoor uses because it symbolizes independence from any weather conditions.
Zaphir Crystalide Wind Chimes – the best for spring!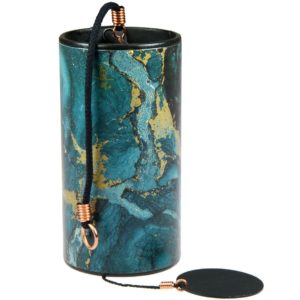 If you want to add some fresh spring feels to your house or business, consider using Zaphir Crystalide
wind chime made of bronze
and silver. Its pendulum is made of durable glass while the body is pressed cardboard.
The dimensions of this Zaphir chime coincide with Golden Ratio: the length is 4.9 inches and the diameter is 2.5 inches. The weight is only 6 ounces.
Pros
Pros
Amazing blue design that symbolizes the early spring
Portable
Many applications
Great for healing practices
Handmade in France
Cons
Cons
The sounds are not deep enough for complex meditation techniques
Not recommended for regular outdoor uses
You may pick this soft Zaphir chime to feel like spring comes the harsh winter. It can become a great gift for a newborn.
Zaphir Twilight Red Chimes – the best for autumn!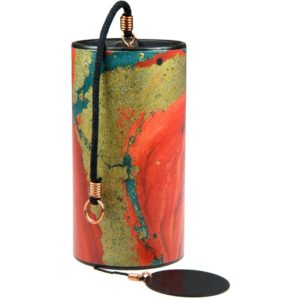 Autumn is associated with the last warm days and the vibrant colors of trees. This Zaphir chime can serve as a great passive instrument that bursts into pleasant sounds by the strong winds.
If you want to add nice orange and red colors to your bedroom, this musical instrument can easily become a great decoration.
Pros
Pros
Perfect sounds for soothing and relaxing
Vibrant colors
Can bring a warm atmosphere in a bedroom
Picked for meditation purposes
Cons
Cons
Great only as a passive instrument
Affected mostly by the strong winds
This chime is widely applied for meditation because of the deep and soothing sounds. Please, protect this chime from water and outside damage.
Zaphir Blue Moon Chimes – the best for winter!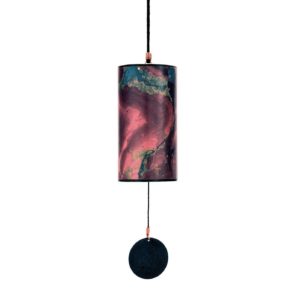 Christmas, family meetings, warm atmosphere and soothing colors – all these things are associated with Zaphir Blue Moon chimes. It is available with or without a stand.
Pros
Pros
Warm and soothing sounds for those who like winter holidays
Good for yoga training
Can help to fall asleep
Compatible with any wooden or metal chimes
Cons
Cons
A very passive musical instrument
A short cord
This Zaphir chime is quite durable but still very vulnerable to harsh winter conditions. However, you may hang this wind chime in a close patio – this decoration will look awesome with white snow in the background!
Zaphir Twilight Blue Chimes – the best for decoration!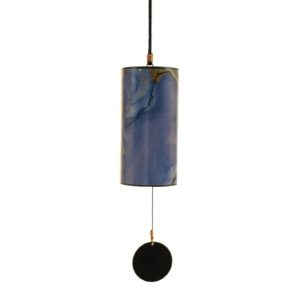 This is a peculiar Zaphir chime because it is not attached to Feng Shui elements. It is a variety of the autumn Twilight chime but this product is colored in blue. Most experts recommend using it only for decorative purposes.
Children mostly love its crystalline sounds, though this instrument/decoration can't be used as a toy, especially for children under 5 years.
Pros
Pros
Can be used for outdoor patios
Can be as a good gift, decoration, instrument or toy for school students
Nice blue colors
Very soothing, clear and melodic tones
Cons
Cons
Less spiritual meaning
Not very loud
If you have a sensitive hearing then you may even use this decoration for an alarm, though you won't be able to set it up.
The Buyer's Guide
Customers claim and Zaphir wind chimes are high-quality decorations capable of producing nice sounds. Among other benefits are affordability and a vast choice of designs and melodies. Here are a few tips of the things to check when buying authentic Zaphir chimes:
Design
Each Zaphir wind chime has a simple but efficient design:
A resonance tube is welded with solver strings into a metal plate;
This construction is covered with the body made from thin pressed cardboard;
Every Zaphir chime is hand-painted. 21 oil paints in different combinations are used to paint the bodies of these chimes. Thanks to the specific marble method of painting, each chime gets a unique design.
The dimensions of Zaphir chimes coincide with the "Golden Ratio" principles. Optimal resonance and sound are double-checked by hand for each instrument.
Materials
The manufacturer specifically put the bronze metal plate with a silver resonance tube into a pressed recycled cardboard body. They wanted to prove that it is possible to create high-quality wind chimes that are completely eco-friendly. All components including paints and oils used for the finishes are made of natural ingredients. They are recyclable and EEG standards.
The cardboard exterior of these chimes is covered with oil paints for a glossy marble effect and wax coating finish. It is a very interesting fact about Zaphir chimes. Most wind chimes have bodies made of wood or metal but Zaphir decorations' bodies are composed of thin pressed layers of celluloid board. And this pressed recyclable cardboard has great acoustic qualities for crystalline sounds delivered by Zaphir wind chimes.
However, the use of eco-friendly and disposable materials has certain limitations. For instance, Zaphir wind chimes are better to use in the waterproof areas outside or only inside because cardboard can quickly become soggy. So it is better to protect Zaphir chimes from high levels of humidity. Other materials are quite sturdy though they are not rustproof or weather-resistant.
If you intend to use Zaphir wind chimes outside, keep in mind that its eco-friendly finishing layer for weather protection and wax coating. Even the windcatcher is made of solid wood and covered in wax for additional weatherproof qualities.
Uses
Zaphir wind chimes are typically recommended for indoor uses because the ecological materials are not weatherproof. Nevertheless, in fact, you may hang this chime outside. There are two methods to apply Zaphir wind chimes:
As a passive instrument that sounds when the wind blows;
As an active instrument when you move it by hand to get the sounds;
Still, weather conditions can make the vibrant oil paints of Zaphir chimes duller. You may cover the body of the chime with varnish or oil but the colors can still fade away. Especially if the chime gets wet and soggy. Immediately let it dry fully if it is drained.
Mostly, Zaphir wind chimes are used as beautiful indoor decorations and Feng Shui talismans. Some people recommend picking these small and portable chimes for music classes and meditation sessions. Yoga enthusiasts typically use these chimes as a sound bowl in different mediation ceremonies.
Besides, Zaphir wind chimes can be great for perinatal care, relaxation, sound-therapy-massage, educational uses.
Tunings
A resonance tube of all Zaphir chimes is capable of producing 8 chords of different length and tone ranges. That is why each model of Zaphir lineup of wind chimes has its own unique range of melodies and overtones. So if you buy all Zaphir chimes you can get almost an endless harmonic flow.
Since there are 5 different models in the Zaphir series of wind chimes, there are 5 different tunings. Each tuning variation was inspired by 5 seasons and 5 Feng Shui elements.
How to care for Zaphir wind chimes?
If you intend to use Zaphir chimes outside (despite the manufacturer's restrictions), it is recommended to cover the chime with a protective weatherproof oil. Otherwise, you may experience the problems with the body of the chime, its colors and bad tuning.
Useful Video: Zaphir vs Koshi
Zaphir Chimes Comparison Table
Zaphir chimes are a type of wind chime that produces a gentle and calming sound. In this table, we compare various indicators of different Zaphir chimes.
| Indicator | Zaphir Crystalide | Zaphir Sufi | Zaphir Blue Moon | Zaphir Twilight |
| --- | --- | --- | --- | --- |
| Number of tubes | 4 | 4 | 6 | 5 |
| Tube length (inches) | 6.3 | 6.3 | 8.3 | 6.7 |
| Tube material | Aluminum | Aluminum | Aluminum | Aluminum |
| Tube diameter (mm) | 16 | 16 | 18 | 14 |
| Weight (grams) | 175 | 175 | 250 | 200 |
| Overall length (inches) | 15 | 15 | 22 | 18 |
| Sound quality | Clear and bright | Mellow and soft | Deep and rich | Harmonious and peaceful |
This table compares four different Zaphir chimes based on various indicators such as the number of tubes, tube length, tube material, weight, overall length, and sound quality. The Zaphir Crystalide and Zaphir Sufi have four tubes each and produce clear and bright, and mellow and soft sounds, respectively. The Zaphir Blue Moon has six tubes and produces a deep and rich sound, while the Zaphir Twilight has five tubes and produces a harmonious and peaceful sound. This table can be useful for those who are looking to buy a Zaphir chime and want to compare different options based on their features.
---
FAQ
Where are Zaphir chimes made?
Zaphir chimes are hand-made chimes made in France. The company has been in business for years, and their chimes are some of the most highly-regarded in the world. The defining characteristic of Zaphir chimes is that they are made of organic materials. This means that the chimes not only sound beautiful, but they also look amazing in any setting. [1], [2], [3]
Are Zaphir wind chimes therapeutic?
There is some evidence that suggests that the sound of zaphir chimes may be therapeutic. The gentle, tinkling sounds can help to soothe and relax the mind, making them a great choice for use in meditation or yoga practices. Additionally, the soft tones can create an ambient atmosphere that is calming and relaxing. For these reasons, zaphir chimes are often used in spas and other relaxation-focused settings, for Feng-shui or even during your study sessions! [1], [2], [4]
Why do we like Zaphir wind chimes?
Zaphir wind chimes are some of the most popular on the market for a variety of reasons. They offer a crisp, clear sound that is perfect for any setting. The sleek design is attractive and will complement any décor. Zaphir chimes are also made with high-quality organic materials, so they are durable and will last for years. What's more they are hand-made and this fact only adds to the coziness they produce.
They are also widely used for activities such as sound-massage and meditations. The sound they produce is just that relaxing. [1], [2], [3], [4]
What do Zaphir wind chimes sound like?
Zaphir wind chimes come in a variety of sounds, each with their own unique tones.
They are available in 5 tones, each relating to five seasons and five elements in Feng-shui. Chrystalide, Sunray, Twilight, Blue Moon and Sufi.
Some produce high-pitched notes that are reminiscent of a gentle breeze, while others create deep, resonant tones that are perfect for filling any outdoor space with natural ambiance. No matter what your preference is, there's sure to be a Zaphir wind chime out there that will perfectly match your individual taste and style. [1], [2], [4], [5]
How do I choose a Zaphir wind chime?
There are actually a few things you need to consider when choosing one. The most important factor is the size. Sound that the chime makes is the most crucial thing to consider when choosing a wind chime, and with Zaphir you can choose between 5 different sounding options. Finally, you need to think about the design of the chime. There are many different designs and colors to choose from, so you can find one that matches your personality and style.
Also keep in mind that Zaphir chimes aren't designed for outdoor use as they can not resist elements well. [1], [2], [3], [4], [5]
Do Zaphir wind chimes annoy neighbors?
No, they typically don't. Zaphir chimes produce a melodic sound that is often described as "soothing." However, always be mindful of your surroundings and consider your neighbors when hanging chimes. If you have any concerns, it's best to ask your neighbors directly if they are bothered by the chimes before installing them.
Where should Zaphir wind chimes be placed outside?
It is not advised to place Zaphir wind chimes outside due to recycled materials they are made of being vulnerable to water, sun and strong winds. However, you can place them under a porch or in a place more or less covered from the elements. If you do that and will maintain them regularly by applying special coatings, they can last a long time even when outdoors. [1]
Is Zaphir wind chime good for home?
Zaphir chime is perfect for home décor. It has a sleek and modern design that will complement any style of home while also bringing a relaxing atmosphere to where you place it. Zaphir has a wide variety of colors to choose from, so you have more options to make your chime match your home design.
Zaphir chimes are also functional, providing a soothing ambiance and gentle breeze to your house. [1], [2], [3], [4], [5]
What makes Zaphir chimes unique compared to other wind chimes?
Zaphir chimes are known for their unique tuning system, which is based on the ancient Indian musical scale of Ragas. Each chime is precisely tuned to create a soothing and harmonious sound that can calm the mind and relax the body. Additionally, Zaphir chimes are handcrafted with high-quality materials, including bamboo, metal, and crystal, to ensure longevity and durability.
Can Zaphir chimes be used for meditation and relaxation?
Yes, Zaphir chimes are perfect for meditation and relaxation due to their precise tuning and calming sound. When played, the chimes produce a series of harmonious notes that can help clear the mind, reduce stress and anxiety, and induce a state of relaxation. Many people use Zaphir chimes as part of their daily meditation or mindfulness practice to promote a sense of calm and inner peace.
How do I care for my Zaphir wind chime?
To ensure the longevity and performance of your Zaphir wind chime, it's essential to take proper care of it. Keep the chime away from direct sunlight and moisture, as this can damage the materials and affect the sound quality. You can clean the chime with a soft cloth or brush, and for metal chimes, you can apply a protective coating to prevent rust and corrosion.
What is the best way to hang my Zaphir wind chime?
Zaphir wind chimes can be hung in a variety of places, such as a porch, patio, or garden. When hanging your chime, make sure to choose a location that is sheltered from strong winds and direct sunlight, as this can damage the materials and affect the sound quality. You can use a sturdy hook or hanger to hang the chime and adjust the height to ensure it is easily reachable for playing and maintenance.
Can Zaphir chimes be customized or personalized?
Yes, Zaphir chimes can be customized or personalized to make them a unique and meaningful gift or addition to your home. You can choose from a variety of chime designs, colors, and sizes, and some retailers offer engraving or personalized messages on the chimes. Additionally, you can create a custom chime arrangement by combining different Zaphir chimes to create a unique sound and melody.
How do I play my Zaphir wind chime?
To play your Zaphir wind chime, gently tap the hanging tubes or tubes with the included mallet or a soft object such as a rubber ball or padded stick. The chime will produce a series of harmonious notes that can be played in various sequences and rhythms to create a unique melody. Experiment with different tapping techniques and speeds to find the sound that resonates with you.
Can Zaphir chimes be used indoors?
Yes, Zaphir chimes can be used indoors to create a calming and relaxing atmosphere. However, when using the chime indoors, be mindful of the acoustics of the room and the volume of the chime. You may need to adjust the hanging height or use a softer tapping technique to prevent the chime from overpowering the space. Additionally, you may want to consider using the chime in a dedicated meditation or relaxation space to promote a sense of calm and focus.
Can Zaphir chimes be tuned or adjusted?
Zaphir chimes are precisely tuned during the manufacturing process, and the tuning cannot be adjusted or changed by the consumer. However, some retailers or manufacturers may offer a warranty or repair service that can tune or adjust the chime if it becomes out of tune due to normal wear and tear. It's important to follow the care instructions and handle the chime with care to ensure it stays in tune and performs at its best.
What are the benefits of using Zaphir wind chimes?
Using Zaphir wind chimes can provide several benefits, including promoting relaxation, reducing stress and anxiety, improving focus and concentration, and enhancing the overall ambiance of your home or outdoor space. The chimes can also help create a sense of tranquility and inner peace, making them an excellent addition to your meditation or mindfulness practice. Additionally, the beautiful sound of the chimes can bring joy and positivity to your day.
Are there any safety precautions I should take when using Zaphir wind chimes?
When using Zaphir wind chimes, it's important to take certain safety precautions to prevent injury or damage. Make sure to hang the chime away from high traffic areas and out of reach of children and pets. Also, avoid playing the chime too aggressively, as this can cause the tubes to break or the hanging mechanism to become damaged. Finally, make sure to regularly inspect the chime for any signs of wear and tear and replace any damaged parts immediately.
Can Zaphir wind chimes be used as a musical instrument?
Zaphir wind chimes are designed to produce a beautiful and harmonious sound, but they are not typically considered a musical instrument in the traditional sense. However, many musicians and composers use Zaphir chimes as part of their soundscapes or ambient music, incorporating the chime's soothing sound into their compositions. Additionally, some music therapists may use Zaphir chimes as part of their therapeutic interventions.
Do Zaphir chimes come with a warranty or guarantee?
Most Zaphir wind chimes come with a warranty or guarantee from the manufacturer or retailer. The specifics of the warranty or guarantee may vary, but they typically cover defects in materials or workmanship and may offer repair or replacement options if the chime becomes damaged or defective. Be sure to read the warranty or guarantee carefully before purchasing to understand the terms and conditions.
Final thoughts
Zaphir wind chimes can become a great addition to your interior design and outdoor backyards. They are made of eco-friendly materials and resonating tubes capable of delivering the sweetest melodies.
References:
https://zaphir.fr/
https://sonoransound.com/products/zaphir-chimes
https://www.gaiachimes.com/blog/what-is-so-special-about-the-set-of-zaphir-wind-chimes.html
https://centerforsoundtherapy.com/product/zaphir-therapeutic-wind-chime/
https://www.gaiachimes.com/blog/What-do-zaphir-chimes-sound-like.html