---
Woodstock Chimes Earth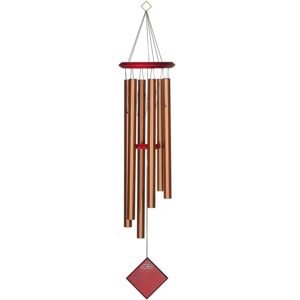 37-inches overall length
6 tubes
5 note pentatonic scale
Encore by Woodstock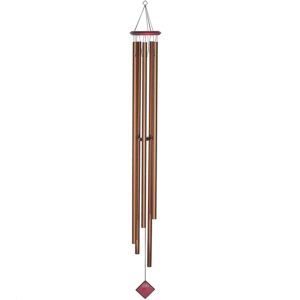 38-inches overall length
5 tubes
5 note pentatonic scale
Woodstock Chimes DCB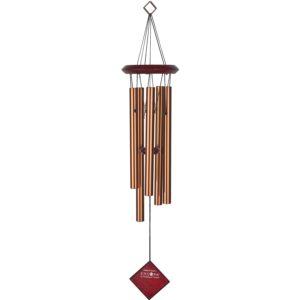 22-inches overall length
5 tubes
Pentatonic scale
Woodstock Chimes WPCB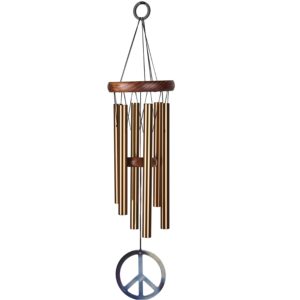 16-inches overall length
6 tubes
Let There Be Peace on Earth
---
Choose the Best Bronze Wind Chimes
Customer's Choice: the Best Rated Bronze Wind Chimes
41 users answered this survey. Please help us improve this review!

68.29% of users selected Woodstock Chimes Mars, 21.95% selected Woodstock Chimes Earth, 9.76% selected Encore by Woodstock, 0% selected Woodstock Chimes DCB and 0% selected Woodstock Chimes WPCB. Every month we analyze your answers and change our rating.
---
If you are looking for a nice-looking wind chime with enchanting melodies for yourself or as a gift, then you have probably heard already about Woodstock chimes. The following review focuses on the specific lineup of Bronze chimes by Woodstock.
The Grammy-winning instrument designer and musician Garry Kvistad founded the Woodstock brand in 1979. The first Woodstock chime was made from an aluminum lawn chair. So basically when you buy a Woodstock chime you buy a full-fledged musical instrument with only one exception – you don't have to play it. You just hang it above the door or window and the breeze will do the rest.
Why are Woodstock bronze wind chimes special? They are made of top-notch metals and wooden components, according to the major rules of the eastern Feng Shui philosophy. Every Bronze chime can serve as a nice decoration, soothing musical instrument, or luck-bringing talisman for your house.
The main idea behind the Bronze Encore collection of the wind chimes by Woodstock is to inspire, cure, enhance and entertain with the musical power delivered by Mother Nature itself. Each Bronze chime is named after the planet or some stellar object to emphasize its celestial look and sounds.
In addition to the exceptional quality, each custom made chime is hand-tuned with extreme precision to deliver mesmerizing sounds for home or workspace. Check the comparison table and short reviews of 5 best Woodstock Bronze wind chimes.
Woodstock Chimes of Mars – the best for portability!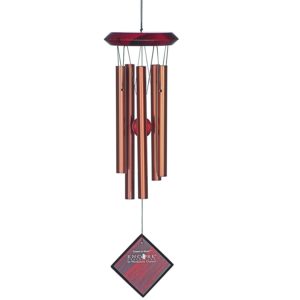 You may want to check this wind chime because it has a very nice design resembling the red surface of the planet Mars. Its 5 black hollow rods are made of aluminum and have the rich bronze color with the beautiful wooden top.
All wooden elements have the bubinga finish and are attached with a solid braided nylon cord. To deliver the enchanting melodies and deep-voiced sounds, the Mars chime is tuned to a 5-note pentatonic scale (G minor).
Pros
Pros
Handcrafted
The exceptional quality of the tubes, cord and top
The sounds are always in harmony
The classic design with 5 metal rods
Lightweight
Portable
Includes a removable windcatcher
Has a hook on the top
Weather-resistant and rustproof
Comes in a box
Cons
Cons
Affected only by the strong winds
Not very loud – won't do to scare away the birds
The strings are not very durable
This is a rather small and lightweight chime inspired by the Red Planet. Thanks to the pentatonic scale tuning, it can produce different patterns of sounds each time the air flows through it. Also, it has a removable windcatcher that can be engraved or silk-screened.
Woodstock Chimes of Earth – the best for versatility!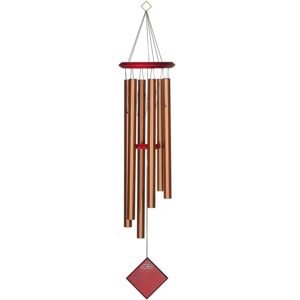 Another Bronze chime by Woodstock us hand-crafted and hand-tuned to a pentatonic musical scale. This midsize chime has not 5 but 6 long aluminum rods to deliver the mesmerizing melodies even if the slightest wind blows. The longest tube is 20 inches.
Pros
Pros
6 durable aluminum rods
Lifetime tuning guarantee
Weather-resistant
Includes a removable windcatcher
Suitable for engraving
Easy installation
Sturdy strings
Good for large porches
Cons
Cons
Some components are made in China
Only one-year warranty for the materials
The sound doesn't travel far
A bit bulky
This Bronze chime can become a great gift because the manufacturer sends it in a full-color gift box that you may additionally wrap or embellish. You may hang this metal chime even in winter and it won't get rust.
Woodstock Wind Chime of Venus – the best for the size!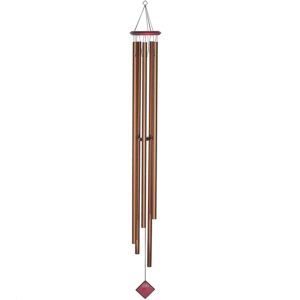 The largest Bronze wind chime with the red finish was inspired by the cold grace of Venus. Like the previous Bronze chimes, this item is also hand-tuned and handcrafted.
The longest tube is 45 inches. The only difference is that the tubes are long but smaller in diameter compared to other Bronze chimes – 0.87 inches versus 1 inch, respectively. It also has a removable windcatcher that you may engrave or cover with shining polish. The sound is moderately deep and reminds church bells.
Pros
Pros
Nice-looking bubinga finish
5 bronze-colored aluminum tubes
Good for engraving
Easy installation
Deep and loud sounds
Narrow tubes
Cons
Cons
A bit loud
Bulky
Affected only by the strong winds
Tubes may have scratches
This chime can be a good choice if you have a big house or summer cottage. It won't do for small offices or apartments. It is compatible with all the other Bronze Encore chimes if you want to create the collection of wind chimes.
Woodstock Chimes DCB22 Polaris – the best for the classic design!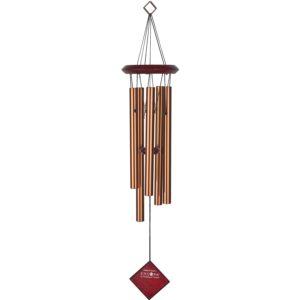 Nice bubinga finish, 5 standard tubes made of aluminum with bronze cover – the Polaris chime has all these features. Named after the North Star this wind chime offers the most classic design and size along with the 5-note musical scale. The longest tube is 9.5 inches.
Pros
Pros
Durable, braided nylon cord
5 anodized aluminum rods
The well-built midsize chime
Affected by both gentle breezes and strong winds
Won't rust or break for 3-5 years in a row
Cons
Cons
Doesn't include a gift box sometimes
Not very loud
It is another nice-looking, midsize and classic wind chime in the Woodstock Bronze Encore collection. You may use it as a gift or house decoration. It will produce resonating sounds only if the weather is windy. The chime is good for all seasons of the year.
Woodstock Chimes WPCB Peace – the best for durability!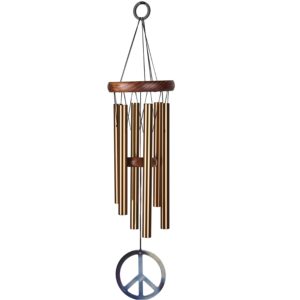 All Bronze chimes are made of high-quality and durable materials. The Peace Sign inspired chime by Woodstock goes even further at the point of quality. It offers a nice ash wooden base with the teak finish.
Also, the removable windcatcher is made of flamed stainless steel.
Pros
Pros
Well-built
6 long tubes
Lightweight
Portable
Stainless steel, aluminum and ash wood are the major materials
Comes in a nice-looking Woodstock box
Suitable for outdoor use all year round
Cons
Cons
Some tubes are too high-pitched and may produce annoying sounds
Affected only by the strong winds
If you look for a small-sized, weather-resistant chime with moderately deep sounds and a pacifist message, this Woodstock talisman can be great for you.
The Buyer's Guide
Almost all components of Woodstock Bronze chimes are made in the United States. According to many reputable mass media sources like The Wall Street Journal, the Woodstock chimes are numerously picked for the best value and best quality compared to other popular brands of wind chimes.
A few things to consider when choosing the Bronze wind chimes by Woodstock:
Materials
Aluminum, stainless steel and bronze finish are the major metals used for making the Bronze Encore collection of Woodstock chimes. These are the best materials for large chimes. But unlike most brands, Woodstock makes small and lightweight metal chimes as well.
Besides metal hollow tubes, the Bronze wind chimes have wooden parts. These are mostly ashwood/redwood pieces with a teak or bubinga finish. In such a way, the chime has a very luxurious look. It is quite easy to maintain such half-wooden chimes with any top-notch furniture polish.
Some experts believe that the tubes should be attached to the top pendant with metal strings. But, instead, Woodstock uses sturdy nylon strings and cords. You can enhance the durability by covering the strings with heavy-duty glue.
Design
There are many wind chimes out there. But the Bronze Encore collection includes the chimes with a classic tubular design. It means the vertical long and hollow tubes that vary in length are attached to the chime's top.
To produce unique tones these tubes are made of aluminum alloy. Keep in mind that the Bronze collection can't be used as memorial chimes. Though, they can be served for cleansing the house from bad energy, according to the Feng Shui philosophy.
Tones
As you may have noticed, most Bronze wind chimes are hand-tuned to the pentatonic scale. It means that they can produce low, deep tones and high notes. If you seek tenor and bass chimes, choose the Bronze instruments with long and narrow tubes. These sounds can make the most relaxing melodies resembling church bells and sacred music.
Interesting Video: Amazing Grace Chimes with Garry Kvistad
Final thoughts
The Bronze collection of wind chimes are made by Woodstock – the reputable brand that produces musical instruments since 1979. It means that you get more than a nice garden decoration or Feng Shui talisman when you buy any Bronze chime. You invest in a high-quality musical instrument capable of delivering harmonic sounds in the windy weather.
---