---
Nalulu Rustic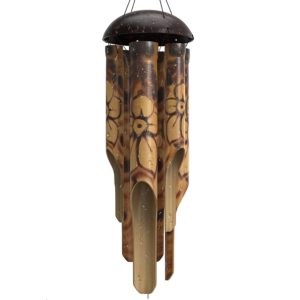 Full Length: 35 in
Stainless Steel Grade
Varnish Double Protection
Nalulu Classic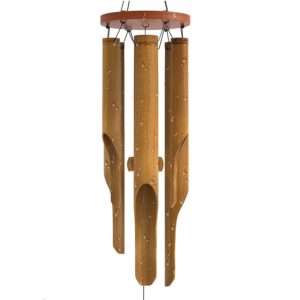 Full Length: 35 in
Stainless Steel Grade
Varnish Double Protection
Beachcombers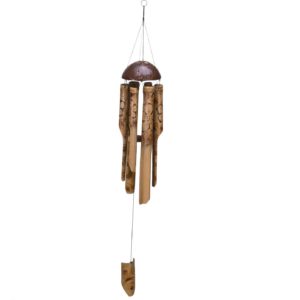 Full Length: 41.25
Has an O ring
Indoors/outdoors
Cohasset Gifts 183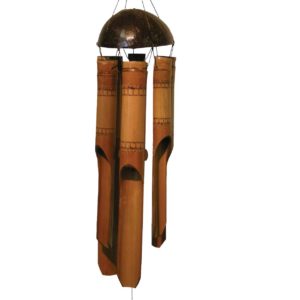 Full Length: 31 in
Beautiful Sound
Eco-friendly
---
Choose the Best Bamboo Wind Chimes
Customer's Choice: the Best Rated Bamboo Wind Chimes
134 users answered this survey. Please help us improve this review!

61.94% of users selected Nalulu Rustic, 11.19% selected Nalulu Classic, 8.96% selected Beachcombers, 5.97% selected Cohasset Gifts 183 and 11.94% selected Woodstock Chimes. Every month we analyze your answers and change our rating.
---
If you want to add an elegant decoration to your garden or backyard, consider buying a wind chime made of bamboo. Users all over the world prefer bamboo wind chimes because these talismans are more affordable and eco-friendly than metal chimes.
Benefits of bamboo wind chimes:
Less loud compared with metal chimes. These chimes will not make your neighbors nervous. The sound is no more 20-30 decibels (if affected by a light breeze);
They can produce more serene and peaceful melodies that are aimed at helping you to relax, meditate or fall asleep quickly. These chimes make muted, clacking and hollow sounds when bamboo reeds collapse from the wind blow;
These chimes are not shiny and loud enough to scare away small birds;
They are more eco-friendly because bamboo is a 100% renewable source;
Will look more natural in your garden because they fully blend with nature;
Such a chime can serve as a great decoration both inside and outside the house. You may also buy bamboo chimes as a gift for your family and friends;
Check the following review with some of the best bamboo wind chimes described. Also, you may read the buying guide to learn about the most important aspects of bamboo chimes.
Nalulu Rustic Bamboo Wind Chime – the best for eco-friendliness!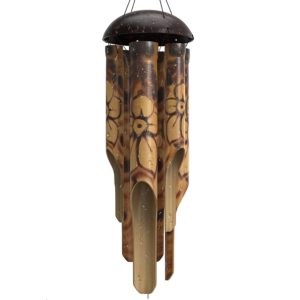 Do you want to add rustic vibes to your garden? Then check the open-flame burned floral chimes by Nalulu. The talisman is 100% eco-friendly with a meaningful design. A few engraved flower patterns were made with an open flame.
The beautiful Nalulu bamboo chime is topped with a real coconut shell. This chime symbolizes new beginnings and can deliver long-anticipated peace in your life.
Pros
Pros
100% eco-friendly
Peaceful sounds
Strong stainless steel hook
This chime delivers gentle and calming sounds
Can last through the heavy rain
Cons
Cons
A bit bulky
The top can be easily crooked
The cord and strings are not very sturdy
---
The manufacturer aimed to create the chime capable of relieving stress and making you fall asleep faster. Also, this talisman can be used for any meditation ceremonies.
Nalulu Classic Bamboo Wind Chime – the best for meditation!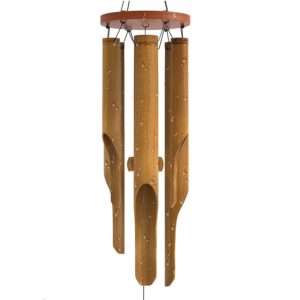 Another bamboo chime by Nalulu was picked for this review. This product offers great build quality and durability compared to most wooden chimes. Professional Indonesian artisans handcraft each Nalulu bamboo chime.
Its classic shape and dark wood finish will match any interior or outdoor setting.
Pros
Pros
Durability
Classic shape
Stylish finish
Handcrafted
Can be great for meditation and stress relief
100% eco-friendly
Produce nice and low sounds
Cons
Cons
Too lightweight
Affected only by strong winds
Strings may come crooked
Rough coating
---
Just like the previous Nalulu chime this one also comes with a strong hook made of stainless steel. Do not try to cut the strings on your chime because it may affect the sounds.
Beachcombers Bamboo Wind Chime – the best for style!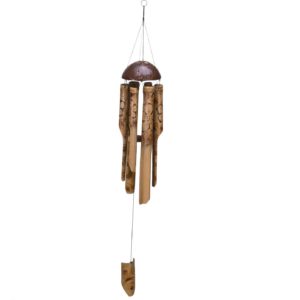 If you seek a natural and aesthetic look in bamboo chimes, check the Beachcombers product that is both stylish and affordable. Unlike classic bamboo chimes, this talisman is more impressing as a garden decoration than a full-fledged instrument.
The flowers are burnt on the natural bamboo body with a coastal brown finish.
Pros
Pros
It is made of quality materials
Good both for indoor and outdoor uses
Burnt flower design
Well-packed
Can withstand extreme heat
Produce nice and low sounds
Cons
Cons
Not fully weatherproof
The top part is not sturdy
The bamboo body can be cracked if the chime falls
---
If you seek a nice, stylish and eco-friendly gift for your friends and family, consider picking Beachcombers Bamboo wind chime. Keep in mind that this chime is made in China. That is why sometimes the parts may detach quickly.
Cohasset Gifts 183 – the best for portability!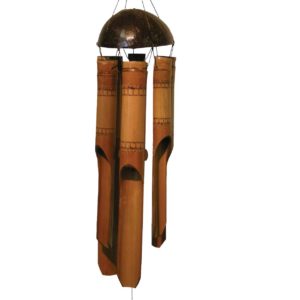 Another melodic bamboo chime that has a very distinctive handmade design. You can literally turn your backyard into a peaceful oasis or Japanese garden.
You may easily use this chime to decorate your house both inside and outside.
Pros
Pros
Easy to clean – just dust off the fluff
Handmade in Bali
Produces beautiful sounds
A good choice for mediation and Zen gardens
Portable
Won't get soggy after a downpour
Cons
Cons
Sometimes you can barely hear its sounds
Too lightweight
Protect from the strong winds because it may have cracks
---
Cohasset Gifts 183 chime is a responsible choice for backyard decoration. Because it is made of eco-friendly coconut wood and renewable bamboo. Turn your backyard into Zen garden.
Woodstock Chimes CGB436 – the best for quality!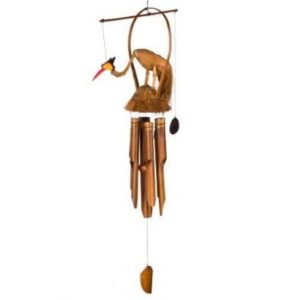 Created by Grammy award-winning musician Garry Kvistad all Woodstock wind chimes can deliver inspirational and deep sounds. Besides nice melodies, you may recognize this bamboo chime thanks to its interesting design.
A hand-painted bird that nods when the chime "sings" decorates the head of this talisman.
Pros
Pros
Respectful heritage
Relaxing and soothing melodies are delivered by 6 bamboo tubes
Handmade by Balinese craftsmen
Works great as a decoration, Feng Shui talisman and musical instrument
Can become a good gift for people who appreciate unique designs
Cons
Cons
Only one-year warranty
The birdy decoration is fragile
---
You may enjoy mellow and enchanting sounds of perfectly hand-tuned Woodstock bamboo chimes. It can easily serve for a few years if used carefully.
The Buyer's Guide
What most people know about having bamboo wind chimes in the home is the assurance that they would be able to come home to a calm environment minus the noise and hello to the enchanting music it can provide. Furthermore, over time, lots of people are investing in this type of wind chime and are very much popular in places like Asia, wherein a huge population of bamboos are grown.
Bamboo wind chimes are usually resistant to harsh weather conditions, although eventually, they would need to be replaced as they could rot. Looking around, there are those quality Indonesian made wind chimes which could be quite costly but superior in terms of quality, but there are still a number of others still prefer making their own to decorate their homes.
However, aside from being a source of relaxation and home decoration idea, bamboo wind chimes are also said to amplify the luck of the owner and drives away negative energy. In order to do this, one needs to post or hung this type of wind chime in places where one usually enters like the front door. One need not place this wind chime in a place where there is strong wind since it could also be placed in specific areas where the flow energy has stopped in order for its course to be dynamic again.
One should also take into consideration the diameter and measurement of such wind chimes and match it to the size of the entryway. In order to better understand it, one must take care not to place a tiny set of bamboo wind chimes in a large entrance and vice versa. This is due to the fact that a big type in a small pathway does not invite positive energy while a small type in a large entryway would not be able to capture negative energy that may pass through.
When it comes to having a visitor or friends coming over, one must place the bamboo wind chimes high enough so that it does not bother or get in the way of the person entering through the front door.
Although there are several restrictions and considerations to observe when it comes to the role played by bamboo wind chimes in Chinese feng shui, one need not adhere to it unless preferred and still enjoy the comforts of having one in the home.
Uses
You may use bamboo wind chimes as a garden/interior decoration, musical instrument or Feng Shui talisman. More often people use such chimes for meditation and relaxation purposes.
If you check the bamboo chimes carefully, you may see some signs engraved on the chime's body – birds, butterflies and symbols of Fire, Earth, Wind, Water. Each symbol means something positive for your family – peace, love, wealth and happiness. But the bamboo chime with the engraved symbols that you prefer to transform into certain things and events in your life.
Interesting fact: some people prefer to do make bamboo chimes on their own. You may buy hollow bamboo sticks and tie them together with a red ribbon. In such a way, it can become an excellent Feng Shui talisman which carries a positive flow of energy.
You must understand that just placing a bamboo chime in your house or office building won't become a panacea for all unhappiness and negativity. To influence and improve the atmosphere in your house, you need to start with yourself.
Sound
The sound of a bamboo wind chime is much more important than its appearance. Therefore, before buying, you should listen to its melodies and decide if you want to hear these sounds all the time.
By touching the core pendant, the vertical tubes produce gentle and pleasant sounds. The melody it produces should be nice and relaxing, only then it will fill your home with the energy of harmony and prosperity.
Materials
Wind chimes are mostly made of wood, metals, porcelain and ceramics. The chimes made of bamboo, copper, steel and silver are especially popular. Plastic is not suitable for making this instrument and Feng Shui talisman. Otherwise, plastic chimes can be used only for a garden or interior decoration. The strings and cord of wind chimes should be made of natural materials as well.
Bamboo or metal – what to choose? According to the Feng Shui philosophy, bamboo wind chimes may dissipate negative energy and protect the family members living under one roof from quarrels and other troubles. That is why it's best to place a wind chime in the place of the apartment where you feel uncomfortable.
But the wind chimes do not necessarily have to be made of bamboo or other wooden parts. Metal tubes may also reflect the negative energy, preventing it from spreading around your house or office building.
The thing is that both metal and wooden chimes are nice-looking and melodic. The level of noise, however, is different. Metal chimes produce louder and deeper sounds, while bamboo wind chimes make percussive sounds.
Also, only bamboo chimes with all-natural strings can be considered as fully eco-friendly decorations for your house.
Where to place bamboo chimes?
The best bamboo chimes can be placed both indoors and outdoors. Most of them have a special hook for hanging. It is recommended to hang such bamboo chimes according to your uses. If you use the chime as a decoration, then place it outside so you can hear its nice sounds. If you prefer listening to the enchanting chimes during meditation then it is better to hang the chime in your living room or bedroom.
If you believe Feng Shui philosophy, wooden chimes should be placed in the eastern or southeastern parts of your house to bring peace and prosperity to your family. But do not place bamboo chimes in the eastern area of your apartment, house or office building.
In a case, you place bamboo wind chimes outside then make sure the body of the instrument is protected from the strong winds, heavy rain and direct UV rays.
There are also certain restrictions about placing bamboo chimes, according to Feng Shui philosophy. For example, it is not recommended to place the amulet in the workplace or your bedroom. You can't touch it with your head, therefore it is forbidden to hang the talisman very low.
However, it is allowed to hang the pendant on the chandelier if it is not above a table or sofa where people like to read and sleep. It is better to place a dreamcatcher over such places.
Comparison of Numerical Indicators for Bamboo Wind Chimes
Bamboo wind chimes are a popular type of decorative item that produces soothing sounds when the wind blows. They come in various sizes, shapes, and designs. In this table, we compare different numerical indicators related to bamboo wind chimes to help you understand their characteristics better.
| Indicator | Description | Range |
| --- | --- | --- |
| Diameter | The width of the largest bamboo tube | 0.5-6 inches |
| Length | The length of the longest bamboo tube | 6-36 inches |
| Number of tubes | The total number of bamboo tubes used | 4-30 tubes |
| Material | The type of bamboo used | Various |
| Price | The cost of the wind chime | $10-$100 |
| Sound | The quality and loudness of the sound produced | Soft to Loud |
The table provides a comparison of various numerical indicators for bamboo wind chimes, including diameter, length, the number of tubes, material, price, and sound. The diameter of bamboo tubes used for wind chimes can vary from 0.5 to 6 inches, while the length of the longest tube can range from 6 to 36 inches. The total number of tubes used in a wind chime can range from 4 to 30. The type of bamboo used for the wind chime can vary, and the price range of the wind chime is between $10 to $100. The sound produced by bamboo wind chimes can be soft or loud depending on the design and size. This information can help you choose the right bamboo wind chime based on your preferences and requirements.
FAQ
How are bamboo wind chimes made?
Bamboo wind chimes are made by cutting bamboo tubes into different lengths and diameters, then drilling a small hole at the top of each tube to allow a string or cord to pass through for suspension. The tubes are then tuned to produce different notes by cutting the tubes at specific points along the length. Lastly, a wooden or bamboo clapper is attached to the tubes to create the chime sound when the tubes are struck by the wind.
What are the benefits of owning bamboo wind chimes?
Owning bamboo wind chimes can have many benefits. They can help create a relaxing and calming atmosphere in your home or garden, mask unwanted noise and promote better sleep. The gentle and soothing sounds produced by the chimes can also help reduce stress and anxiety and improve your overall mood and well-being.
How do I hang bamboo wind chimes?
Bamboo wind chimes can be hung in a variety of ways. One common method is to use a hook or nail to suspend the chime from a porch or eave. Another method is to tie a cord or string around the top of the chime and hang it from a tree or post. It's important to make sure the chime is hung securely and can swing freely in the wind to produce the best sound.
How do I maintain my bamboo wind chimes?
To maintain your bamboo wind chimes, you should regularly clean them with a soft cloth or brush to remove any dirt or debris that may accumulate on the tubes or clapper. You can also apply a coat of protective oil or varnish to the bamboo to help protect it from the elements and prolong its lifespan. It's also important to regularly inspect the chimes for any damage or wear and tear, and make any necessary repairs or replacements.
What are some tips for choosing the right bamboo wind chimes?
When choosing bamboo wind chimes, consider the size and length of the tubes, as well as the thickness and quality of the bamboo. Look for chimes with evenly spaced tubes and a well-constructed clapper for the best sound quality. You should also consider the overall design and style of the chimes to ensure they will complement your home or garden decor.
Can bamboo wind chimes be customized?
Yes, bamboo wind chimes can be customized to suit your personal preferences. Some manufacturers offer a range of customization options, such as different tube lengths and diameters, various clapper materials and designs, and personalized engravings or paint finishes. You can also make your own bamboo wind chimes at home and customize them with your own creative touches.
What is the significance of bamboo in wind chimes?
Bamboo is an ideal material for wind chimes because it is lightweight, durable, and produces a natural, mellow tone when struck. In Chinese culture, bamboo is considered a symbol of strength, resilience, and flexibility, and is often used in traditional musical instruments and crafts. In feng shui, bamboo wind chimes are believed to attract positive energy and promote harmony and balance in the environment.
Can bamboo wind chimes be used indoors?
Yes, bamboo wind chimes can be used indoors, but it's important to choose a location where there is adequate airflow to allow the chimes to move and produce sound. Hanging the chimes near a window or doorway can be a good option, as it allows the wind to blow through the tubes and create a gentle, soothing melody. However, be mindful of the noise level, as the sound can be amplified indoors and may disturb others if the chimes are too loud.
Are bamboo wind chimes eco-friendly?
Yes, bamboo wind chimes are generally considered to be eco-friendly because bamboo is a fast-growing and renewable resource that requires little water or fertilizer to grow. Bamboo is also biodegradable and can be composted or recycled at the end of its lifespan. When choosing bamboo wind chimes, look for products that are sustainably sourced and produced using eco-friendly manufacturing processes.
What are some popular designs of bamboo wind chimes?
Bamboo wind chimes come in a variety of designs and styles, ranging from simple and minimalist to ornate and decorative. Some popular designs include traditional Japanese or Chinese-style chimes, rustic or natural-looking chimes with bamboo or wooden accents, and modern or contemporary chimes with sleek and streamlined shapes. Some bamboo wind chimes also feature decorative elements such as bells, beads, or crystals to add a touch of sparkle and charm.
Video Tutorial: Making a Bamboo Wind Chime
Final thoughts
Now you are aware of some great bamboo wind chimes. Choose wisely, especially if you seek a powerful Feng Shui talisman that should protect you and your family from negative energy. Just make sure that the chime is made of eco-friendly materials. Consider investing in more expensive handcrafted bamboo chimes.
---