---
Arias Satin Silver M63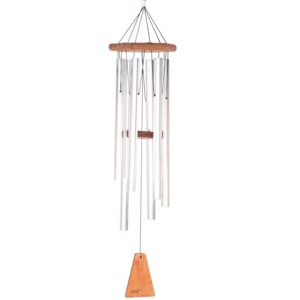 Overall length of chime is 34″
Hand-tuned to the scale of D
Made in the USA
Arias Satin Silver M65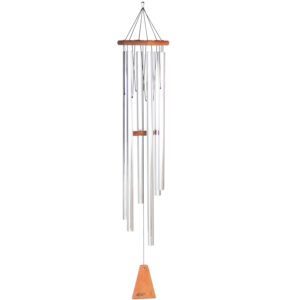 Overall length of chime is 44″
Hand-tuned to the scale of G
Made in the USA
Arias Satin Silver M62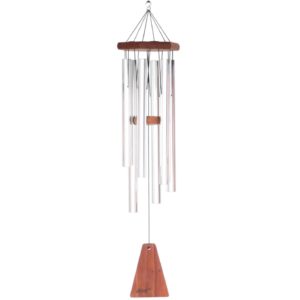 Overall length of chime is 29″
Durable
Made in the USA
Arias Satin Silver M66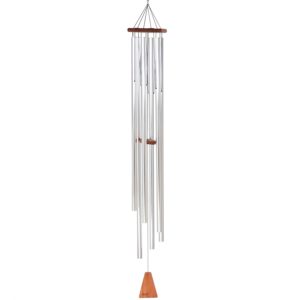 Overall length of chime is 58″
Hand-tuned to the scale of E
Made in the USA
Arias Silver A418S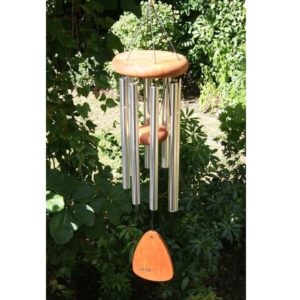 Overall length of chime is 24″
Durable
Made in the USA
---
Choose the Best Arias Wind Chimes
Customer's Choice: the Best Rated Arias Wind Chimes
83 users answered this survey. Please help us improve this review!

44.58% of users selected Arias Satin Silver M63, 12.05% selected Arias Satin Silver M65, 12.05% selected Arias Satin Silver M62, 22.89% selected Arias Satin Silver M66 and 8.43% selected Arias Silver A418S. Every month we analyze your answers and change our rating.
---
Do you search for high-end wind chimes that will last for many years? Then check the most popular QMT Windchimes' lineup – Arias. These are hand-tuned chimes produced in Virginia, the United States for over 20 years. During the production, only the best wood and aluminum materials are picked for making fine-tuned chimes for homes and offices.
Here is a few reasons to buy Arias wind chimes:
Hand-tuned decorations with a natural look and melodic sounds;
Can be a great gift for family and friends;
The high quality of the materials – redwood and aluminum;
Available in different sizes to fit any interior;
They are extremely easy to put together;
Portable;
The lifetime service is possible, the lasting quality is guaranteed;
Top 5 Arias wind chimes are reviewed below. Check the quality, sizes and colors carefully prior to buying the chimes online.
Arias 34-inch Windchime – the best overall!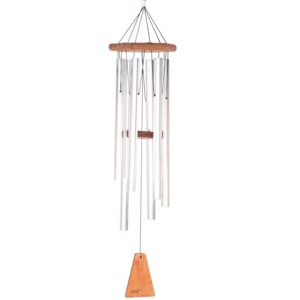 This Arias windchime has an average overall length of 34 inches. The longest tube is only 20 inches. You can easily install this bell over the front door. The color is Satin Silver.
It will produce not too loud sound because the diameter of the aluminum rods is only 1 inch.
Pros
Pros
It produces soothing sounds with the average noise level
Long-lasting
Exceptional quality
Good for bedrooms
Creates relaxing background music
Cons
Cons
The scale of the notes is limited
It is affected only by the strong winds
The shining silver color can attract birds
You may want to place this heavy-duty Arias chime in the place with strong winds because the gentle breezes won't make it produce nice sounds.
Arias 44-inch Windchime – the best for the musical scale!
If you seek serene feels and soothing background music to do your homework or put the baby to sleep, check this mid-size Arias chime.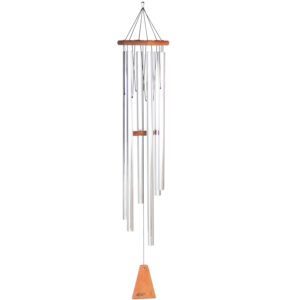 Like all chimes in the review, it is a hand-crafted instrument/decoration capable of producing nice tones resonating all over the average house. Its color is also Satin Silver. The longest rod is 28 inches.
Pros
Pros
Midsize chime
Can produce different sounds
Top-notch quality and design
Great for background music
Cons
Cons
It can produce soothing and deep sounds resonating all over the house because of the tuning scale up the last G note. If you want to achieve the relaxing sound, put the chime where gentle breezes flow. If you seek louder and deeper melodies, place the bell in the place where the strong winds blow.
Arias 29-inch Windchime – the best for popularity!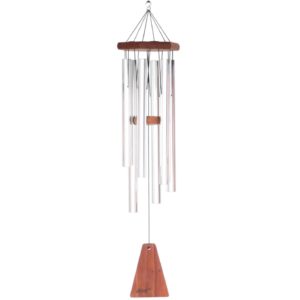 Another Arias Satin Silver wind chime looks posh because of the finished redwood. All 6 rods are made of anodized aluminum alloy. The overall length is a bit smaller than the manufacturer claims – only 27 inches.
Its weight is only 2 pounds so you may easily take it along whenever you travel – for example, to your summer cottage.
Pros
Pros
The most popular user choice among other Arias chimes
Top-notch redwood with a polished finish
Portable
Easy to install
Cons
Cons
Too lightweight and can be broken by the very strong winds
The size is 2 inches smaller than claimed
The scale of the notes is limited
Make sure to check where this chime is made. Authentic Arias chimes must be made only in the USA. Some sellers offer the poorly-tuned counterfeits of this particular chime for the same price.
Arias 58-inch Windchime – the best for the size!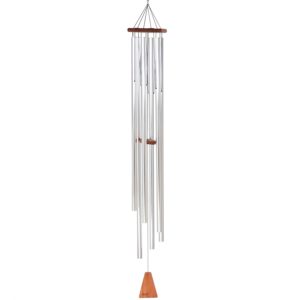 If you need really large
metal wind chimes
, then look no further and try the largest Arias chime of Satin Silver color. Its overall length is 58 inches. The longest rod is about 44 inches.
Its deep E notes can easily scare away crows and other big birds from your porch.
Pros
Pros
A variety of sounds it can make is huge
Weather-resistant
6 durable rods
Can easily scare away the birds despite the shiny finish
Cons
Cons
Not good for bedrooms because the sounds are loud
Affected only by strong winds
Bulky
The largest Arias wind chime can deliver really deep and loud melodies. Bad weather or big birds won't be able to destroy this large and durable decoration for your house. That is why this chime can deliver exquisite melodies equally well in summer and winter.
Arias Elite 24-inch Windchime – the best for portability!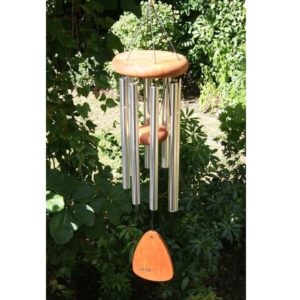 On the contrary, if you need the most lightweight Arias wind chime, check the small 24-inch bell that weighs only 1.2 pounds. You can easily place it in your backpack when moving.
Unlike other chimes in this list, this item is made of redwood and Spanish cedar.
Pros
Pros
Spanish cedar and redwood make the solid base of the chime
Very lightweight
Great for portability
Easy to pack
Cons
Cons
Limited range of sounds
Rarely silent
Can be taken away by bigger birds
Keep in mind that this small and lightweight Arias chime will produce the sounds even from the slightest breeze. If you don't want the constant melody in the background, consider the heavier chimes.
The Buyer's Guide
Many counterfeit chimes resemble authentic Arias wind chimes. To invest in a genuine product, check the following criteria before buying:
Materials
Over 20 years QMT releases the top-notch Arias wind chimes that are recognized by the U.S. citizens as very beautiful and nice-sounding Feng Shui talismans. All components are of exceptional quality.
For instance, the Arias wind chimes have the components made of redwood with the oil-resin finish.
The rods are made of powder-coated or anodized aluminum alloy. All these parts are held together with a durable cord. That is why all Arias chimes are weatherproof and can last for a lifetime.
Design
Despite the quite expensive materials used for making the Arias chimes, these ornaments do not look like over-shiny or over-pricey things. On the contrary, the authentic bells can boast a natural, eco-friendly look that fits any scenery – whether it is a busy city around you or a green landscape.
Authentic Arias chimes are available only in 3 colors – Forest Green, Bronze and Silver. Apart from the colors, all of them have a simple design. Typically, all Arias chimes have:
The durable ring as hanging hardware;
The shape of the solid hexagon;
Redwood or/and Spanish cedar base;
Trapezoid wind sail profile;
No more than 4-6 rods;
You may choose between 8 different sizes of rods – from 17 to 58 inches long. The size means the length of the whole decoration. The length of the longest rod is usually smaller.
Sound
Whether hit by strong winds or gentle breezes, genuine Arias chimes should produce nice, soothing, ambient sounds making you feel relaxed and calm. Cheap counterfeit chimes will resonate and produce false notes because they are usually not tuned well.
Every Arias chime bell is tuned to the standard musical scale with the letter from A to G. These are the notes repeating themselves in octaves – the cycles. For example, the note A in a lower octave will resonate better with the note A in a higher octave. Most Arias chimes can have a musical scale up to D.
Uses
You may present them as hand-crafted gifts;
Good for meditation and relaxing practices;
Delightful sounds can make great background music when you work or study;
It can help to fall asleep. Some users put these chimes outside the windows of children's rooms;
Can be used as a nice decoration over a newborn's cradle;
Can be good for inspiration and positive mood if you seek the creativity boost;
Used for musical therapy in houses where people suffer from mental disorders. The chimes can provide a very soothing effect;
Where you may hang Arias wind chimes?
According to the Feng Shui philosophy, you may place the wind chimes at the place where all cardinal directions meet. In such a way, you may "scare away" the negative energy from your house and attract positive energy.
Some experts believe that the basic material should be considered when you place a chime inside or outside your house.
Arias chimes are made of wood (redwood) and metal (aluminum) – it means you may place them in eastern/southeastern or western/northwestern parts of the house.
Useful Video: Arias Wind Chimes at Smith Galleries
Final thoughts
You may want to pick Arias wind chimes by QMT because they have a beautiful design and produce nice sounds. These hand-crafted and hand-tuned talismans/instruments can become a great addition to any interior. Just make sure to check the authenticity of the chimes before buying.
---