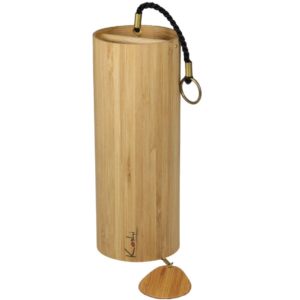 High Quality
Hand-made
Bamboo veneer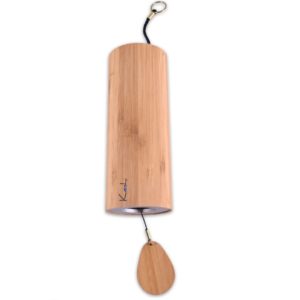 High Quality
Striking Tone
Strong Resonance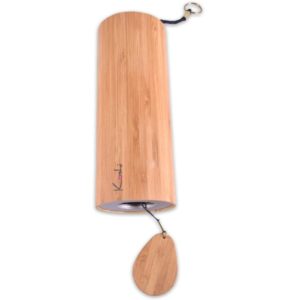 High Quality
Striking Tone
Strong Resonance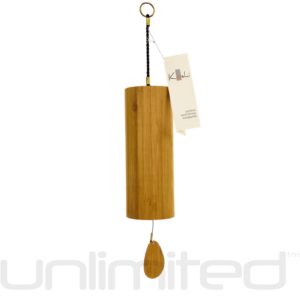 Length of Chime: 6 1/2"
Striking Tone
Strong Resonance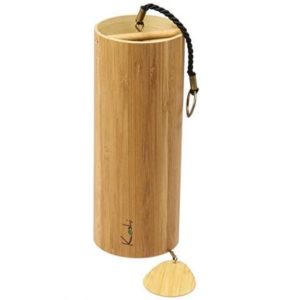 High Quality
Striking Tone
Strong Resonance
---
Choose the Best Koshi Chimes
Customer's Choice: the Best Rated Koshi Chimes
64 users answered this survey. Please help us improve this review!

62.5% of users selected Koshi Aqua Chime, 6.25% selected Koshi Chime, 1.56% selected Koshi Chime IGNIS, 18.75% selected Koshi Chime Striking Tone and 10.94% selected Koshi Chime Terra. Every month we analyze your answers and change our rating.
---
If you are looking for the authentic instruments/chimes/talismans, consider choosing the Koshi wind chimes. These are very original and creative Feng Shui talismans made of high-quality materials.
What makes the Koshi wind chimes exceptional, besides the top-notch build quality and materials are the various tones and sounds representing the 4 elements – Earth, Fire, Water, and Air. Check the review to understand what small Koshi chimes sound like. Their tuning scales are really unique and memorable. Also, do not forget to check the buyer's guide.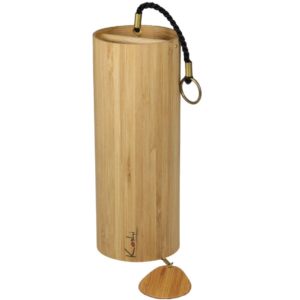 Combining two elements Aqua and Wind this Koshi chime is made by hand in the artisan studio located in the French Pyrenees. You get the customized version of famous Shanti chimes created by the same dedicated team.
It is versatile – hang in your car, under the roof, or inside the room.
Pros
Pros
Weather-resistant
Refined and hand-tuned melodies
Very pleasing design
Made of natural materials
Versatile – use both as the decoration or spiritual talisman
Lightweight
Portable
Cons
Cons
Pricey
Some users claim these chimes have flat/dead notes
What you should appreciate in this chime is the design. The chime has a durable body of several rows made of oiled bamboo veneer. It has 8 bronze tubes covered in silver and with glass balls attached to the body with a sturdy cord.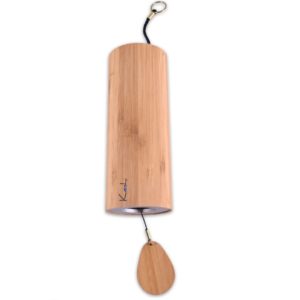 Fully inspired by the Aqua (water) element this chime brings soothing and powerful tones with the tuning scale – A D F G A D F A. This chime offers the same level of high-quality build with 8 silver tubes welded into the metal plate.
Shorter tubes dominate and make a huge sound palette with strong and powerful resonance.
Pros
Pros
Can be great for meditation
Handcrafted and hand-tuned
The design inspired by the Aqua element
Strong resonance
Different sounds
Cons
Cons
Not completely waterproof – hang underneath an overhang
Too fragile and easy to break – keep away from pets and birds
This Koshi chime can deliver powerful and striking notes as well as crystalline relaxing sounds. Each time the wind blows through the tubes the chime produces different melodies. You can use this beautiful and versatile chime anywhere inside or outside the house.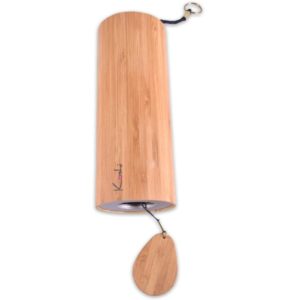 Passionate and memorable this chime's design was inspired by the Fire (Ignis) element. Users pick this stylish chime for its precise tuning and very clear notes. If you prefer placing the instrument inside the house, just gently pull the cord and it will produce nice sounds for a few minutes.
However, it is better to hang this chime in the place where the winds are blowing.
Pros
Pros
Almost perfect tonality that caresses your ears
Compatible
Nice-looking design to match any interior
Bold sounds and design inspired by Fire element
Cons
Cons
Not fully weatherproof
Better for indoors than outdoors
Fragile
Pricey
You may hang this small and lightweight Koshi chime by the kitchen door – inside the house. You will hear its pleasant sounds when the door opens or closes. Many users pick these chimes for guided meditations and morning energy-cleaning rituals.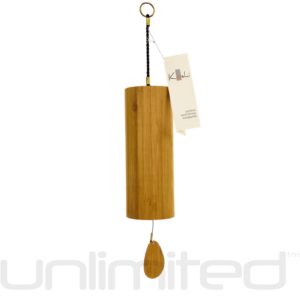 Compared to other Koshi chimes this instrument/talisman is made of solid wood, it is heavier and more weatherproof. People who like Koshi chime's tuning pick this item to hang it outside the house or office building.
Pros
Pros
Handcrafted precision
Classic style and tuning
Heavier than other Koshi chimes
Loud sounds can scare away the birds
Cons
Cons
Try keeping it away from direct sunlight and raindrops
The stand is a bit taller than specified
If you stick to classic chimes that can be hung outdoors safely, then consider this Koshi chime. It looks and sounds just like those handcrafted wind chimes from your childhood days.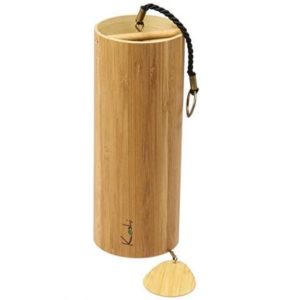 Thanks to the rich and deep sounds of this Koshi chime you may reconnect with the most important element of the Earth planet – Terra.
If you seek stability and security in your life, this chiming talisman was designed to attract such energy to the place where you live or work.
Pros
Pros
Mostly made of high-quality wood and bronze
Produces really soothing and enchanting melodies inspired by the Earth
Lightweight
Portable
Cons
Cons
Not fully weatherproof
Better for indoors than outdoors
Fragile
Pricey
This groundbreaking chime can become a nice-looking gift for family and friends. According to the unbiased feedback, most users pick these chimes for guided meditations and morning energy-cleaning rituals.
The Buyer's Guide
Koshi wind chimes are capable of producing a beautiful melody composed of several bamboo tubes that are suspended from the base. According to some Feng Shui masters, these handmade hollow tubes contribute to energy transformations.
Also, the Feng Shui experts believe that the rods and strings of such wind chimes should not get tangled. Otherwise, positive energy won't be flowing all around the house.
Be careful when buying Koshi chimes for your house or business – there are many counterfeits that you should beware because they are made of cheap materials. Also, only the original chimes are perfectly tuned to produce nice melodies all over the house.
If you prefer using these chimes for meditation sessions, consider combining them with metal talismans. In such a way, the background music will help you to relax completely.
Where to place Koshi chimes?
To reflect the negative energy from your house of business, you may hang this wind instrument/talisman in the hallway or living room. Choose a place away from the chandelier and heavy bulky objects.
Do not place wind music over a bed or desk. Koshi bells should not hang over the head of a seated or resting person. Otherwise, they may bring harm instead of benefit.
In offices, you may hang these chimes on a cornice above a window. By opening or pulling the curtains you will power the talisman. Its subtle melodious sound may contribute to building relationships in the team, arouse creative energy and increase work capacity.
The sound of wind chimes also symbolizes profit and prosperity. That is why the chimes attached to the outside of the store's doors will attract good luck in any business. Just remember that the size of the tubes should not exceed 20 inches.
A good place for any Koshi chime is a window. In such a way the chime can make sounds every time when the wind flows inside the room through the window. You can hang them on the curtain, and then they may ring and dissipate negative energy. If you attach the chime to the front door, its sounds may reflect the negative energy coming from the outside.
If you want to improve your financial situation, then place the wooden chimes in the east or southeast of your home.
Why Koshi bamboo windchimes can be good for you?
Koshi bamboo chimes are mostly made of natural wood meaning that their tonality is light and percussive;
Such chimes won't be loud or disturbing because they are heavy enough to be affected only by the strong winds;
Bamboo wind chimes can conduct the energy of Air (Aria) – the purest of Feng Shui elements that allegedly can bring to your house playful and cheerful vibes;
How to take care of Koshi chimes?
You should take care of these chimes more because bamboo is susceptible to moisture and rot. Therefore, it is better to coat Koshi chimes with a special oil or stain protectants to prevent decay.
Useful Video: Koshi wind chimes – all 4 elements
Final thoughts
The Koshi chimes can produce all kinds of sounds and you may place them whenever you need them. Any Koshi chime can become a great garden or porch decoration, Feng Shui talisman for your family and friends, a perfect gift and a musical instrument for your meditation sessions. You may want to choose these wind chimes because they are graceful, melodic and durable.
---