---
Kooalo Agate Slices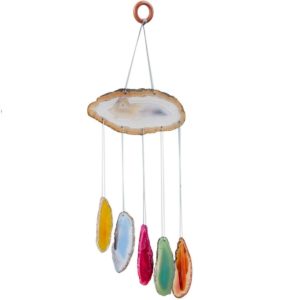 Length: 26″
The sound of serenity
Hand-crafted
Woodstock Jade Chimes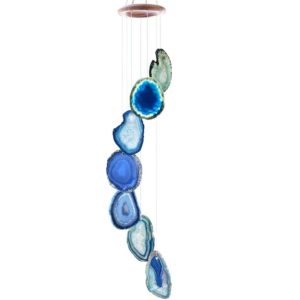 Length: 12″
Eastern Energies Collection
Perfect as a gift
Rockcloud Rose Quartz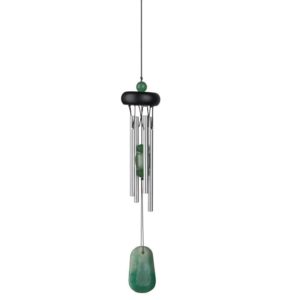 Length:18.5-22″
Hand-Made Agate
Perfect as a gift
Mookaitedecor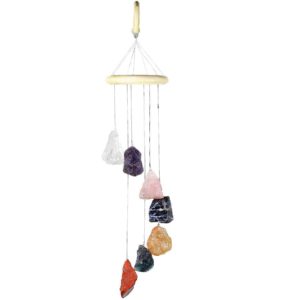 Length:17-21″
7 powerful crystals
Indoor and Outdoor
SUNYIK Handmade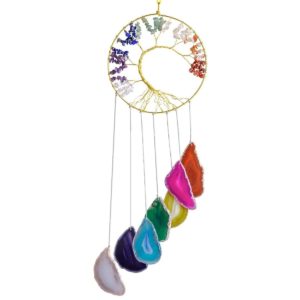 Length:28-29″
Perfect as a gift
Handcrafted
---
Choose the Best Stone Wind Chimes
Customer's Choice: the Best Rated Stone Wind Chimes
41 users answered this survey. Please help us improve this review!

43.9% of users selected Kooalo Agate Slices, 29.27% selected Woodstock Jade Chimes, 9.76% selected Rockcloud Rose Quartz, 4.88% selected Mookaitedecor and 12.2% selected SUNYIK Handmade. Every month we analyze your answers and change our rating.
---
Stone Wind Chimes FAQ: 
What are the stone wind chimes good for?
The construction of the metal or wooden tubes attached to the top and with a pendant is called a wind chime. Stone chimes may also contain the pieces of agate and volcanic stones. 
According to the Feng Shui philosophy, wind chimes can bring prosperity and health to your life. Or, at least, scare away the negative thoughts and energy. People may hang these decorations and musical instruments because they may: 
Become a great addition to any interior;

Accumulate positive energy;

Cleanse the space from the negative energy;

Bring success and prosperity;

Prevent any quarrels and misfortune;

Protect you from people who want to harm you;
It is believed that any house where the wind chime is placed can attract positive energy, prosperity and happiness. 
When choosing a good stone wind chime for your house or business, you should consider such factors: 
1) Size 
There are no strict requirements for the size of a stone wind chime – there are lightweight and portable instruments or large and loud chimes. A small chime can be lost in a large room and will not process the flow of positive energy. A massive amulet will look inappropriate in a small room. The mid-size chimes typically have an overall length of 27-30 inches. 
2) Materials
If you want to attract all the good things to your house, the Feng Shui experts recommend buying the wind chimes made of natural components. The tubes are mostly made of metal (silver, aluminum, steel, copper, brass) or wood (ash wood, bamboo). Also, wind chimes may have gemstones, crystals, porcelain and glass components. 
3) Number of rows
Typically, all components of stone wind chimes are located in the rows – one beneath another. Average decorations have no less than 5 rows. Each row number has a specific meaning: 
If the chime has 5 rows then the instrument may restore the balance between conflicting elements;

7 rows of vertical structure symbolically transform the meaning of the Buddhist legend about seven treasures of the sophisticated regent. Such stone wind chime can bring happiness and career success to its owner;

Any 9-row chime is capable of removing any serious obstacles in life, improve your strength and protect from illnesses;
4) Number of tubes
Every detail of stone wind chimes can mean many things. The number of vertically suspended sticks known as tubes has a spiritual meaning, according to Ancient Chinese philosophy: 
5-tube chimes have protective functions and may guard your wellbeing; 

6-tube talismans may neutralize negative flows inside the house and bring luck;

7-tube stone chimes can deliver positive energy, happiness and cheerful mood;
What are the parts of a wind chime called?
A wind chime has a simple design. The most important components are hollow tubes attached to the sturdy top with one cord or a few thin strings. A stone chime includes gemstones (real or artificial) to make the talisman reflect the sun rays and bring prosperity to the house where it is placed. Some chimes have a pendant below the tubes that can produce additional sounds. 
Where should you hang stone wind chimes?
To place the talisman inside or outside the house, you can use the Ancient Chinese method of eight omens that may affect human life. Allegedly, if the Feng Shui wind chime has the specific number of hollow tubes and materials these factors may affect its powers: 
It is better to place metal wind chimes with gemstones hung in the northwest area. In this case, the instrument should contain 5, 6 or 7 tubes;
To bring success and fame to your house, to find new friends and love you may want to place ceramic wind chimes with gemstones in the southwestern area of your house. It is better if these chimes have 2,8 or 9 tubes;

To realize your creative potential and improve mutual understanding between children and parents, you may want to hang the stone chimes with 5,6 or 7 tubes in the western area;

To get a good job, it is better to hang a stone wind chime with metal components in the northern part of the building;

Academic success can be brought by ceramic wind chimes with gemstones. You should place these chimes in the northeastern zone;
Which stone wind chime can be best for your home?
There are so many expensive and budget-friendly wind chimes available in the U.S. market. For example, you may check 3 chimes that include gemstones along with other materials: 
Topspeeder LED Solar Hummingbird Wind Chime

is a completely waterproof talisman and nicely-tuned musical instrument that you may place both inside and outside. And it glows and changes color in the dark so you may choose it as a party decoration. The sound this chime produces resembles the sounds of a hummingbird. If you have insomnia, the Topspeeder chime may help to fall asleep;

Wooden Nupuyai Wind Chimes

include small agate slices and make an eye-catching garden or interior decoration. The mid-size chime is polished and wrapped with durable strings to withstand even the worst wind blows. Each agate slice varies in shape, size and color so you won't buy two identical Nupuyai chimes. This chime can become a great gift for friends and family;

Kooalo Agate Wind Chime

is another beautifully handcrafted gemstone instrument and decoration. Besides agate, it includes the slices of volcanic gemstones with incredible natural patterns. This design looks exotic and nice if you want to achieve peace and harmony during mediation sessions. The chimes produce soothing sounds that can help to fall asleep;
Why do people hang stone wind chimes?
Astrology experts and professional consultants call stone wind chimes the classic Feng Shui talisman/instrument just like typical bamboo or metal chimes. 
It is believed that Feng Shui wind chimes with gemstones may activate the energy in the room and produces a specific result, according to the number of tubes – success, luck, positive emotions. 
Thanks to one of these talismans, you may attract the harmony of Yin-Yang – Chinese female and male symbols. The amulet starts to act with the appearance of melodic sounds that are set in motion by the gentle breezes or strong winds. 
Feng Shui chimes may work great to attract love. If a single woman or man hangs this chime in the bedroom, she or he may soon find a soul mate. To do this, choose the wind chime with two tubes. A small stone chime can be used as a pocket amulet.
Besides, gemstone wind chimes are one of the most beautiful talismans of this type. You may place them inside or outside the house just as a nice-looking and perfectly-tuned musical instrument. 
Video Tutorial: DIY Wind Chimes | Summer Craft
---