iHappy 002162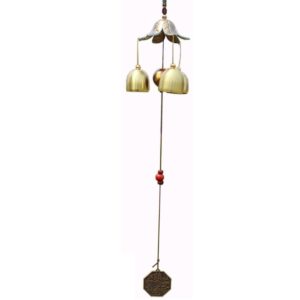 Total length: 18.9 inch
3 Bells
Indoor/Outdoor
Silvestri 20131219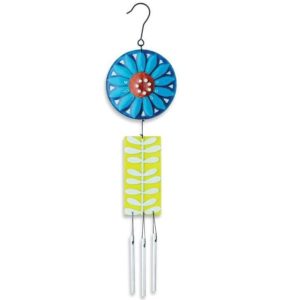 Total length: 15.5 inch
Glass, iron
Colorful
Bejeweled Display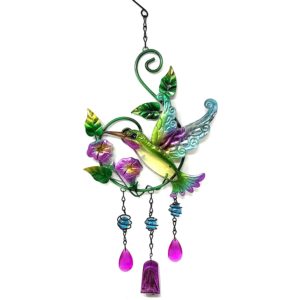 Total length: 21.2 inch
Metal and stain glass
Hand painted
TrueLiving Outdoors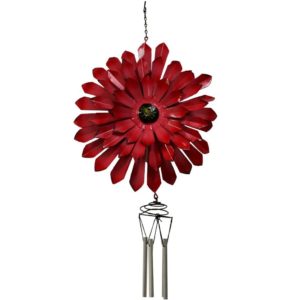 Total length: 23 inch
Great idea for a gift
Indoor/Outdoor
Jones Home 74524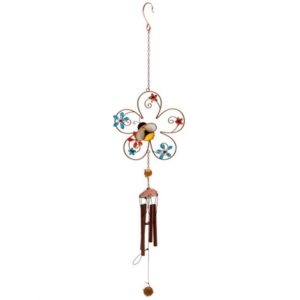 Total length: 32 inch
Metal, glass & resin
Great idea for a gift
---
Choose the Best Flower Wind Chimes
Customer's Choice: the Best Rated Flower Wind Chimes
18 users answered this survey. Please help us improve this review!

66.67% of users selected iHappy 002162, 16.67% selected Silvestri 20131219, 11.11% selected Bejeweled Display, 5.56% selected TrueLiving Outdoors and 0% selected Jones Home 74524. Every month we analyze your answers and change our rating.
---
Wind chimes
have become a rather popular decorative decision recently, creating an atmosphere of calmness in our houses and in gardens, patios, as well. The pleasant sounds they produce are known to cause a relaxing, calming effect, depriving people of anxiety, and embedding positive emotions and feelings in them instead. In some religions, like Buddhism, wind chimes are regarded as spiritual tools, able to provide clarity of the mind to their owners. They also create s sense of connection with the outdoor world. Moreover, a melodic wind chime is regarded as a great gift to our friends, relatives, and other close people.
There is a great variety of options with different sounding characteristics, dependent on the length of a wind chime and its material, designs, and prices. In this Top 5 Best Flower Wind Chimes, we have picked up the brightest models with pleasant sounding to ease your choosing. Have a look at the key features in the Comparison Table below and read on to get a deeper insight into the description of each wind chime from the list.
iHappy Flower Petal Wind Chime – the Best In Vintage Style!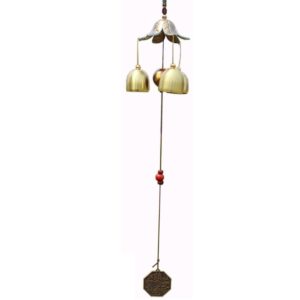 Weighing about 0.352 ounces, this iHappy Flower Petal wind chime may be a perfect decoration for your home, garden, yard, etc. Besides, it is considered to be a lucky charm, able to bless its owners happy and healthy.
The wind chime is 48cm, which is 18.9 inches, long. The flower petal is made of bronze. Its measurements are about 6x2cm, which is 2.3×0.78 inches, (DxH). The iHappy Flower Petal wind chime consists of three bells. Their size is about 3x 2.5cm, which is 1.2x 1 inches, (HxD). The iHappy wind chime is ready-to-use right out of the box as it comes in one piece.
Pros
Pros
Comes well-packaged and already assembled;
Is believed to bring good luck to the house owners;
Cons
Cons
The color may be slightly different from the one in the photo;
It may look bigger in the picture than it really is;
Needs allowing about 3-5cm range according to manual measurement.
If you fancy vintage style and your yard needs a nice decoration, then you may choose the iHappy Flower Petal Wind Chime and let luck into your house.
---
Silvestri Flower Wind Chime- The Brightest Choice!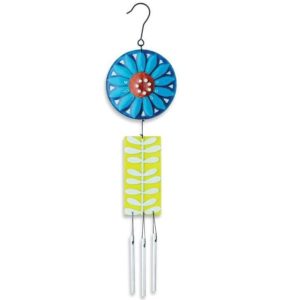 Weighing about 2.88 ounces, the Silvestri Flower wind chime may serve as a great decoration of your garden or a sunroom and a source of gentle sounds appealing to the ears.
It features a bright design with a blue flower as a core. This wind chime is made of glass and iron. Its total length is 15.5 inches and it is almost 4 inches in diameter.
The Silvestri Flower wind chime is included in a fascinating line from Demdaco of flamingos, glamingos, and other garden accessories.
Pros
Pros
Features a colorful design;
A great correlation of the quality and price;
Comes with a hook to hang it with;
A perfect decorating piece to make accents in your interior or exterior.
Cons
Cons
The design is not to everyone's taste;
The sound might be not loud enough.
If you are a fan of colorful decorations, the Silvestri Flower wind chime may satisfy your aesthetic needs. Otherwise, you should consider other options.
---
Bejeweled Display Hummingbird & Flower Wind Chime- the Best For a Present!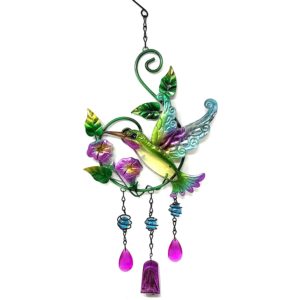 The Hummingbird & Flower Wind Chime is manufactured by Bejeweled Display. It is made of metal and stained glass.
In particular, it has plastic crystals, a metal bell, and glass marbles, which are rather protected. The high-quality materials ensure durability and richness of colors.
This wind chime is designed with the following dimensions: 8.2 inches L x 21.2 inches H, and it weighs 8 ounces. The model is packaged in a plastic bag with the company's logo tag.
Pros
Pros
A high-quality wind chime;
A great idea for a present to hummingbirds lovers;
Durable enough to hang outside;
Produces a beautiful sound;
Features rich, vibrant, and durable colors;
Does not fade in sunlight;
Comes individually packaged in a sealed bag with a Bejeweled Display's logo gift tag inside;
Cons
Cons
May be longer than it seems to be in photos.
The Bejeweled Display Hummingbird & Flower Wind Chime may be your perfect gift to your close people fond of hummingbirds. They are likely to be delighted with the quality and beautiful sounding of the wind chime.
---
Red Flower Wind Chime – the Best To Add Accents!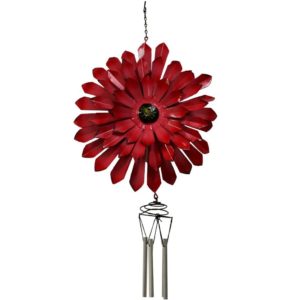 The Red Flower Wind Chime is likely to add accents to your design, both interior, and exterior. It may also be a nice present for beauty lovers. The wind chime's dimensions are equal to 23 inches by 11 inches.
As far as the design is concerned, there are some speckles of brown on tip of the bright red flower's petals.
When playing with the breeze, the Red Flower Wind Chime produces pleasing, soothing sounds.
Pros
Pros
A medium-sized wind chime;
Is characterized by a bright design;
Causes a smoothing effect due;
Produces a relaxing sounding;
Looks great both indoors and outdoors.
Cons
Cons
Not often ordered, thus, few feedbacks might be found on it online;
The bright red color may be not to everyone's taste.
The Red Flower Wind Chime may be a great decision to add accents to your design. It may be great to hang on your doors, patio, porch, or just inside. But make sure that you are never annoyed with the red color.
---
Bee & Flower Wind Chime- the Best Option With a Bright Ornament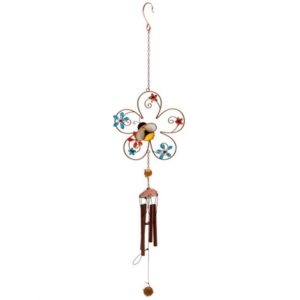 The Bee & Flower is a beautiful wind chime, suitable for both indoor and outdoor usage. It is made of hand-crafted metal, glass, and resin.
A bee and a flower are the key accents in the design of this wind chime. The total length is about 32 inches, that is 80cm, by almost 6 inches across and by 2 inches deep. The weight of the wind chime is almost 5 ounces.
Pros
Pros
A very musical wind chime producing gentle sounds;
Available in 2 designs;
Has colorful features;
The colors are bright and vibrant;
Comes at a good price for the quality. rice was right;
Corresponds to the product description in real life.
Cons
Cons
A rather heavy wind chime;
No reviews on it so far.
The Bee & Flower wind chime may be the best decision to decorate your outdoor space due to a unique colorful design and gentle sounding.
---
The Buyers' Guide
No doubt, when choosing a nice present for our nearest and dearest, or even when picking up a decoration for our own homes, we strive to choose the best option in which the quality and price are well-correlated. What should we pay attention to so that to make the right choice? Here are a couple of things to consider:
The

overall length

impacts much on the tone and depth of the sound. Longer wind chimes produce lower, and fuller tones, shorter ones make higher-pitched sounds.

The variety of sounds a certain wind chime is able to produce depends on

how many tubes it consists of.

The more tubes, the more variable sounds. 

The

lighter

a wind chime is, the less wind it requires to make a sound. Respectively, stronger winds are needed to make a heavy wind chime sound.

The

material

a wind chime is made of. Wooden wind chimes feature good tonality but they are likely to rot from moisture. So, they are not durable enough. Metal wind chimes are durable but they need more wind to play with to produce sounds. The sound they make is usually sharp. A more tinkling sound is produced by glass wind chimes. It is less sonorous. However, they are fragile and are likely to break. That is why you need to mind where you are going to hang it, whether outdoors, where it will be impacted by various weather conditions, or indoors with more or less stable conditions.

The

design

also plays a role. Pick the one the color scheme of which won't irritate you when some time passes. Moreover, make sure it matches the overall design, either interior or exterior.
Taking into consideration the issues described above, you may find the very option that will satisfy your needs completely. Just mind the size, the length, the weight, the material, and the design. That is It!
Numerical Comparison of Flower Wind Chimes
This table compares various numerical indicators of flower wind chimes. Flower wind chimes are decorative objects that are hung outdoors and create soothing sounds when the wind blows through them.
| Indicator | Description | Range |
| --- | --- | --- |
| Price | The cost of the flower wind chime | $10-$50 |
| Number of flowers | The number of flower decorations on the chime | 1-20 |
| Length | The overall length of the wind chime | 12-36 inches |
| Material | The type of material used to make the chime | Metal, Wood, Glass, Ceramic, Bamboo |
| Sound Quality | The quality of the sound produced by the chime | Poor, Fair, Good, Excellent |
| Durability | The ability of the chime to withstand outdoor elements | Low, Medium, High |
This table provides a comparison of various indicators of flower wind chimes, including their price range, the number of flowers they have, their overall length, the type of material they are made of, the quality of the sound they produce, and their durability. This information can help consumers make an informed decision when purchasing a flower wind chime that meets their specific preferences and needs.
FAQ
What are Flower Wind Chimes used for?
Flower Wind Chimes are primarily used for outdoor decoration and as a way to add a peaceful ambiance to any outdoor space. They can be hung on porches, patios, in gardens, or anywhere else that is exposed to the wind. Additionally, some people believe that the sound of wind chimes has healing properties and can bring good luck and prosperity.
What types of materials are used to make Flower Wind Chimes?
Flower Wind Chimes can be made from a variety of materials. The tubes or pipes can be made from metals such as aluminum, copper, or brass, while the flower-shaped pieces can be made from metal, glass, or ceramic. The strings can be made from materials such as nylon or hemp. Some wind chimes may also incorporate natural materials such as shells or bamboo.
How do you hang Flower Wind Chimes?
Flower Wind Chimes can be hung in a variety of ways. Some wind chimes come with a hook or loop that can be attached to a tree branch, porch beam, or other suitable location. Others may have a stake that can be pushed into the ground. When hanging a wind chime, it's important to ensure that it can move freely and won't be obstructed by nearby objects.
How do you maintain Flower Wind Chimes?
To keep Flower Wind Chimes looking and sounding their best, it's important to maintain them regularly. The tubes or pipes can be wiped down with a damp cloth to remove dirt or debris, and the flower-shaped pieces can be cleaned with a mild soap and water. If the wind chime becomes tangled or twisted, it can be untangled carefully to prevent any damage to the strings or tubes. Additionally, it's a good idea to bring the wind chime inside during severe weather to prevent damage.
What are the benefits of using Flower Wind Chimes?
Flower Wind Chimes offer several benefits beyond their decorative appeal. The gentle tinkling sound they produce can create a calming atmosphere and promote relaxation. They can also help to mask unwanted background noise, such as traffic or construction sounds. Additionally, some people believe that the sound of wind chimes can help to repel negative energy and promote positive energy.
What should I look for when buying Flower Wind Chimes?
When buying Flower Wind Chimes, it's important to consider factors such as the size, materials, and design. Look for wind chimes that are appropriate for the size of the area where you plan to hang them. Consider the materials used, as some materials may be more durable or weather-resistant than others. You may also want to choose a wind chime with a design or color scheme that complements your outdoor decor.
How do I create my own Flower Wind Chime?
To create your own Flower Wind Chime, you'll need a few basic materials, including metal tubes or pipes, flower-shaped pieces, and string or wire. Cut the string or wire to the desired length, and tie one end to each tube or pipe. Then, attach the flower-shaped pieces to the string or wire, spacing them out evenly. Once all of the pieces are attached, tie the top of the string or wire to a hook or loop for hanging.
Can Flower Wind Chimes be used indoors?
While Flower Wind Chimes are primarily designed for outdoor use, they can also be used indoors as a decorative accent. However, it's important to ensure that the wind chime is hung in a location where it won't be knocked or bumped by people or objects. Additionally, the sound of wind chimes may be more noticeable and potentially distracting in an indoor setting.
What are some popular Flower Wind Chime designs?
Flower Wind Chimes come in a variety of designs, ranging from simple and minimalist to elaborate and ornate. Some popular designs include flower-shaped pieces made from stained glass, ceramic, or metal, and tubes or pipes in a variety of shapes and sizes. Some wind chimes also incorporate other decorative elements, such as beads or crystals, for added visual appeal.
Video Tutorial: DIY: Wind Chime with Beautiful Paper Roses
Final Thoughts
Wind Chimes have gained their popularity as a perfect idea for a gift or home decoration, that can set up a cozy, relaxing atmosphere, and bring good luck to the house owners. So that to satisfy the various needs of customers, there is a wide range of different types of wind chimes designed and manufactured. If you take the process of choosing a wind chime seriously, and decide on what sound you expect your perfect wind chime to make and then, on that basis, decide how big and how long it is supposed to be, what material it should be made of and how many elements it should contain. 
We have selected and described the upsides and downsides of the most popular Flower Wind Chimes. We hope you will find this information useful and make the right choice of a wind chime that would serve you long and without any troubles. Good luck!
---