A wind chime not only looks good but also produces the most beautiful sounds in the wind. How you can make a wind chime, we explain here!
What's a wind chime?
A wind chime is not only beautiful to look at in the wind, depending on the materials used, it also produces its very own sound – which is why it is also known as a sound chime. Often hollow pipes hang from the wind chime, which provides the appropriate sound when they are pushed together. Suitable materials are, for example, cylinders made of wood, bamboo, or metal. But of course, wind chimes can also be made of any other material – not in every case tones are produced, but sometimes sounds that have their own fascination.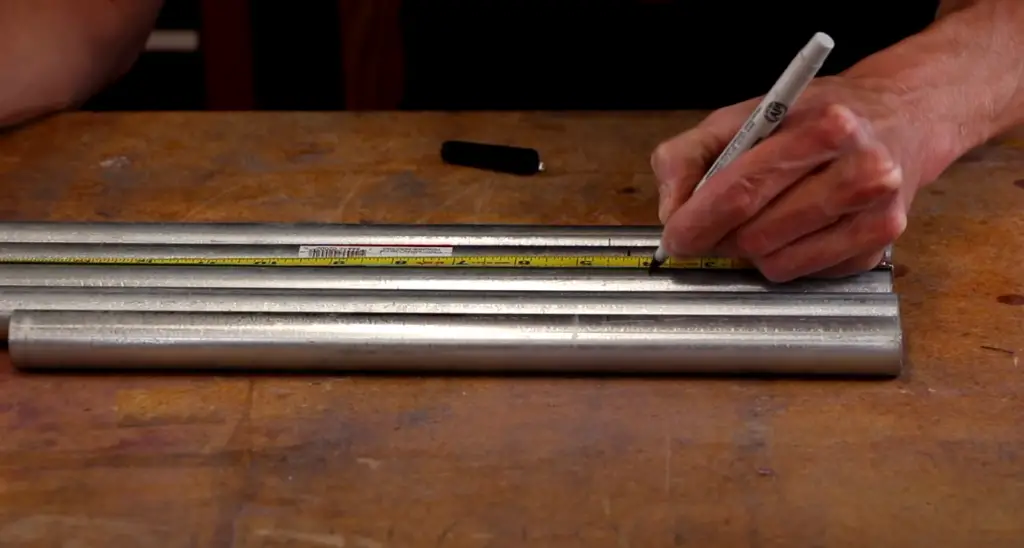 What's a wind chime for?
For many people, the sound of a wind chime has something soothing about it. In the garden, a wind chime also indicates how strong the wind is and from which direction it is blowing. Indoors, on the other hand, the chime comes to life as soon as there is a draught through a door. But of course, a wind chime can be hung up just like that – because it looks so pretty and gives pleasure! Making a wind chime is especially fun and enjoyable with children.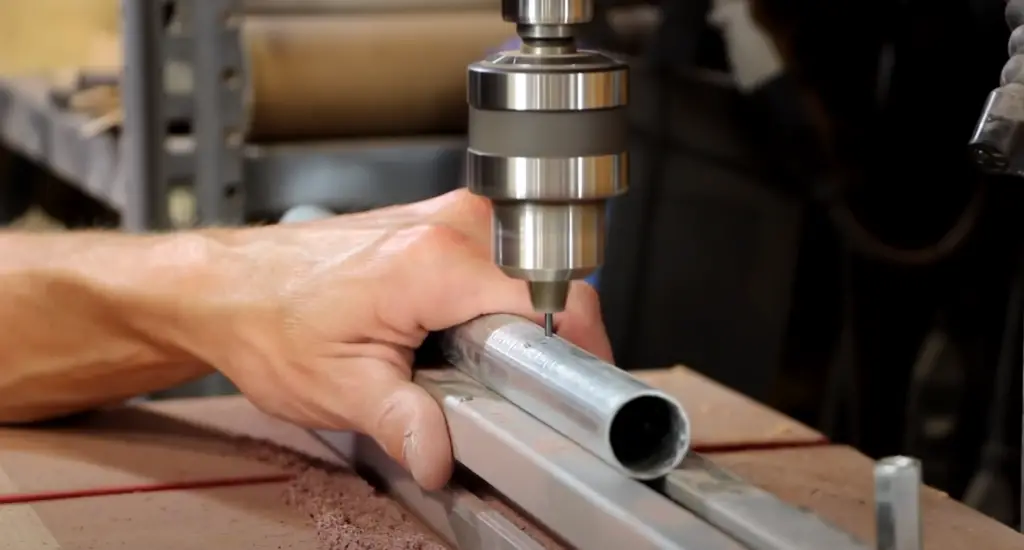 You need:
Driftwood branches
Pearls
Nylon thread or thin craft tape
Wood drill
Short guide:
Drill several holes in a long driftwood branch at regular intervals.
Drill a hole in the smaller driftwood branches as well, so you can hang them up.
Thread each of the small branches onto a ribbon and tie a knot over it. Continue in this way with balls of your choice.
Thread sews through the holes in the large branch and closes the holes with another ball and a double knot.
Finally, you only have to attach a firm band at both ends, and you can hang up your wind chimes!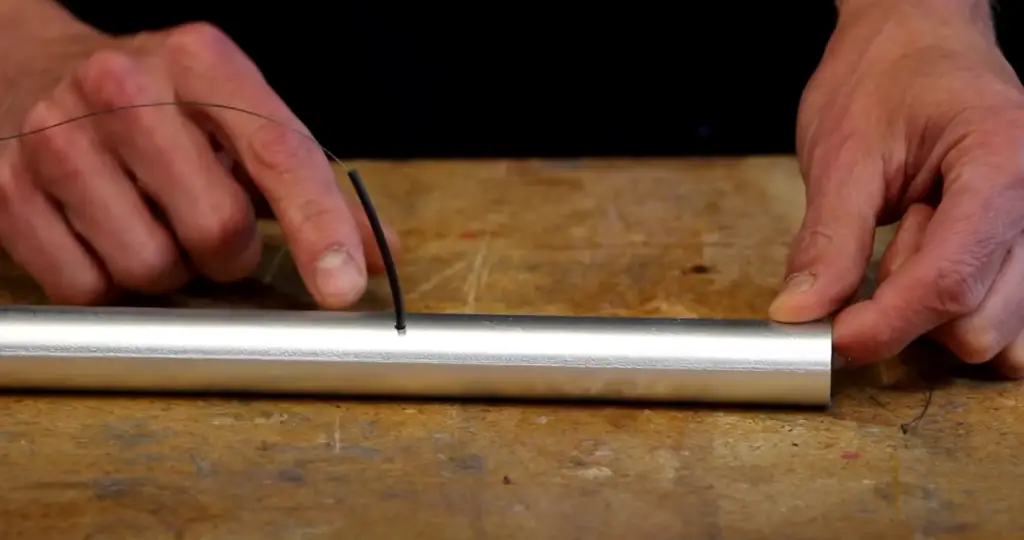 Depending on the material and form of the wind chime elements, the wind will then create different sounds, and each time you will enjoy a different melody. Let the light breeze or the stronger swirl become your very special musicians and create your wind chimes from the materials of your choice.
Making a wind chime: The best ideas
A wind chime of an extraordinary kind for the garden: Anyone who has old crockery to spare can go straight to a new project for handicrafts. Cups and milk jugs are hung on strong threads to form a work of art on a branch and clink happily in the garden.
The sound of the wind
This wind chime can be made from metal rods of different lengths and a wooden disc. And if the wind is missing, we will provide the concert ourselves with the piece of wood in the middle!
Holiday souvenir
Still, no idea what to do with the shells from the last beach holiday? Then put them in this beautiful DIY effectively in the scene! You are free to do whatever you like: shells, beads, balls, little driftwood branches… anything you like can be used.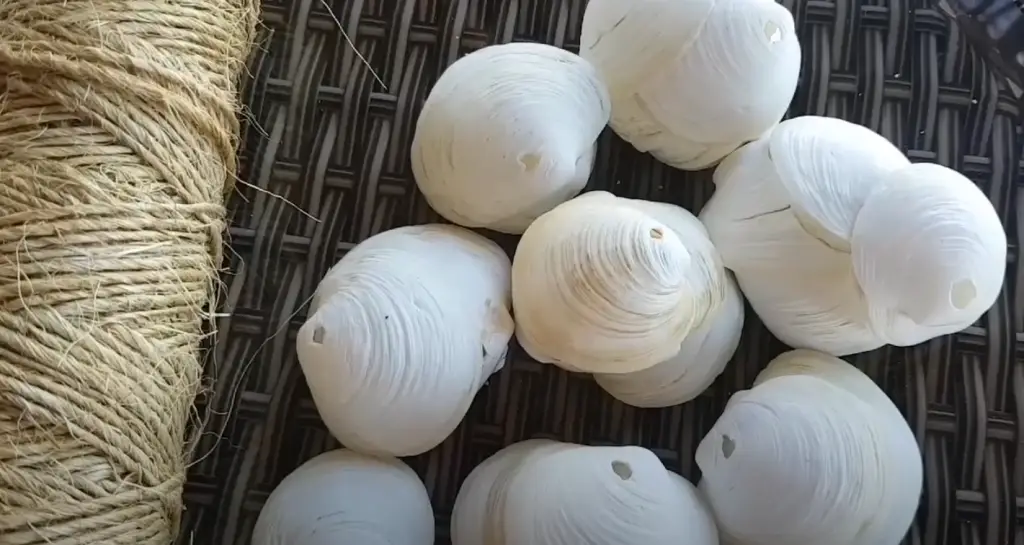 With a DIY wind chime, not only the sounds are important, but also the original look — Summery and relaxing, full of unforgettable holiday memories, shells, and crystals. You can collect these materials already during your holidays or if you are one of the lucky ones who live by the sea, always have them with you.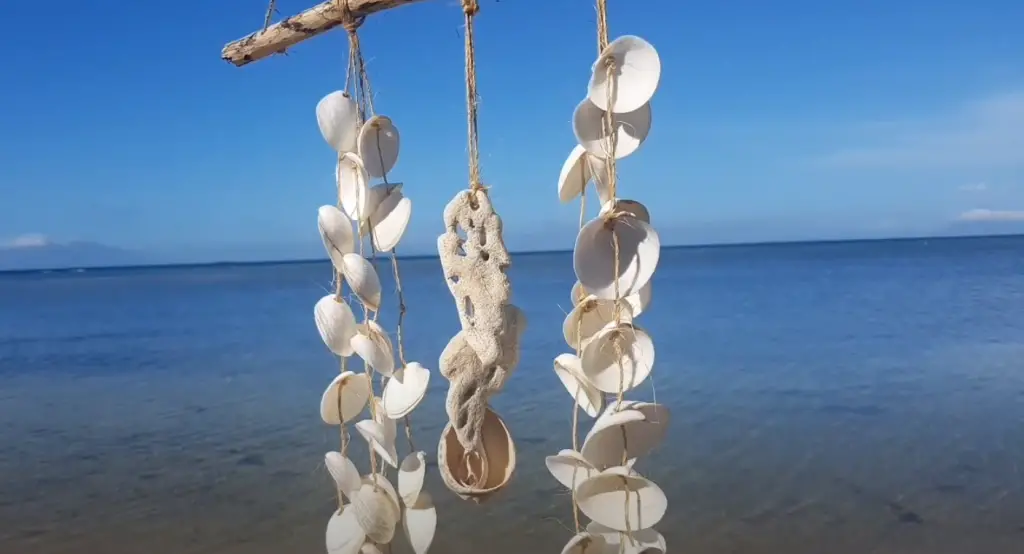 Many of the shells have even been provided with a small hole by the waves and sand and are just waiting to be hung up as a decoration. On a piece of driftwood or a starfish, tied together with a string, the shells hang in the air and are swayed by the wind. The soft, irregular knocking soothes and reminds us of the carefree hours on the beach. Simply wonderful!
Wind chimes tinkering with children
A fast DIY, which can also be implemented with children: Clean a tin can and paint it in a color of your choice. After drying, you can decorate it with masking tape and cut colorful fabric ribbons. The tapes are then glued in with hot glue. This wind chime is almost noiseless – only a slight rustling can be elicited. But it moves the more beautiful in the wind!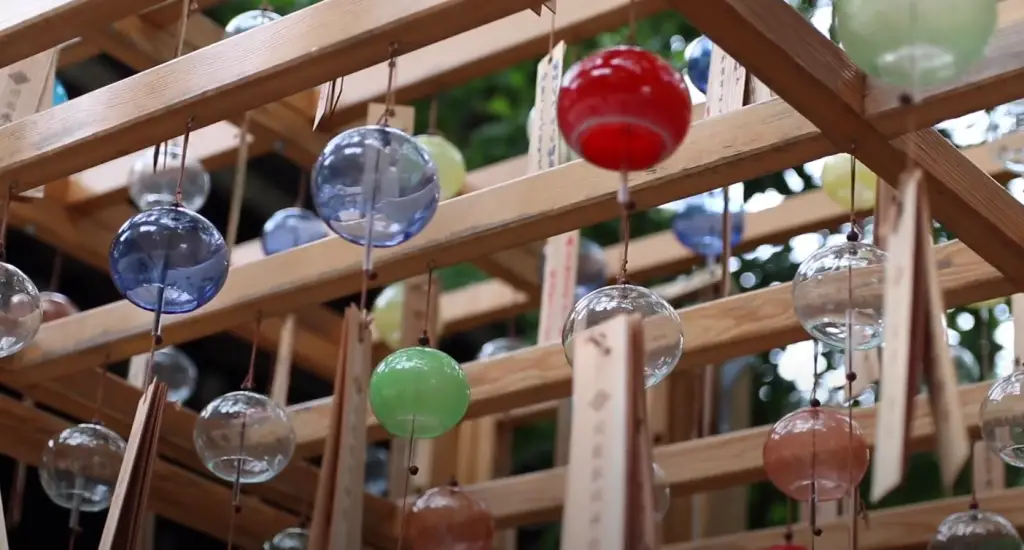 This requires not only creativity but also an appropriate amount of patience on the part of the parents. You should also be very careful to avoid any risk of injury. Therefore, you should always use materials and tools without hesitation and simply always be present. Nevertheless, it would also make sense to give the child some freedom and encourage its own creativity. Empty tin cans and old CDs, for example, are perfect for creative handicrafts with children from 3 years of age. Natural materials such as wood, shells, and beach glass are also recommended.
Wind chimes with Bohemian Chic
You can easily make this chic piece of jewelry with nostalgic charm yourself: Get a sturdy ring and apply hot glue to it in sections. Wrap sisal tape around it directly afterward. Afterward, you can knot open pearl necklaces and old keys and fix the object on the balcony or veranda.
Making wind chimes from bottles
Whether made of glass or plastic, bottles are one of the most popular craft materials for wind chimes. In this way, not only creative and sustainable upcycling projects are realized, but also originality and a lot of crafting fun are ensured. Often only a few simple tools and arbitrary decoration elements are enough for this. Whenever you want to make a wind chime out of a glass bottle, you should first cut the bottle and then grind off the edges. The part with the bottleneck is, in most cases, the top of the wind chime. This is often used to pull a metal chain through it and attach a kind of clapper to it, depending on the taste of the tinkerer himself. Such a wind chime looks great and can be hung up almost everywhere. Made of colored glass and with a beautiful decoration, it is even suitable as a good gift idea.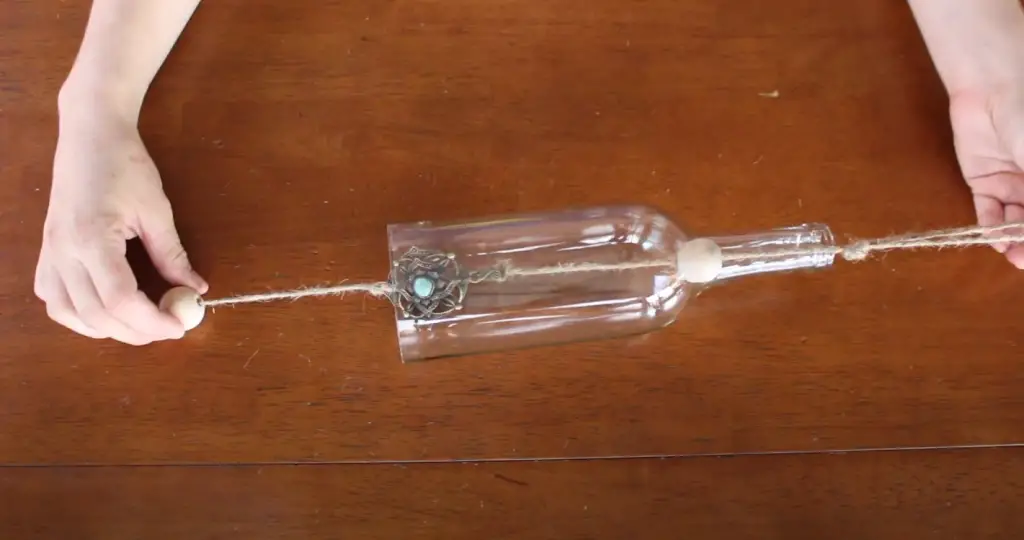 You will see for yourself that making a wind chime is a great way to create an original decoration for your garden and balcony.
DIY Japanese wind chimes
In the Asian cultural area, wind chime is simply a part of many garden landscapes. Also, in the USA, more and more people are enjoying this simple but very beautiful method of sound generation, which is supposed to make it easier to switch off and relax in the right environment. The random arrangement of sounds, generated only by the wind, is perfect for creating a meditative atmosphere. Naturally, a wind chime only works where it is exposed to the wind and can swing freely, primarily in the garden, on the terrace or balcony. But even in city apartments, a wind chime installed in the window can provide variety. However, one should not forget the neighbors, who are not always available for the background noise. If you make a wind chime, you should hang it up so that you can take it off at any time – because good neighborliness and undisturbed sleep are also part of a peaceful atmosphere.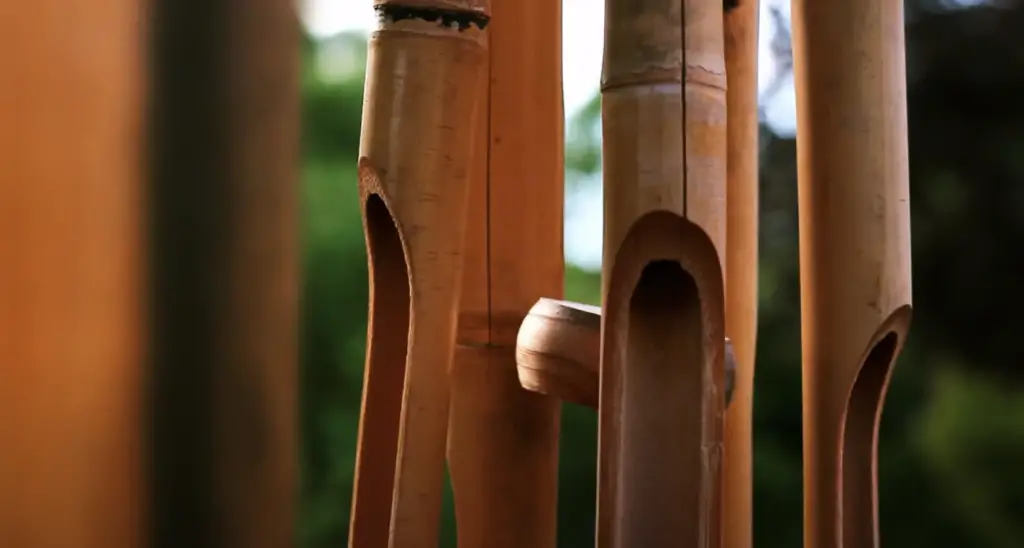 Making wind chimes yourself is not difficult
There are different types of wind chimes, some of which are easier to make than others. Particularly high-quality wind chimes with metal sounding bodies or specially made bamboo elements can quickly become an expensive affair. However, they are usually perfectly tuned in their tonality and offer a very fine experience for the ear. But this does not necessarily have to be the last word in wisdom. Many advocates of the particular natural approach prefer irregular and not perfectly tuned sound elements. These variations have the advantage that it is relatively easy to make such wind chimes. Ball wind chimes, bamboo wind chimes, bell, and pagoda wind chimes all have their own charm and require different amounts of work and materials. Of course, you can also give free rein to your own creativity – this is especially recommended when making wind chimes with children, who can thus contribute their own ideas.
The classic: Making bamboo wind chimes
A wind chime always consists of a hanging "ceiling element" to which sound bars or other sound bodies are attached with strings, regardless of the design in detail. In bell-shaped wind chimes, this top element can also become the sounding body itself. In the middle (or in several places), a string is additionally attached to which a "clapper" provides the actual sound generation. Stones, bamboo parts, or other suitable weights are attached to the lower end of the string as a counterweight, which allows it to swing in the wind. Ideally, the same materials are used for the counterweights as for the rest of the wind chime. In Japanese gardens, the popular bamboo wind chimes are particularly common (but not exclusive). To make your own bamboo wind chimes, you need the following materials:
a weatherproof, tearproof cord of 1-2 mm thickness
Bamboo cover plate (halved tube with larger diameter) for upper attachment
sound body made of various bamboo sticks of different lengths with a diameter of approx 2 cm
suitable stones or bamboo parts, which serve as sound weights and counterweights
if necessary, metal eyelet or hook for fastening the wind chime
with untreated bamboo parts possibly clear varnish as weather protection
The starting point for making wind chimes is always the hanging element, which has to carry the whole weight and to which the sounding bodies are attached. As an alternative to a cover plate (which looks particularly stylish), the sounding bodies can also be attached to a solid ring, for example. It is important that all elements are well balanced so that everything hangs straight later. The hanging element is equipped with one or more strings on which the wind chime is later hung. It may be necessary to drill suitable holes in the suspension. The sound bodies are usually varied in length and tuned according to their sound. As a layman, you don't have to do this, but a certain variation in length won't hurt. Since the weight also changes, the finished wind chime should be balanced exactly.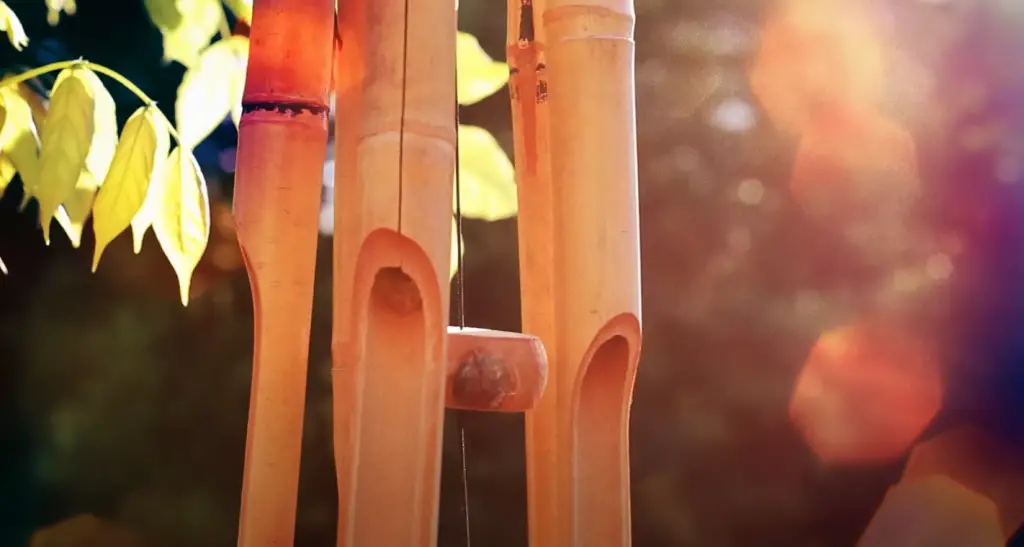 The hollow-sounding bodies are evenly distributed either in a circle or on the sides of a ceiling element. In the center of the construction, the string is then attached to which the clapper element hangs, which strikes the sounding bodies. Wind chimes made of metal often resonate for a long time, which is not the case with bamboo or other materials. In order for the clapper to swing properly and to allow a pendulum movement, a counterweight is attached to the lower end of the string (which should be about twice the length of the actual wind chime). This should stabilize the pendulum movement, but it must be small and light enough to allow swinging even in light wind. Of course, with an appropriate construction, one can also use several clappers on different strings, but they should not get in each other's way.
A simple wind chime in the bell shape
There is an even simpler variant of wind chimes with children. Bell-shaped wind chimes are available in a stylish design with appropriate ornaments and in Asian shapes. Ceramics and metal can be found as well as wood, often also in combinations. A very simple way to make wind chimes according to this model is to turn the flower pot inside out, which you can design as you like. It has the advantage that you can hang it upside down over the hole in the ground without further work. A string is sufficient for fixing it in the hole with a wooden or metal rod of appropriate size. The cord with the clapper and counterweight is also attached to this rod. Already a real wind chime is ready. Experiments with different sizes and designs increase the fun of making wind chimes. Growing experience in making wind chimes is the best teacher.
---