---
Dawhud Direct Cats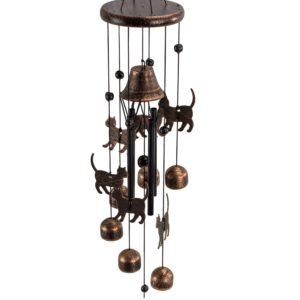 Approx 27″H
Made of Iron
Outdoor
George S SS-G-99985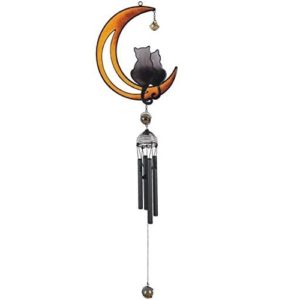 Approx 24″H
Perfect gift
Rustproof
VP Home E540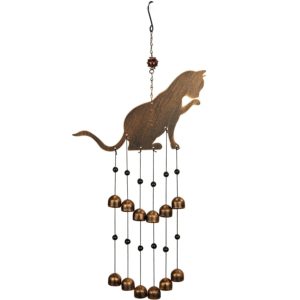 Approx 25″H
Made of Iron
Outdoor
Jacobs Mini Wind Chime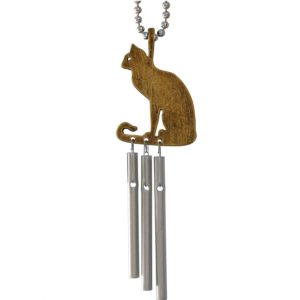 Approx 3H
Perfect gift
Handmade in the USA
SPI Home BP25030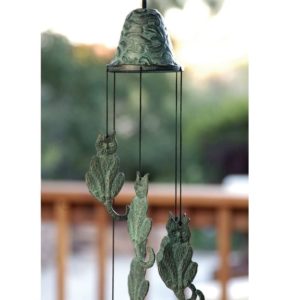 Adjustable hanging length
Made of Brass
Outdoor-safe
---
Choose the Best Yellow Cat Wind Chimes
Customer's Choice: the Best Rated Cat Wind Chimes
13 users answered this survey. Please help us improve this review!

76.92% of users selected Dawhud Direct Cats, 23.08% selected George S SS-G-99985, 0% selected VP Home E540, 0% selected Jacobs Mini Wind Chime and 0% selected SPI Home BP25030. Every month we analyze your answers and change our rating.
---
Such nice-looking and pleasant-to-listen-to items like wind chimes are not only a splendid idea for a gift to a friend, a family member, or a colleague but also a perfect complement to your house exterior or even interior, as well. Wind chimes are of high popularity nowadays. They are adored by people for their ability to set the atmosphere of relaxation and calmness. The gentle sounds heard when a breeze is slightly felt make us forget about troubles and worries at least for a bit and enjoy the moment.
Sometimes, it is rather hard to make a choice among the wide variety of options available online. To make the right choice, you should focus on your needs and preferences. Nevertheless, a number of questions may appear in your head. What material a good wind chime should be made of? How big is it supposed to be? How many elements should it consist of to make a nice sound? You will find the answers to these and other questions in this review.
We have selected the Top 5 Best Cat Wind Chimes that can be highly appreciated by true cat lovers. The Comparison Table below comprises the key specifics about the selected options. Under the table, you will find detailed descriptions of the best cat wind chimes.
Dawhud Direct Cats Outdoor Garden Decor Wind Chime- The Best Quality For The Price!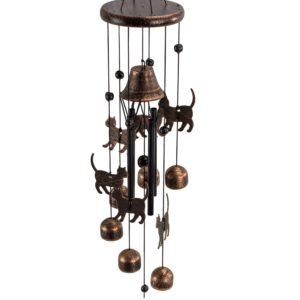 Manufactured by Dawhud Direct, this outdoor decor wind chime may be highly appreciated by most cat lovers. Weighing 9.9 ounces, it is about 27 inches in total length.
The wind chime has the following dimensions: 8.7 x 5.63 x 2.28 inches. Made of iron, the Dawhud Direct Wind Chime is likely to serve you long, even hanging outside. The wind chime features an excellent design based on a central bell and a leaf beneath it. It also consists of 6 cats and 6 smaller bells that tingle when interacting with the breeze. The sounds they produce are soft and harmonious.
Pros
Pros
A nice wind chime for the price;
Perfect for cat lovers;
Has a well-made construction;
Produces soft, relaxing sounding;
Features a cute design;
The strips do not tangle.
Cons
Cons
Not durable enough;
The top is wooden, not metal;
The sounds it produces are not loud;
You may be disappointed by the absence of sound from the bottom bells.
If you cannot imagine your life without cats, you are likely to love the Dawhud Direct Wind Chime. It is a medium-sized wind chime that may be a perfect decorative complement to your yard.
---
George S. Chen Imports SS-G-99985 Wind Chime- The Cutest Design!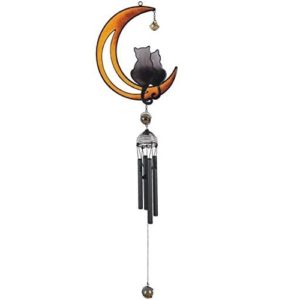 The George S. Chen Imports Wind Chime may be the very thing that will add comfort to your yard or garden, setting a calm, relaxing atmosphere there. Manufactured by StealStreet, it is made of pewter.
As for the design, the wind chime has black coated gems in the form of cats sitting on the Moon. The wind chime is 6.6 inches long, 0.25 inches wide, and 24 inches high. It comprises 4 cylinders that tackle in a wind and produce a clear, pleasant melody.
Pros
Pros
A non-oxidizing and very durable wind chime;
Includes environmentally friendly components;
A lightweight model;
Produces gentle sounds in a slight breeze.
Cons
Cons
The size is bigger than it seems in the picture;
Appears to be plastic;
The cats are not totally black, but rather grey;
The quality leaves much to be desired.
If you seek a wind chime with a unique, stylish design, the George S. Chen Imports Wind Chime may be exactly what you need. But if you are set on quality, you would better consider other options.
---
VP Home Fancy Feline Cat Outdoor Garden Decor Wind Chime- The Best In Quality & Design Correlation!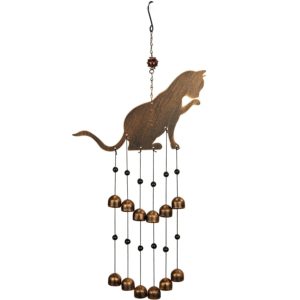 The Fancy Feline Cat Wind Chime is manufactured by VP Home to be a stylish decoration of your garden, yard, or porch. Its base is a gentle cat pleasant to look at. Its color is dark bronze.
The wind chime comprises 12 bells placed in 2 raws, that produce a gentle sounding when playing with the wind. It weighs 12 ounces, having a total length of about 25 inches. The package dimensions of the wind chime are 13.3 inches in length, 6.4 inches in width, and 2 inches in height.
Pros
Pros
Marked with high quality;
Distinguished by a sturdy metal construction;
Features a cute, subtle look;
Comes safely packaged;
Sounds softly and pleasantly.
Cons
Cons
For those who want a mid-sized, cute wind chime with a cat basis, the VP Home Fancy Feline Cat Wind Chime may suit perfectly. However, if you want to hear a prominent sounding, try considering other variants.
---
Jacob's Musical Car Charm, Cat, Mini Wind Chime- The Most Original Option!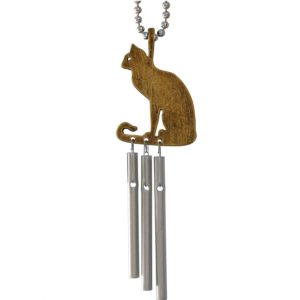 Manufactured by Jacob's Musical Chimes, this mini wind chime serves perfectly as a car charm. It is only 3 inches tall, about 4 inches in width, and it comes with a ball chain 9 inches long.
It may be a nice decoration on the rearview mirror. However, it may serve nicely inside your home, hanging on the spice cupboard or a doorknob, etc. The wind chime comprises 3 tiny cylinders, tuned to three notes in the pentatonic scale and producing gentle sounds. The Jacob's Musical Car Charm is made of cast metal and finished in antique brass.
The mini wind chime is produced in the USA and comes creatively packaged, ready to be presented to your dearest. The package dimensions are 6.6 x 5 x 0.2 inches.
Pros
Pros
The produced sound is soft, subtle, and non-distractive;
A tiny and subtle model;
A high-quality mini wind chime;
Has a beautiful, exquisite cat silhouette as a basis;
Comes in a creatively designed package;
Needs little space.
Cons
Cons
Too small to produce a prominent sound;
Not loud;
Used mainly as a decoration, not a rich-sounding source.
The Jacob's Musical Car Charm can be a perfect gift to a driver. It is able to make the automobile unique by setting a pleasant atmosphere of comfort.
---
Patio Decor Cat Themed Brass Wind Chime- The Best For Outdoor Use!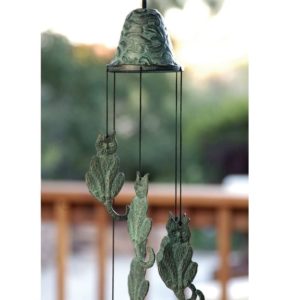 Made in China, the Patio Decor Cat Themed Brass Wind Chime is well-made and designed. Manufactured by San Pacific International, Inc., it has a solid construction.
Weighing 13.6 ounces, the wind chime is 18 inches long, 3 inches wide, and 3 inches high. The length of the chime can be adjusted. The material it is made of is brass, the Patio Decor Cat Themed Brass Wind Chime is believed to be durable enough to withstand outdoor conditions.
Pros
Pros
A very well constructed wind chime;
Safe to be hung outdoors;
Characterized with adjustable hanging length;
Comes in an itty-bitty cardboard package.
Cons
Cons
Smaller than it seems to be in the picture;
Looks rather rough.
In case you prefer prominent, noticeable decorations, the San Pacific International, Inc. Patio Decor Wind Chime may meet your needs.
---
The Buyer's Guide
How to choose a wind chime that sounds good?
No doubt, we aspire to select the best choice when looking for a perfect gift for our closest and dearest, or a way to decorate our homes. In this regard, it is vital that the quality and price are well-correlated. What matters even more is the sounding of a wind chime. Different chimes, different sounds. Many people, many minds. Respectively, diverse tastes and diverse preferences, as well. So how to make the right choice? Keep in mind that the sound's tone and depth are much influenced by:
The material

: metal wind chimes usually make sharp sounds, glass wind chimes – more tinkling and less sonorous sounds, wooden wind chimes stand out with good tonality.

The number of tubes

: the more tubes, the more diversity of sounding.

The overall length

: the shorter a wind chime is, the higher-pitched sounds it produces; the longer a wind chime is, the lower, and fuller tones it makes.

The weight

: lighter wind chimes require less wind to sound, while heavy wind chimes need stronger winds to produce a sound.
Depending on these factors, namely – material, number of tubes, overall length, and weight, various wind chimes produce variable sounds appealing to different tastes. Think of what sound will be the most pleasant for you to hear and make your choice!
Video Tutorial: Dancing Cats & Glass Fish Wind Chime by Blue Handworks
Final Thoughts
Wind Chimes are expected to give a sense of satisfaction and appeasement. However, if you do not take choosing the right one seriously, you risk getting disappointed soon, either with its sounding, or quality, or design. So you should think it over very carefully before buying one. If cats are the love of your life, then a wind chime with a cat base can be ideal for you since the risk that you will be annoyed with it in some time significantly reduces. 
At the beginning of the review, we promised to give you the answers to the most common questions that may arise while choosing an efficient wind chime and we did it. We hope you find this Top 5 Best Cat Wind Chimes review worthy and informative and very soon one of them will chime in your garden!
---