The 74-inch
Corinthian Bells wind chime
is an impressive outdoor decoration option for those looking to add a touch of elegance and musical charm to their yards. Not only does the wind chime look beautiful, but it also produces soothing tones that can be enjoyed from anywhere in your yard or garden. This wind chime has been carefully crafted with durable aluminum and a powder-coated finish, so it can withstand even the toughest outdoor elements. Whether you're looking for a unique present or want to add some character to your outdoor living space, this wind chime is an excellent choice.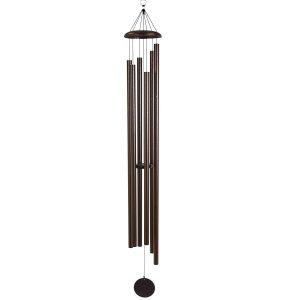 Enjoy the sweet sound of your outdoor space with Corinthian Bells 74-inch Wind Chime! This charming wind chime is a beautiful addition to any porch or garden, and you can rest assured knowing that since it's made right here in the USA, it's made to last. The six tubes are richly tuned to a pentatonic scale of Eb, giving an incredibly full and rich chord from root to octave.
And with its length of 74 inches, it's the perfect size for making an impact without overwhelming your outdoor space. Choose from several colors to find what suits you best—you're sure to find something that really ties together your décor! Get ready for lovely tones floating through your backyard as soon as a breeze comes through. With Corinthian Bells 74-inch Wind Chime, you can enjoy charming melodies with every gust of wind!
Pros and Cons of Corinthian Bells 74-inch Wind Chime
---
Buyer's Guide
What is a 74-inch Wind Chime?
A 74-inch wind chime is a type of musical instrument that produces soothing, melodic sounds when the wind blows. It typically consists of five or more metal tubes of various lengths and sizes suspended from a wooden frame or hook.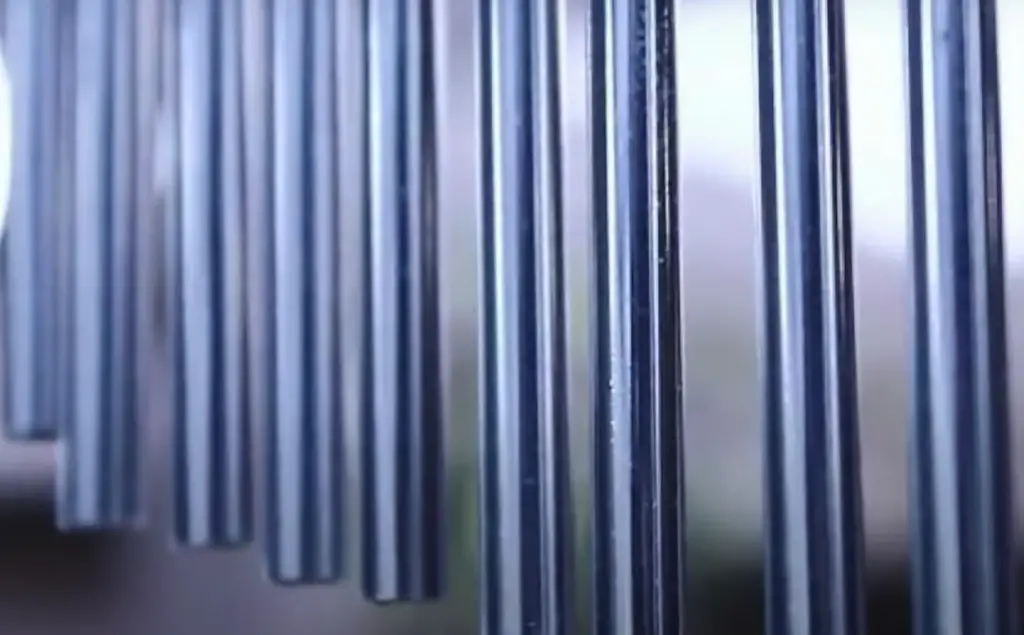 When air moves past the tubes, they make harmonious tones that create an enchanting soundscape. Wind chimes are a popular choice for outdoor gardens and patios, providing a calming presence to any space.[1]
Types of Wind Chimes
Wind chimes come in a variety of sizes, styles and materials. It's important to understand the different types available so you can make an informed decision when buying your wind chime.
Tube or cylindrical-style wind chimes are one type that usually feature aluminum or steel tubes suspended from strings strung between two cords. The tubes, when struck by the wind, produce a tone that is determined by their size and thickness.
Another popular type of wind chime is the clapper-style or resonating bell chimes. These typically feature several bells or discs suspended from strings strung between two cords and are often made from bronze, brass or copper. The metal bells produce a deep, resonating tone when struck by the wind.[1]
Color
The 74-inch Corinthian Bells wind chime is a large, impressive wind chime. It measures 6 feet from the top of the Chime to the bottom of the Suspended Wind Catcher and has an elegant matte black finish that blends in well with any outdoor decor. The most striking feature of this chime is the six tubes that make up the chime. Each one is hand-painted with a beautiful, vibrant color and provides an eye-catching contrast to the matte black of the chime itself. The colors you can choose from include: Bluebells (blue), Crimson Rose (red), Golden Poppy (yellow), Silver Bells (silver/gray), and Winged Bells (purple).[1]
As Gift
The Corinthian Bells 74-inch wind chime is a great choice for those searching for gift ideas. Not only does it have a beautiful sound that will be enjoyed by all who hear it, but its size and design make it an impressive piece of home decor. Whether you're giving it to a friend or family member, you can be sure that it will make a lasting impression. Additionally, the wind chime is easy to assemble and comes with all the tools necessary for installation. This makes it an ideal gift for those who don't have time to shop around for individual parts.
Design
The 74-inch Corinthian Bells wind chime is designed for anyone looking to add a beautiful and soothing sound to their outdoor living space.
It is available in four colors: black, bronze, silver, and copper.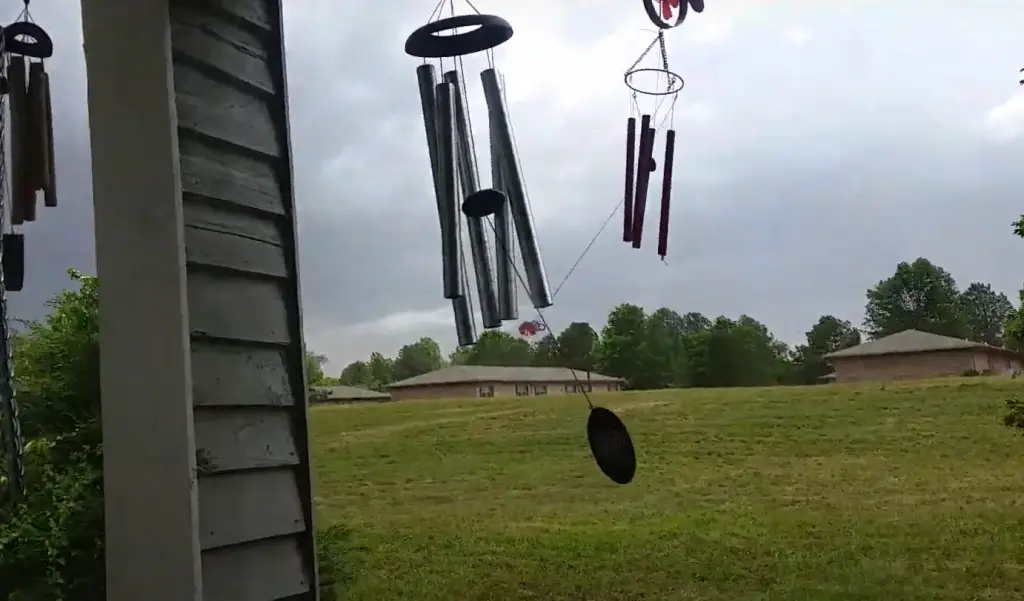 The beauty of the wind chime is that it's designed to capture and amplify the subtle nuances of wind and air movement, creating an enchanting soundscape for your outdoors. The tubes are tuned specifically to bring out the warmth and clarity of their tones when hit by the wind.[1]
Capacity
The 74-inch Corinthian Bells wind chime can handle up to a 35-pound suspension weight, so it's strong enough to hold a variety of large and heavy objects. This makes it perfect for outdoor use, since it won't be easily damaged by the elements. Additionally, because of its size, this wind chime is capable of producing a full, clear sound that can be heard over long distances.[1]
Build Quality
The Corinthian Bells 74-inch wind chime is made with solid aluminum construction. This ensures that it will be durable and long lasting, even in extreme weather conditions. The finish on the tubes is a beautiful bronze anodized powder coating that helps protect against corrosion. The strings are nylon-coated for additional protection from the elements. The overall construction is very sturdy, and the chime will not easily break even when exposed to strong winds.[1]
Price
The 74-inch Corinthian Bells wind chime is available for around $80. It is made of aluminum and is designed with a powder coated finish in black, bronze, or silver. The 5 wide tubes have a natural sandblasted texture that creates beautiful tones when struck by the clapper. Each tube has its own unique tone and is weighted for optimal sound. It also comes with a 6-year limited warranty.[1]
Sound Quality
The 74-inch Corinthian Bells wind chime produces a rich, full tone that is sure to please those who are looking for an authentic sound. It is crafted with excellent quality materials and can be heard from a great distance due to its large size. With its five copper tubes, the sound emanating from this wind chime will transport you to a place of peace and tranquility.
The wind chime also features an adjustable striker that allows you to customize the sound. This is perfect for those who are looking for a specific tone or want to find the perfect balance between loudness and softness. The adjustable striker helps take the guesswork out of finding your ideal sound.
Weights & Dimensions
The Corinthian Bells 74-inch wind chime is an impressive piece of outdoor decor.
The total weight of the chime is 7 pounds making it easy to hang and durable enough to withstand even the strongest winds.
[1]
Specifications
The 74-inch Corinthian Bells Wind Chime is made from durable, high-quality aluminum tubes and a powder-coated steel frame. This wind chime measures 74 inches in length and has 7 tubes ranging in size from 18" to 32". The beautiful tones created by this wind chime will bring peace and tranquility to your outdoor space.
The frame of the wind chime is designed to withstand strong winds, and it also has a rust-resistant finish. The durable construction ensures that this wind chime will last for years to come.[1]
For Kids
The 74" Corinthian Bells wind chime is perfect for both kids and adults. It's large enough to really make a statement in your garden, but small enough to fit almost anywhere. The range of notes produced by this wind chime create an enchanting sound that can be enjoyed year-round.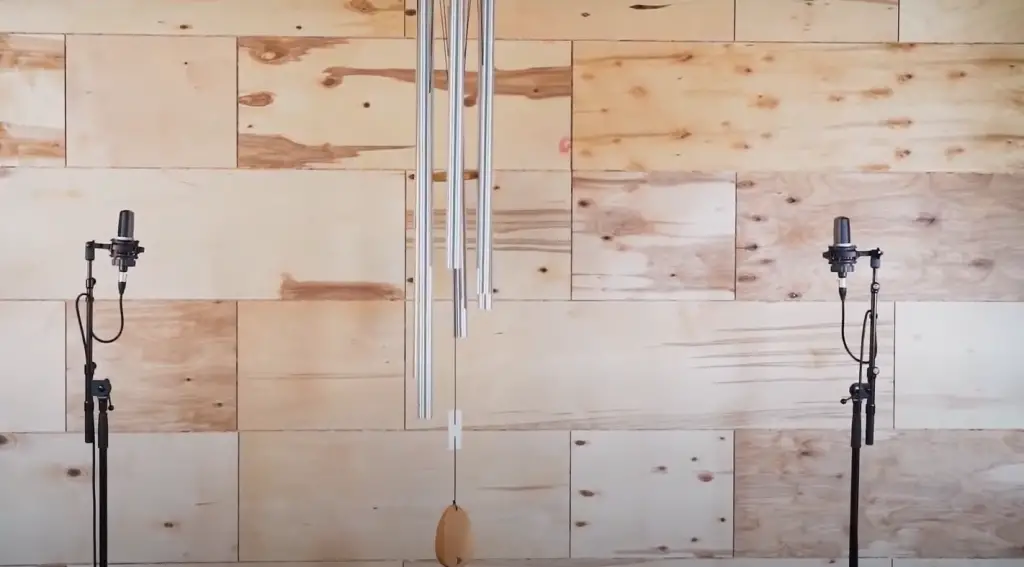 Kids will love the vibrant colors and will have a blast watching the wind chime sway in the breeze. This wind chime is also durable enough to withstand years of outdoor play. Whether used as a decorative element or simply enjoyed for its melodic sounds, this wind chime can bring joy to your entire family![1]
Ease Of Use
The 74-inch Corinthian Bells wind chime is surprisingly easy to set up. All you need is two people (or one person with good upper body strength) and a few tools, and you're ready to go. The instructions are straightforward and clearly laid out. Plus, the parts for mounting the chime on your deck, porch, or balcony are included in the package.
Setup
The 74-inch Corinthian Bells wind chime is a great choice for those looking to spruce up their outdoor space with elegance and style. The unique design of this wind chime creates a calming effect, perfect for any backyard patio or garden setting. Setting up the Corinthian Bells wind chime is easy – simply hang it from a tree branch, porch, or other sturdy structure using the included metal hanger and adjustable hooks.[1]
Display Clarity
Corinthian Bells 74-inch wind chime has a surprisingly clear and bright sound for its size. The aluminum tubes used in the construction create a vibrant, cathedral-like tone that is sure to capture attention from far away. Not only does it have an impressive volume level (reaching up to 75 decibels), but each note is distinct and clear even when heard from a distance. The durable design of the wind chime ensures that it will last for many years, ensuring the clarity and quality of sound is not diminished over time.[1]
Comfort
The 74-inch Corinthian Bells wind chime is the perfect size to hang from almost any location. Its large size ensures that it will be heard even in the most breezy of environments. The design also allows for an even distribution of sound, creating a truly peaceful atmosphere. You can easily adjust the string length until you reach your desired sound. The lightweight design and durable materials also ensure that the chime will last for years to come.[1]
How to Choose the Perfect 74-inch Wind Chime?
Size
The size of a 74-inch wind chime is important to consider when purchasing one. Not only should it be large enough for your outdoor space but also for your own desired sound. The larger the size, the deeper and fuller the sound will be.[2]
Function
When choosing a 74-inch wind chimes, functionality is another important aspect to consider. Will you be hanging it up outdoors or indoors? Or will it only be used for decorative purposes? Depending on the purpose of your wind chime, the material and design should match your needs.[2]
Price
The price of 74-inch wind chimes can vary greatly, depending on the material and design.
It is also important to compare prices from different vendors to ensure you get the best deal.
[2]
Style and Design
When selecting a 74-inch wind chime, it is important to consider the style and design of the product.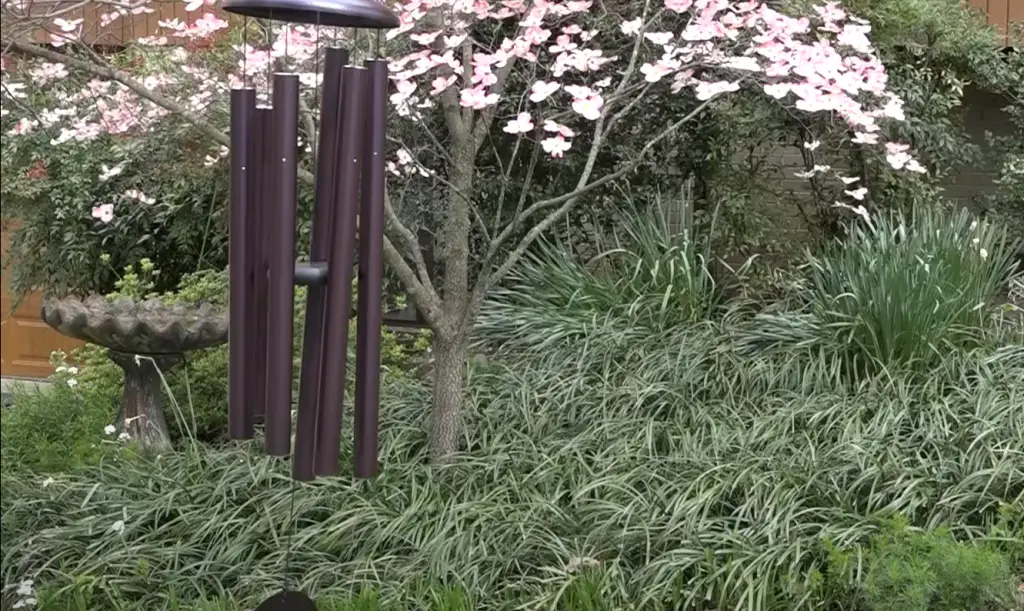 Do you prefer a classic look or something more modern? Depending on your preference, there are various styles and colors available.
---
FAQ
What do wind chimes symbolize?
Wind chimes have a variety of meanings depending on the culture and context. In general, they are seen as symbols of good fortune, prosperity, protection, and harmony. Some also believe that wind chimes bring luck and peace to their home.
Is it reasonable to keep wind chimes at home?
Absolutely! Wind chimes come in a variety of sizes, shapes, and styles. They can be used to add beauty and a pleasant sound to your home or garden. Plus, they are extremely low-maintenance, so you don't have to worry about taking care of them every day.
What is the lucky wind chime?
The lucky wind chime is a type of wind chime made with five hollow tubes. The sound of the wind passing through the tubes produces a calming, peaceful sound that many people find to be relaxing and even "lucky".
What are the benefits of chimes?
Wind chimes are believed to have a host of benefits. They can help reduce stress and anxiety, promote better sleep, and even act as protection from negative energy. Additionally, some believe that their peaceful sound can bring positive energy and good fortune into the home.
What do 3 chimes mean?
Traditionally, three chimes together are thought to signify good luck, joy, and harmony. They can also be used to symbolize the past, present, and future or body, mind and spirit.
What is the full meaning of chime?
Chime comes from the Latin word "cimen," meaning bell. Thus, chime is a term used to describe any type of musical instrument that produces sound when struck or shaken. This includes wind chimes as well as bells and other percussion instruments.
What does chime stand for?
The acronym CHIME stands for "Chimes of Happiness, Inspiration, Music and Energy." This is the slogan of the popular brand of wind chimes, Corinthian Bells. They believe that their chimes can bring happiness and positive energy into any home or garden.
Related Video:Corinthian Bells 74 Inch Green
Conclusion
When it comes to choosing the perfect wind chime for your outdoor space, the 74-inch Corinthian Bells Wind Chime is an excellent choice. Not only does it look great, but its sound quality is also superior and will add a beautiful touch of harmony to your outdoor environment. With its durable construction and design, this chime is sure to last you many years of enjoyment. Whether you're looking for a classic chime or one with some extra pizzazz, the 74-inch Corinthian Bells Wind Chime is an excellent option. With its unique and beautiful design, it will be a great addition to your outdoor decor. So go ahead and make that purchase, and enjoy the sweet sounds of this chime for many years to come.
We hope you found our review of the Corinthian Bells 74-inch Wind Chime helpful. If you have any questions or comments about this product, please feel free to leave them in the comment section below. Thanks for reading!
---
References:
https://windriverchimes.com/products/corinthian-bells-74?variant=33323580620937
https://homestoremag.com/9-best-solar-wind-chimes-to-bring-melodic-beauty-to-your-garden/