---
Hummingbird Feeder Multicolor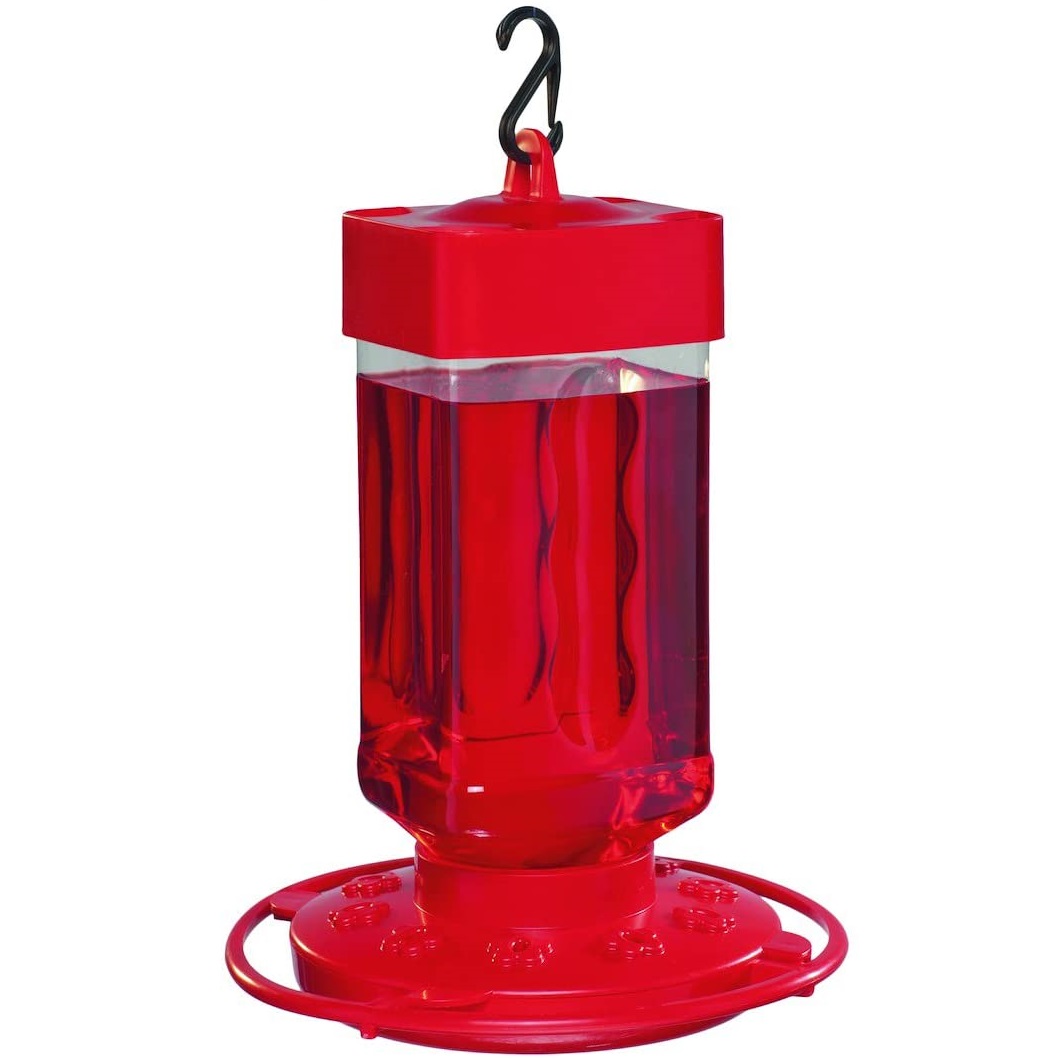 Color Multicolor
Material Plastic
Brand First Nature
Ruby Hummingbird Feeder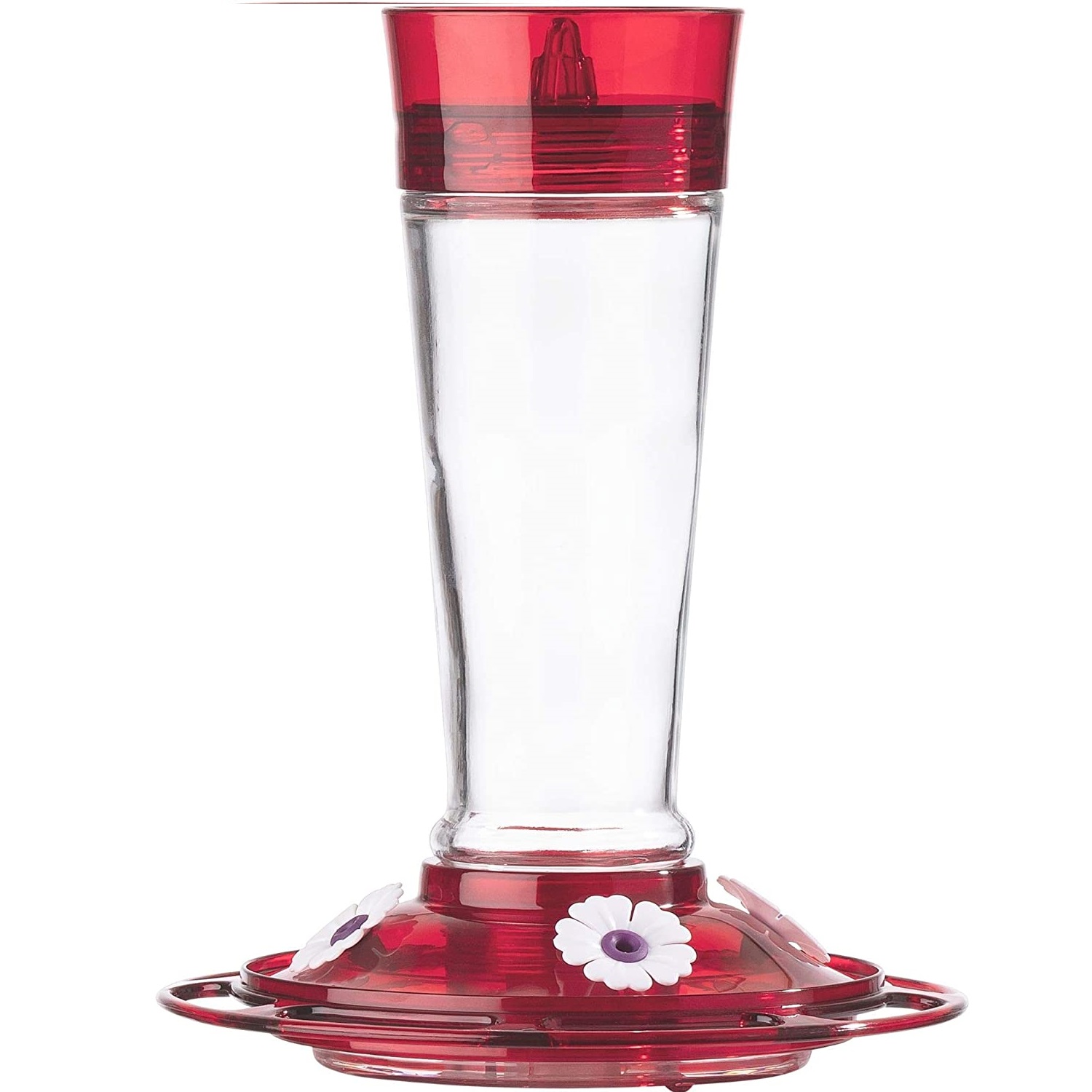 Brand More Birds
Color Ruby Red
Material Glass
Mason Jar Hummingbird Feeder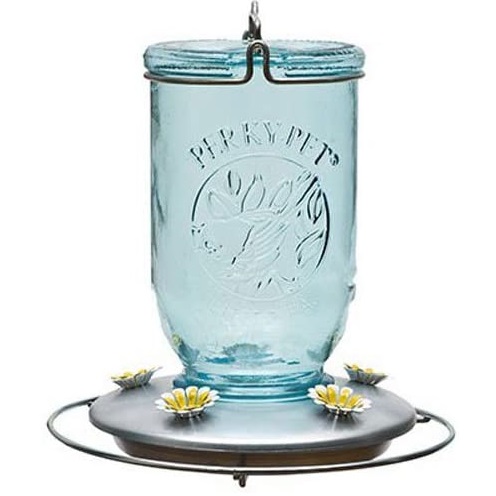 Brand Perky-Pet
Color Blue Mason Jar
Material Glass
HighView 12 Oz Hanging Hummingbird Feeder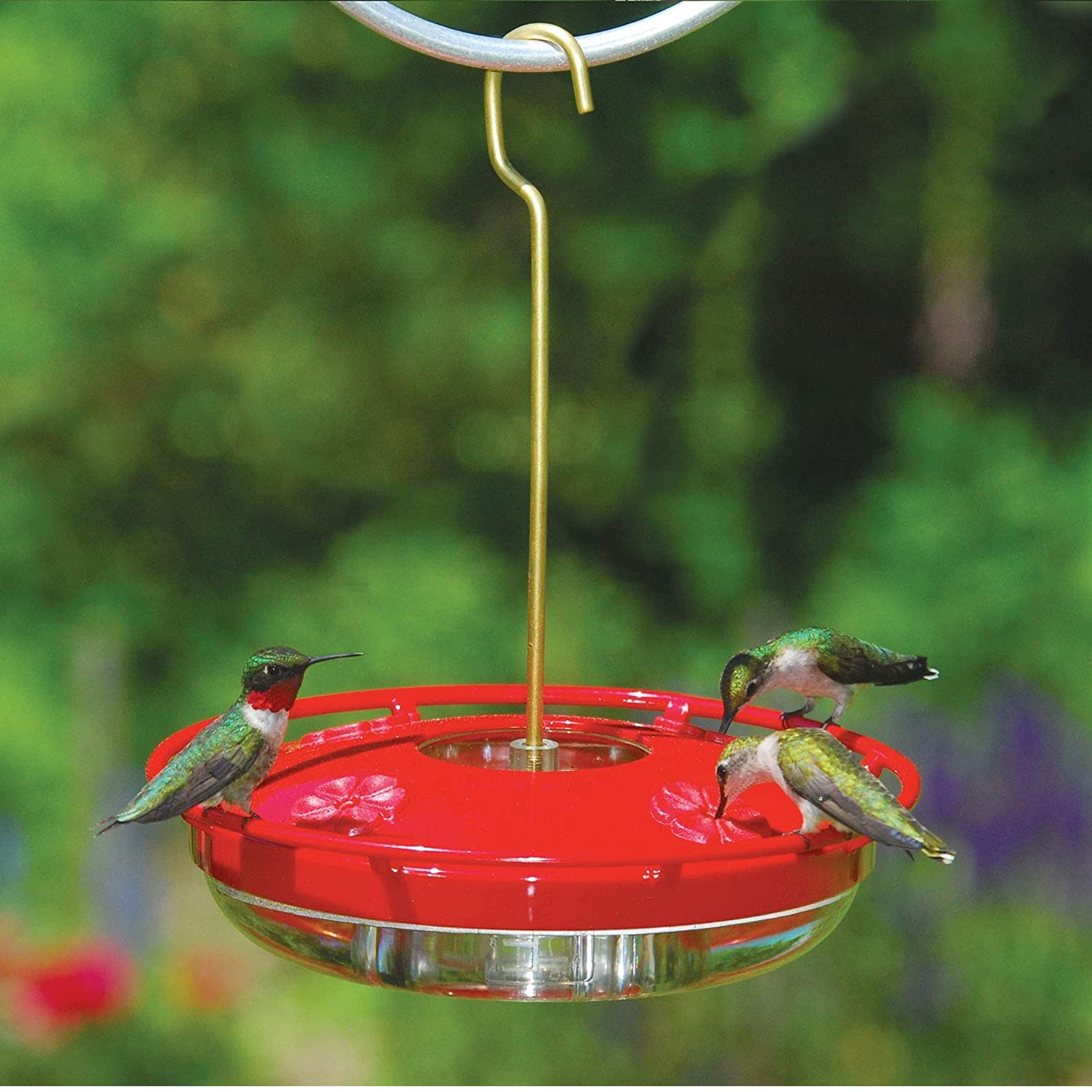 Brand Aspects
Color Red
Material Plastic
Our Best Royal Berry Hummingbird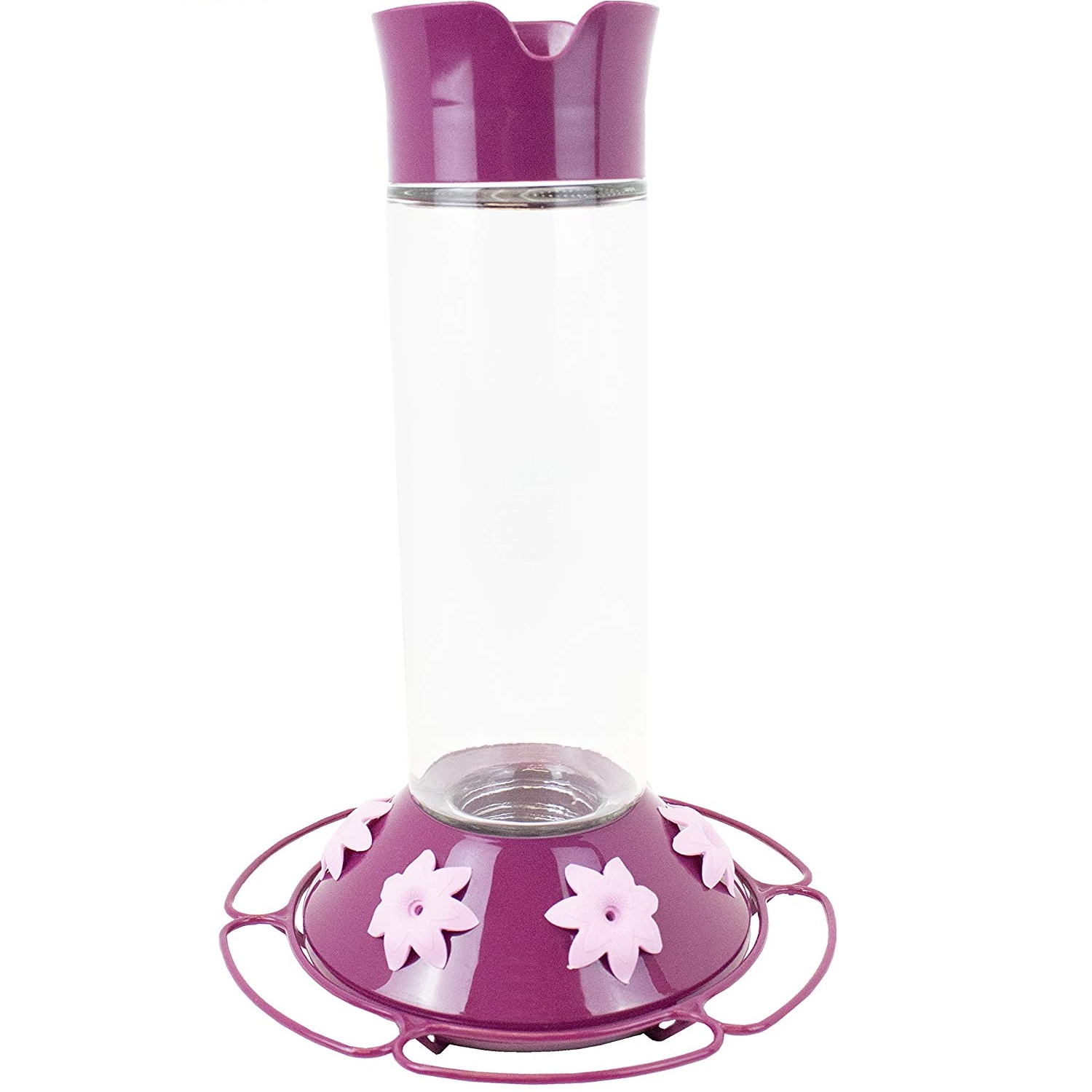 Color: Berry
Brand Perky-Pet
Material Glass
---
Choose the Best Hummingbird Feeder
Customer's Choice: the Best Rated Hummingbird Feeders
2 users answered this survey. Please help us improve this review!

50% of users selected Hummingbird Feeder Multicolor, 0% selected Ruby Hummingbird Feeder, 0% selected Mason Jar Hummingbird Feeder, 50% selected HighView 12 Oz Hanging Hummingbird Feeder and 0% selected Our Best Royal Berry Hummingbird. Every month we analyze your answers and change our rating.
---
Hummingbirds are intriguing birds, but they are notoriously difficult to attract. Hummingbirds prefer nectar over conventional birdseed, therefore standard feeders won't attract them. You'll need a hummingbird feeder specially designed to attract these unique birds if you wish to attract any of the 360 species of hummingbirds to your yard.If you want to see these beautiful birds in action, make sure you buy one of the best feeders on the market. You'll enjoy the company of hummingbirds in your neighborhood for years if you provide them with a spot to sit and feed. Here is a list of the top 5 hummingbird feeders to attract beautiful birds. Make sure to check the comparison table and buying guide to find the most suitable feeder for your garden.
First Nature 3055 32-ounce Feeder – the best for feeding many birds!
The First Nature 3055 is a 32-ounce feeder that has a whopping ten feeding ports. The vivid red lantern-style design attracts hummingbirds. The wide-mouth jar makes cleaning and refilling the container much easier. The two-part base twists away effortlessly for thorough cleaning. The perch is intended to allow hummingbirds to eat comfortably at each of the ten openings.
Warm soapy water may be used to wash all areas. You may use Hummingbird Nectar Concentrate from First Nature, which you can simply mix directly in the reservoir.
This feeder has a red base and top. It is made out of plastic. The feeding ports are tiny enough that insects like bees and wasps are unable to steal nectar.
Pros
Pros
10 feeding ports;
Decent nectar capacity;
The wide-mouth container is easy to clean;
Easy to refill;
Has an in-built ant moat;
Bright red color;
Can feed a few birds at the same time;
Cons
Cons
A bit challenging to install;
Can be washed in a dishwasher;
The top hook is flimsy;
Won't scare away the bees;
Despite the fact that the feeder has 10 feeding ports, there are no leak reports. Although the plastic body may seem to be fragile at first, it is really more robust than it appears.
---
More Birds Ruby Hummingbird Feeder – the best for design!
The Ruby Hummingbird Feeder has 4 integrated perch stations, a glass nectar container, and a bright red top and base. The default ant moat halts ants in their tracks, ensuring that the nectar remains fresh for starving hummers. The Ruby's 10-ounce capacity ensures that hummingbirds have enough to eat.
Filling and cleaning are made simple thanks to the large bottle opening and removable flat base. Do not put your feeder in the dishwasher to clean it since the high temperatures may permanently harm the feeder components.
The nectar is protected from insects by the built-in ant moat. It features seven openings, each with its stand, allowing the birds to feed themselves individually. Because of its crimson top and base, it attracts birds.
Pros
Pros
Stylish and functional design;
Transparent nectar container;
Puts insects away;
Easy to clean;
The in-built ant moat;
Cons
Cons
Small nectar capacity;
White color ports are not attractive for hummingbirds;
Includes a plastic base;
Not for dishwashers;
Don't worry about cleaning or filling this feeder since it has a large aperture and a great removable base. It features a clear glass bottle so you can see how much nectar is left without having to open the feeder.
---
Perky-Pet 785 Mason Jar Hummingbird Feeder – the best for style!
Hummingbirds will flock to the Perky-Pet Glass Mason Jar Hummingbird Feeder from near and far. This bottle's blue color is evocative of antique blue glass jars from the 1800s.
This big capacity feeder will attract your hummingbirds to come back. It's simple to clean the metal base and the five flower feeding holes.
Pros
Pros
Vintage style;
Premium quality;
Large capacity;
5 feeding ports;
Easy to assemble and clean;
The perch ring around the metal base;
Cons
Cons
Not fully rustproof;
Can't be attached to a metal hangar;
Not much red color;
This Perky-Pet Mason Jar Hummingbird Feeder's antique look will not only attract hummingbirds from far and wide, but it will also give a rustic touch to your yard.
---
Aspects HummZinger HighView Feeder – the best for the perch!
Hummingbirds may rest while drinking from the feeding ports thanks to the HummZinger's HighView perch.
This feeder is made of UV-stabilized polycarbonate and is both drop and leak-resistant. Even in very hot weather, such as when the temperature outside reaches 100 degrees Fahrenheit, this feeder will not leak.
An ant moat would be located in the middle of the feeder and could be filled with water at any moment. Its red cover is readily removable, so you may slide it along one side and clean it completely from the inside. The built-in ant moat is important for keeping insects away from the honey. It features four openings spaced apart in the form of an open flower, allowing the birds to drink swiftly and comfortably.
Pros
Pros
Nice rounded HighView perch;
Bright red color;
The transparent bottom;
An in-built ant moat;
Easy to clean;
Leak-proof;
Easy to fill;
Made of sturdy polycarbonate;
Cons
Cons
Small capacity;
Won't protect from flies;
Only 4 ports for feeding;
Too large for some users;
The pegs are easy to break;
The feeder's perch is constructed of unbreakable polycarbonates, making it very robust. The feeder does not shrink while using hot water because of this material.
---
Perky-Pet 209BW Bird Feeder – the best for easy filling!
This glass hummingbird feeder has a huge 30 oz nectar capacity, ensuring that there is always sufficient nectar to feed the birds. This feeder's wide-mouth container makes it extremely simple to refill and clean. The transparent toughened glass container allows monitoring of the nectar levels.
This Perky-Pet feeder has bright yellow and red accents to attract birds and provide aesthetic appeal.
The soft, flexible petunia-inspired ports have a more natural appearance and feel, emulating the actual flowers that hummingbirds visit in nature. The color and genuine flower form are ideal for attracting hummers, and the six openings guarantee that several birds may feed at the same time.
This feeder has an installed ant moat that can be refilled with water to prevent ants from getting nectar. Also, there is a tapered hole that serves as a bee guard at all feeding stations. To make cleaning easier, this feeder may be fully disassembled, ports and everything else, at your convenience.
Pros
Pros
Wide-mouth glass bottle;
In-built bee guards;
Many flower-like ports;
Bright design;
Easy to assemble and disassemble;
Extremely easy to refill;
Cleaning is a breeze;
Cons
Cons
Leaking is possible;
The ant moat is unreliable;
Six ports and a wraparound perch are included in this red-and-yellow feeder. Furthermore, the flower-shaped apertures include built-in protections to keep bees away from the nectar. Refilling and cleaning the bottle is simple thanks to the wide-mouth design.
---
The Buyer's Guide
Types of hummingbird feeders
1) Saucer feeders
Saucer feeders, also known as nectar feeders, can store nectar and are easier to mount on top of railings or poles. These feeders are simple to put together, fill, and clean. Most saucer feeders, on the other hand, have a lower capacity and must be replenished more often than other feeders.
Another disadvantage of saucer feeders is their lack of visibility. Hummingbirds care about the aesthetics of their feeders, and they prefer colorful, vivid, and unusual feeders over the standard boring feeders.
2) Bottle feeders
They can hold nectar as well, although, unlike saucer feeders, it's simpler to monitor nectar levels in glass bottles. The nectar is released from above by these feeders, which have central reservoirs situated above the feeding ports. Bottle feeders, like saucer feeders, usually have a larger capacity and are simple to install.
Unfortunately, bottle feeders have disadvantages in that they are more vulnerable to attracting insects, and when hummingbirds have finished consuming the nectar, there is a lot of leaking out of the bottle feeder. When it is about cleaning bottle feeders, the task is more difficult.
Materials
The materials you choose for a feeder will have an impact on the amount of activity in your yard.
The most essential factor to consider is cleaning. Glass feeders are simple to clean by soaking them in warm water and don't need as much care as plastic feeders. You may, however, use plastic feeders if you prefer. Examine if the material is UV-resistant and composed of food-grade plastic. With plastic feeders, you also face the danger of warping and leaking.
While plastic units discolor with time, nectar inside glass feeders may rot more rapidly. The natural elements, such as wind, rain, and sunshine, should not be a problem for your feeder.
Glass and plastic feeders are too difficult to clean – you will waste your time. Cleaning bottle feeders with narrow stems and saucers with tiny filling holes is also very tough. But you should avoid using ceramic feeders since you won't be able to observe the nectar levels or any potential mold build-up.
Make sure that any metal components, such as hangers and bases, are resistant to corrosion. Please ensure that any materials you choose for your feeder can withstand being washed in the dishwasher.
Size and capacity
The size of the feeders we choose ranges from 3 to 32 ounces. Because you'll be replacing the feeder more often with smaller feeders, the nectar will be fresher and the feeder will stay clean. Large feeders need less attention and may be set and forgotten.
The number of birds your hummingbird feeder can hold, as well as how frequently it has to be replenished, is determined by its size. An 8-ounce feeder is ideal for only a couple of hummingbirds, while other feeders may hold up to 40 ounces of nectar, comfortably feeding many hummingbirds.
If you don't have a lot of hummingbirds, don't buy the largest capacity unless you're willing to change out the nectar and clean the feeder as needed: at least every three days in hot weather and every 6-7 days in cool weather.
Additional features to consider when buying hummingbird feeders: 
Feeding ports.

Feeders may contain anything from one to ten feed ports, based on how many hummingbirds you wish to feed at once;

Ant moats

. They're filled with simple water and placed over your feeder. Ant moats are necessary because ants would otherwise penetrate the nectar-feeding ports of the feeder and pollute the nectar;

Perches.

Hummingbirds prefer sitting on the perches for a variety of reasons, including sunbathing and preening, protecting their territory, and keeping an eye out for intruders. Hummingbird perches should be high enough to provide excellent, broad views that are not obscured by foliage and trees;
Where should you hang a hummingbird feeder? 
Hummingbirds are timid wild birds that prefer not to be seen while they are not eating.
Hummingbirds care a lot about where their feeders are placed. To begin, place feeders at least 4 ft. above the ground, out of reach of cats and other animals. Because hummingbirds like to save energy when they can, it's preferable to position a feeder 10 to 15 feet away from a cover like a tree or bush. Hummingbirds that are suddenly feeling insecure will need a fast escape route from the feeder, which may be provided by providing a nearby shelter.
Hummingbird feeders should be placed at your head height in the shadow. As a result, no ladder is required to refill the feeder. It's ideal if you keep your feeder in a shaded location, since the nectar may deteriorate faster in an open space owing to the sun's heat. This is a comprehensive guide on the subject.
It's also beneficial to be able to observe what's going on with the feeders you set up. Position your feeder in a location where you can see it from inside, such as near a garden bench or the edge of your porch.
Specialized hangers with an extended arm may be attached to a porch railing, allowing you to conveniently monitor and access your feeder. Hummingbirds will be more likely to notice your nectar-filled feeder if it is placed near blooms that generate nectar. If at all feasible, place the feeder in a shaded spot. Nectar may rapidly deteriorate when exposed to direct sunlight.
What you should NEVER DO with hummingbird feeders? 
Giving nectar to starving hummingbirds is straightforward, but it's also simple to make errors with that nectar that may do serious damage to them. Hummingbirds will get discouraged and stop visiting your feeder if you make even small mistakes, but large faults may result in nectar that is poisonous, harmful, or even deadly to the birds that drink it.
Here are some things to avoid while trying to attract hummingbirds to the yard:
Large feeders don't mean they are better.

In most cases, nectar spoils after 5 days. If just a few hummingbirds visit your feeder, you will be squandering the majority of your nectar, so don't completely fill it;

Don't select only dark colors.

You've already got a problem if your feeder doesn't have any vivid and brilliant colors. Colors such as red and orange, especially the brighter hues of these colors, typically attract hummingbirds;

Don't use only one feeder.

It is insufficient to use just one feeder. Because hummingbirds are territorial and violent against one another, utilize several bird feeders. This is dependent on the number of them in your yard;

Never buy a feeder without window protection.

If you utilize window bird feeders, make sure your windows are protected so birds don't fly into them. If you're going to cover the windows with a plastic sheet, choose one with ornamental elements like tinted glass, fake flowers, or creative swirls;

Do not buy feeders just because they just look nice.

The function should prevail over appearance. Many of the most attractive models on the market are hard to clean and too difficult for hummingbirds to utilize. Even if you have a plain-looking feeder with no decorations, the reflections off the vivid colors can entice inquisitive hummingbirds to explore if you position it in the sun correctly;
Useful Video: Best Hummingbird feeder – Top 10 in 2019
Final thoughts 
If you're having trouble deciding amongst the finest hummingbird feeders, let us provide you with a straightforward solution. If you just require a feeder for a short time, you may purchase a plastic feeder and sacrifice the feeder's durability.
---